The Real Bar That Is The Inspiration For Jack's Bar On Virgin River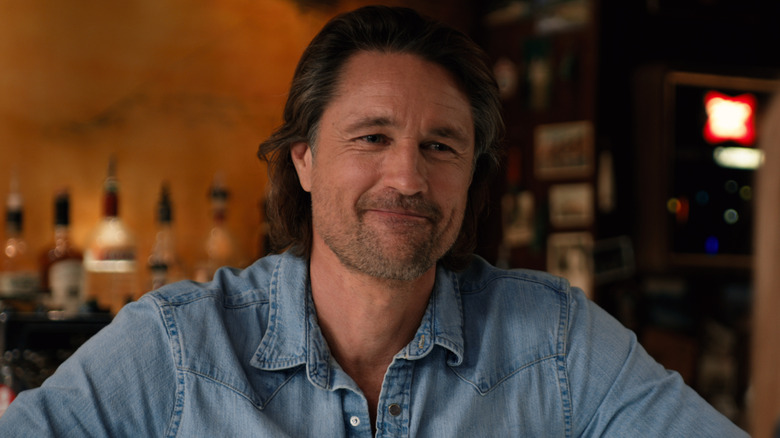 Netfix
Season 4 of "Virgin River" was filled with shocking moments, including a resolution to the Season 3 cliffhanger about whose baby Mel was carrying. And they're already filming for Season 5. Martin Henderson, who plays military veteran and bar owner Jack Sheridan, told Glamour to expect even more drama and excitement in Season 5: "a lot of stuff gets wrapped up and then there's a whole bunch of new beginnings, new storylines. . . Someone might leave."
If you're not up on "Virgin River," it's the romantic drama based on the books of the same name by Robyn Carr, and it stars Alexandra Breckenridge as Melinda "Mel" Monroe, a nurse practitioner who moves from Los Angeles to Virgin River, a small Northern California town, for a fresh start (via Netflix). She starts work for Vernon "Doc" Mullins, played by Tim Matheson — who you might recognize as a similarly sometimes gruff doctor wary of an outsider at his practice in The CW's "Hart of Dixie" in the 2010s, per Southern Living. As for the romantic aspect of Monroe's life, in Virgin River, she meets Sheridan at Jack's Bar, where he's an owner and bartender, per Oprah Daily.
Visit the exterior of Jack's Bar near Squamish, Canada
Robyn Carr, the author of the "Virgin River" book series, told Entertainment Weekly that "People always write and say, 'Where is it? I want to go there,' and I have to remind them that it only exists in our hearts and minds." And while sadly Virgin River isn't a real town, you can visit the real-life Jack's Bar. Or at least the bar that looks like Jack's Bar from the outside.
Exteriors for Jack's Bar are shot at The Watershed Grill in Brackendale, British Columbia, per Wide Open Country. Set on the Squamish River, about an hour's drive northeast of Vancouver on the famed Sea-to-Sky Highway, the bar has a patio overlooking the river where you can enjoy the views. But don't expect the inside to look the same; interior shots for Jack's Bar were shot on a soundstage, per Atlas of Wonders.
If you're in the area to check out Jack's Bar, you're also in the area to see a few other filming locations for "Virgin River." The gorgeous waterfall scenes were shot at Shannon Falls Provincial Park, per Destination Vancouver. And across the highway from the waterfalls is Klahanie Campground, which you may recognize as The Fitches Bed and Breakfast exterior, via Atlas of Wonders.
Vancouver and British Columbia are popular Hollywood film spots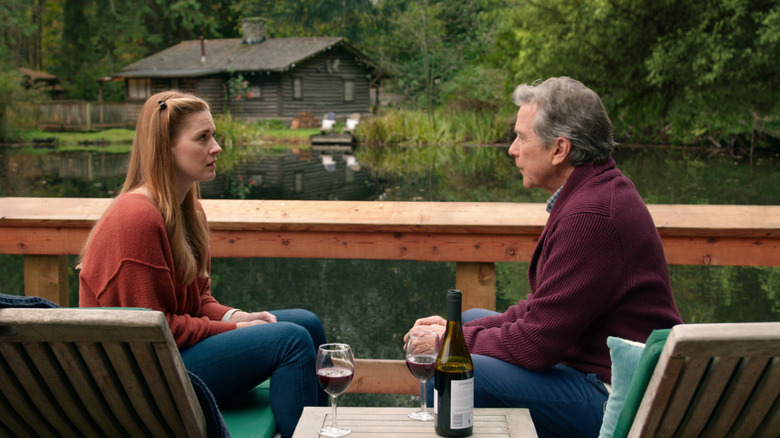 Netflix
"Virgin River" also features shots from Snug Cove on Bowen Island, northwest of Vancouver, where you'll recognize some of the businesses, cute houses, and local library, per Destination Vancouver. And Mel's cabin on the show is actually the caretaker's house at Murdo Frazer Park in North Vancouver. The same spot has also been used in "Once Upon A Time," "Psych," and "The Magicians" among others, per Movie Maps.
It's not just Mel's cabin that's been used as a film set. Some people refer to Vancouver as "Hollywood North" because of the number of TV shows and movies that shoot there, per Vanity Fair. "50 Shades of Grey" and "Deadpool" have all used Vancouver as a set. And beyond Vancouver, the British Columbia interior has been used as desert scenes for "The Twilight Saga: Eclipse," "The Sisterhood of the Traveling Pants," and "Night at the Museum: Secret of the Tomb," via CanadianSky.  And Chris Pratt and others filmed for "Jurassic World: Dominion" in the snowy mountains and forests of the Canadian province, per Daily Hive. David Shepheard, Vancouver's film commissioner, told Vanity Fair why the area is such a popular film spot: "We've got such a wide range of landscapes, looks, and atmospheres in very close proximity — including amazing wilderness, mountains, and ocean, all within easy reach of a compact downtown."