Love & Marriage: DC's Monique Samuels On Building An Online Community For Moms - Exclusive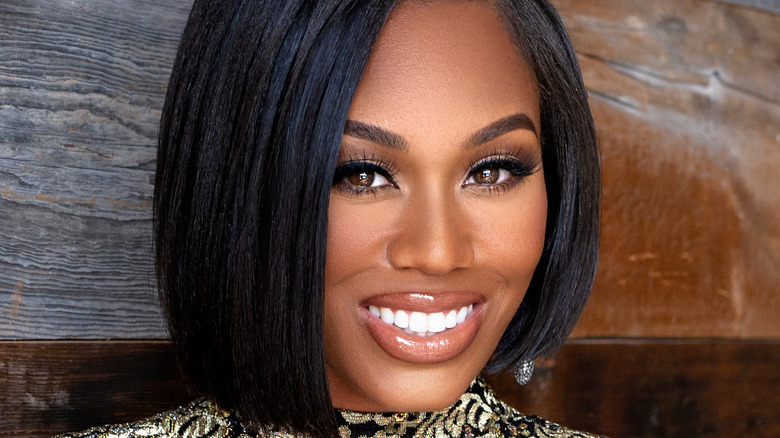 Drew Xeron
Monique Samuels of "Love & Marriage: DC" has a lot on her plate, being a reality TV star and entrepreneur. However, as she shared in an exclusive interview with The List, it's her role as a mother that has been the most challenging and rewarding.
Samuels started an online platform, Not For Lazy Moms, in which mothers can submit blog posts with tips on motherhood from real-life experiences. Samuels herself has written several articles on the website, with her most recent one called "Keeping It All Together." The inspiration behind the platform comes from a day that her daughter, an infant at the time, had a double ear infection, while her older son was only a toddler. 
Samuels' mother was visiting and observed the amount of care Samuels took in giving medicine to her daughter, while also tending to her toddler son. Samuels' mother then said, "Wow, this is not for the lazy." After hearing her mother say that, Samuels realized that should be the name of her podcast — "Not For Lazy Moms," a safe space for all moms in sharing their struggles and learning from each other's experiences.
Not For Lazy Moms is for every mom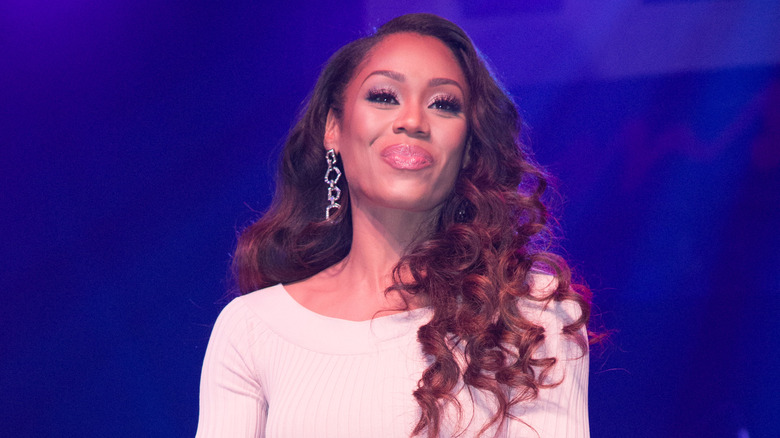 Brian Stukes/Getty Images
According to Monique Samuels, "Not For Lazy Moms" is a play on words, as being a mother is anything but lazy. "It doesn't matter if you are that super mom or if you're that mom that does just enough. Either way, it takes so much from you to put in the work to raise children," she said. The website has natural household remedies for common ailments, self-care tips, potty-training advice, and suggestions on traveling with kids. Samuels even posted a video of one travel experience her family had in which she and her husband woke their kids up at 3:00 a.m. and surprised them with a trip.
The key to juggling her life on- and off-screen is prioritizing all of her duties. "I had to slow down and step back and see what all could I handle legitimately ... Then [I have] a plan for my husband and I so that we can have some more teamwork when it comes to the children," Samuels said. She homeschools her children and says that as a result, Monday through Friday gets busy, while the weekend is designed to unwind.
Monique Samuels says it's important to ask for help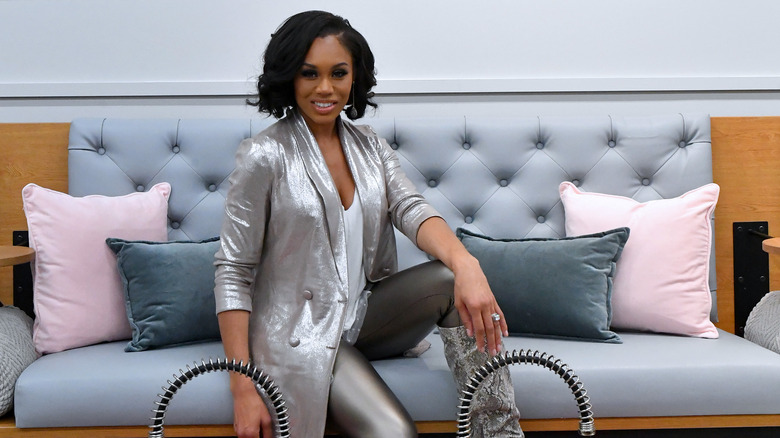 Larry French/Getty Images
"If you invite me to go somewhere on the weekend, I'm more likely going to tell you no, because that's when it's straight up family time and I'm getting rest and relaxing with my children," Monique Samuels told us, noting her family enjoys watching movies and hanging out by the pool.
For Samuels, this balance of work and rest helps her accomplish her goals, which she plans by creating a quarterly list. Every three months, she has a list of goals and checks them off as she completes the tasks. At the end of the quarter, she looks back to see how much she accomplished. "That gives you even more of a push to keep going," Samuels said. Anything that doesn't get checked off simply moves to the next quarter's list.
For overwhelmed moms who are struggling to manage tasks, Samuels suggested, "Make a list ... of what's most important. You can't have it all. You can't do it all. Don't be afraid to ask for help." 
Accepting that you can't control everything and letting go is also crucial. "The biggest way to do it all is by removing the pressure from yourself and realizing that you can do small doses of everything that you want to do. You can be a full self-care woman, a great wife, and an amazing mom all at the same time."
The season finale of "Love & Marriage: DC" airs Saturday, July 30, at 8:00 p.m. ET on OWN. Episodes are also available to watch on the OWN website.