How The July 28 New Moon Will Affect You If You're A Libra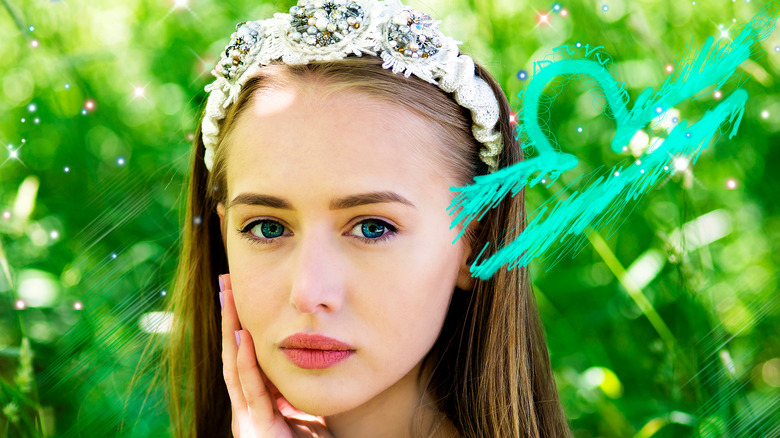 Dzhulbee/Shutterstock
The new moon on July 28 is all about the power of you. The lunation falls under Leo, and the fire sign is set to bring some very big energy to the zodiac. This month's new moon will give many the power to remember that they are in control of their own destiny and remind them that it's important to face all of their challenges head-on with strength and grace, per Women and Home. In addition, it's critical that you focus on positive things even while dealing with the negative.
If you are dealing with some tough situations currently, there are plenty of ways to use the new moon to your advantage. Setting intentions is one of the most powerful things you can do during the lunation as it will help offer a fresh start and perspective on your life and goals (via V Magazine). Start a new project, pick up a new book, or buy a new album during this time. Even purchasing fresh flowers for your home will be a step in the right direction.
Another way to clean the slate during the new moon is to tidy up your living space. Get rid of the clutter in your home, and it will help you get rid of the mental and emotional clutter as well. Don't forget to practice some self-care in the process.
If you're a Libra, now may be the time to get active in your community.
Libras will be able to bring people together during the new moon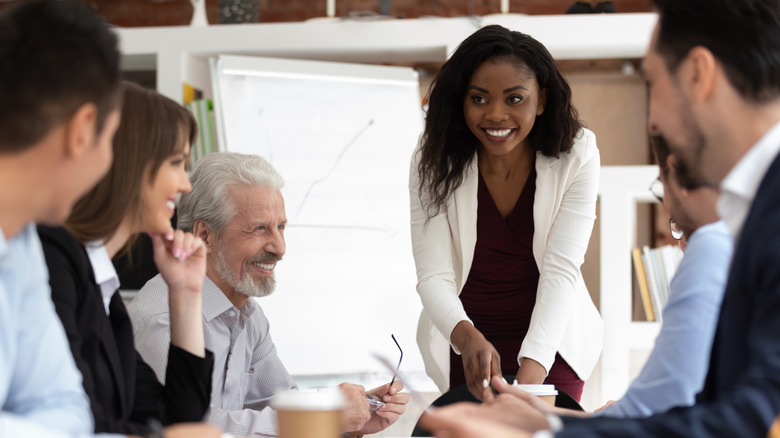 fizkes/Shutterstock
If you were born under the sign of Libra — September 23 to October 22 — you may want to jump into organizing something special for your community, family, friends, or co-workers during the new moon on July 28. The air sign is a known leader and helps bring balance to any situation, per Bustle. So, step into your power to lead a team project at work, put together a family dinner, get your friends together for a night on the town, or even gather those close to you to see if you can volunteer in your community. Those around you will respond to your vibes and confidence during the lunation, so put your skills and great ideas to good use.
During the new moon, it will be important to keep your loved ones close, as they will help you achieve your goals and dreams. Now is a great time to share your aspirations with friends and family members; you might just be surprised how they'll be able to help and support you on your way to the top (via Cosmopolitan). Perhaps you're looking to start a new business venture or want to figure out how to give back to those less fortunate. Run your ideas by your crew and see what they can offer you along the way.
Libras should stay persistent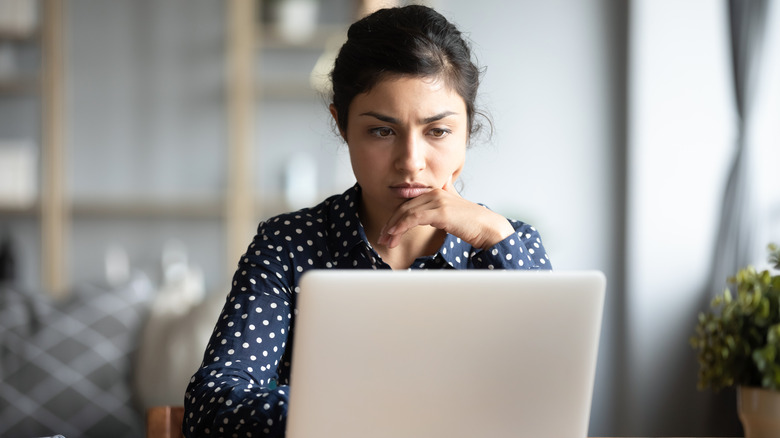 fizkes/Shutterstock
According to Stylecaster, Libras may find themselves busy during the new moon on July 28. However, the air signs need to remember that their commitments and responsibilities are not all that matter. This lunation can also be about self-healing and getting past some emotional trauma that's been bringing you down.
The new moon will have a Libra feeling very free even in the middle of many social engagements. The sign might need to remind themselves that, while they're trying to start a new chapter in their life, they don't have to please everyone, although they may want to.
Meanwhile, Metro notes that a Libra's tarot card for the time of the new moon is the Eight of Coins. The card suggests that by advocating for yourself and showing your amazing skills and talents, Libras will be able to attract the help and support they need to achieve their goals. The card also represents tenacity and not giving up. So if you feel like letting go of a longtime dream, keep at it. You may be closer to achieving your aspirations than your think.
It appears that Libras will have a lot of work to do during the new moon, but if they enlist the help of some trusted people they'll set themselves up for success.