The Time Howie Hofstetter Became A Bride On Days Of Our Lives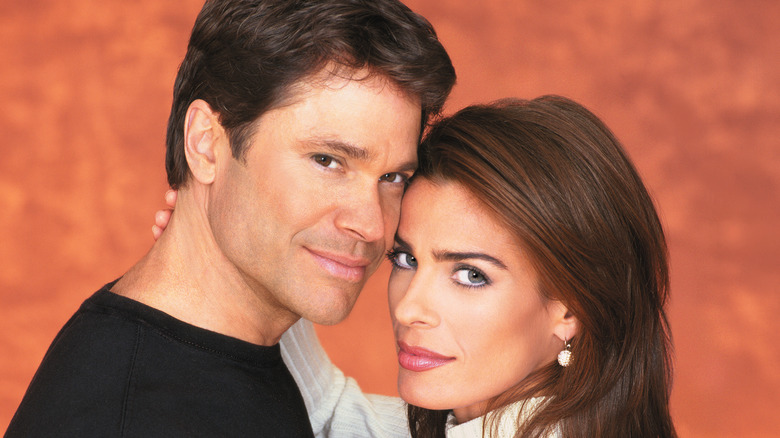 Getty Images
Bo Brady (Peter Reckell) and Hope Williams Brady (Kristian Alfonso) make up one of the most popular soap opera couples of all time. The "Days of Our Lives" pairing sent fans into a frenzy when they first got together in the 1980s, and viewers are still obsessed with Bo and Hope's love story to this day thanks to Season 2 of the soap's spin-off series "Beyond Salem."
Bo and Hope met when they were very young, per TV Fanatic. Hope was just 17 years old when she fell hard and fast for Bo, a middle-class rebel who wore leather and drove a motorcycle. Of course, Hope's family wasn't happy about her infatuation with Bo and did what they could to stop the duo from being together.
Eventually, Bo and Hope began dating, and after Hope turned 18, she and Bo decided to take their relationship to the next level. However, just as the couple was getting intimate, Hope's father, Doug Williams (Bill Hayes) walked in and was so shocked that he had a heart attack. The guilt caused Hope to break up with Bo and eventually move on with one of Salem's most dangerous men, Larry Welch.
What came next was one of the most epic and memorable moments in "Days of Our Lives" history, and solidified Bo and Hope's status as a true daytime TV super couple, per Soaps.
Hope and Larry got engaged after her breakup with Bo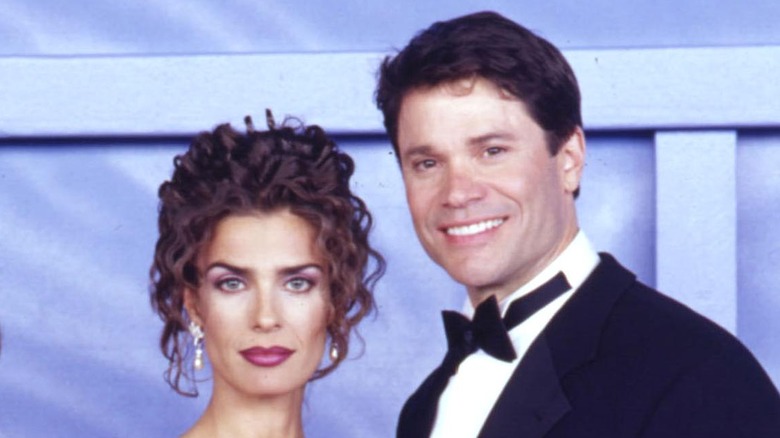 Getty Images/Getty Images
Throughout Bo and Hope Brady's relationship, the pair faced a lot of tough times. "Days of Our Lives" viewers watched the fan-favorite couple be separated by kidnapping, brainwashing, death, and even marrying other people, per Soaps. However, they always found their way back to one another. While different people were to blame for Bo and Hope's ups and downs, one of those people was Larry Welch.
Hope and Larry were a bad fit right from the beginning. Hope only turned to Larry after Bo convinced her he didn't love her anymore to keep her safe during an undercover mission to save his brother, Roman Brady (via Celebrating The Soaps). During this time, Hope and Larry eventually got engaged, but Larry only wanted to marry Hope to get his hands on her trust fund, per TV Fanatic. When Bo found out that Hope and Larry were set to get married, he did everything he could to stop the wedding, including using his friend Howie Hofstetter as a decoy in an unforgettable moment.
Howie took Hope's place on her wedding day
On Hope Williams' wedding day to Larry Welch, Bo Brady was desperate to stop the wedding and he enlisted the help of his friend, Howie Hofstetter, a private investigator (via Soap Hub). In one of "Days of Our Lives'" most famous scenes, Bo jumped on his motorcycle and raced to the church where Hope was supposed to marry Larry, per Soaps. He then kidnapped the love of his life in her wedding dress and dashed off with her on the back of his motorcycle as the song "Holding Out For A Hero" by Bonnie Tyler played in the background.
In order to trick Larry and buy the couple more time, Bo had Howie dress up in a wedding dress and walk down the aisle to perform the ceremony with Larry (via TV Fanatic). When the veil was lifted, it was Howie who stood before Larry, offering up puckered lips for their wedding kiss in one of the most comical moments on the NBC sudser.
Eventually, Hope ended up marrying Larry, but the two divorced and she and Bo went on to get married and welcome three children together, Shawn, Zack, and Ciara, per We Love Soaps. While Bo and Hope have had many incredible and iconic moments over the decades, the wedding rescue and Howie taking Hope's place is one that fans will never forget.