The Resort's Nina Bloomgarden Reveals The Skill Nick Offerman Taught Her - Exclusive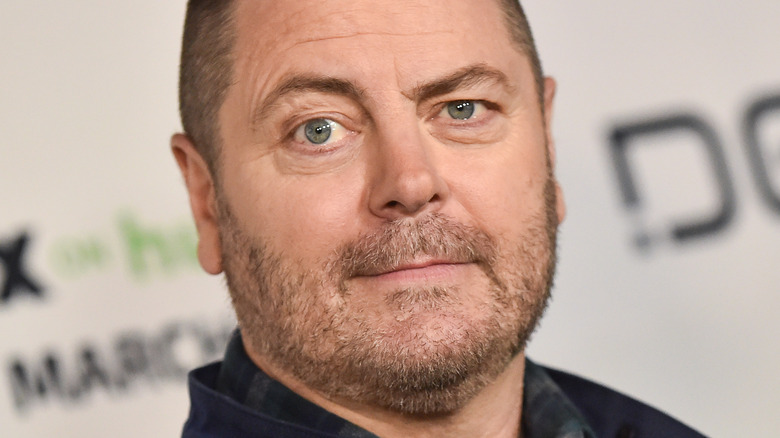 DFree/Shutterstock
When it comes to onscreen dads, you can't beat Nick Offerman — who takes his Dad Duties as seriously off-screen as he does when the cameras are rolling. Nina Bloomgarden (playing Violet) and Offerman play a father-daughter duo in the upcoming Peacock series "The Resort." The series toggles back and forth between the past and present as a married couple struggling to rekindle their flame stumbles across a 15-year mystery while on vacation. Meanwhile, in the past, Violet's dad desperately tries to reconnect with his daughter following her mom's death.
It's no surprise that an actor like Offerman would have an arsenal of advice and life skills to teach his younger co-stars, and he was generous in sharing everything he knows with Bloomgarden. During an exclusive interview with The List, Bloomgarden shared her favorite stories about Offerman from "The Resort" set and detailed the many lessons he taught her along the way.
Mastering the art of chopsticks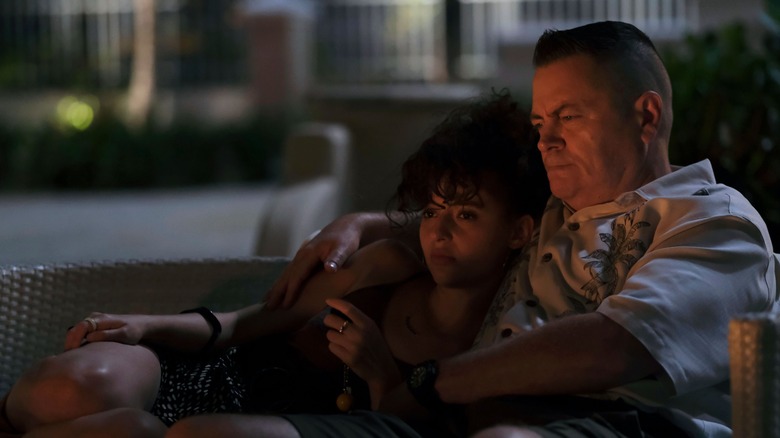 Peacock
Nina Bloomgarden told us some fun stories from set, including some of the highlights of working with Nick Offerman on "The Resort," saying, "Nick is full of stories, and every day was a new eye into his life. He's lived so many lives. He's so gracious and kind and knew everybody's name right off the bat. It was incredible working with him. Then, on top of that, [I] got so much good life advice and so much good acting advice from him." While Offerman often plays relatively gruff characters, it seems that the actor couldn't be nicer in real life. 
As it turns out, some of Offerman's lessons even show up in the final product of the series. "There's a scene in the show where we're using chopsticks, and Nick's teaching me how to use chopsticks. That was actually him genuinely teaching me," Bloomgarden recalled. "We didn't know the cameras were rolling. He used to live in Japan. He lived in Japan for a year. I was doing it wrong, and he really taught me my lesson. Now I know how to use chopsticks. But [there are] so many stories, some of which are his that I don't want to [reveal]."
A woodworking legend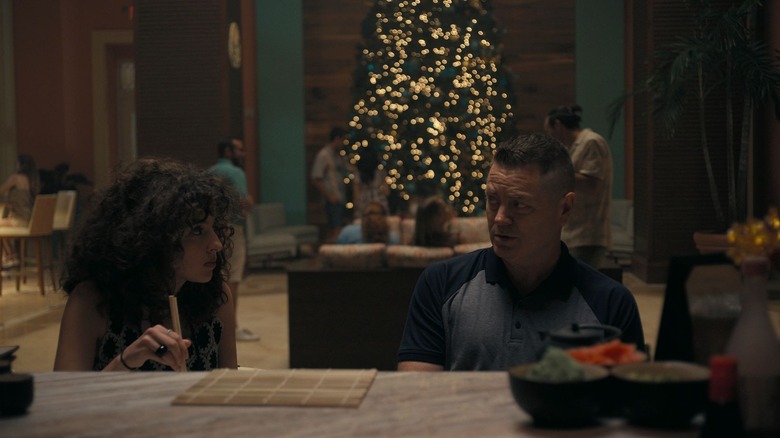 Peacock
When it comes to other things Nick Offerman taught her, Nina Bloomgarden noted that you can learn things just by being in the actor's presence. "Just being around him was a lesson — how he holds himself and how humble he is." 
But he's got more than life lessons to share. Anyone who's watched "Parks and Recreation" or tuned into Offerman's show "Making It" alongside Amy Poehler knows that the guy is a certifiable woodworking genius. If you need help with a crafting project and you're cool enough to have Offerman's number, he's the guy to call — he even has his own wood shop.
Bloomgarden revealed that she just might need his assistance in the wood shop in the future. "Me and my friend are trying to build a dollhouse this summer, and I messaged him being like, 'Hey, I'm going to probably need a lot of pointers because we want a big old dollhouse,'" she said. "Hopefully, I'll go to his wood shop at some point and take a gander. But [there are] so many things — he did Kabuki theater. That's what took him to Japan. He's written books. [He's done] everything."
The first three episodes of "The Resort" air on Peacock on July 28, with subsequent episodes releasing Thursdays.