Zaria Dishes On Joining The New Generation Of Pretty Little Liars: Original Sin - Exclusive Interview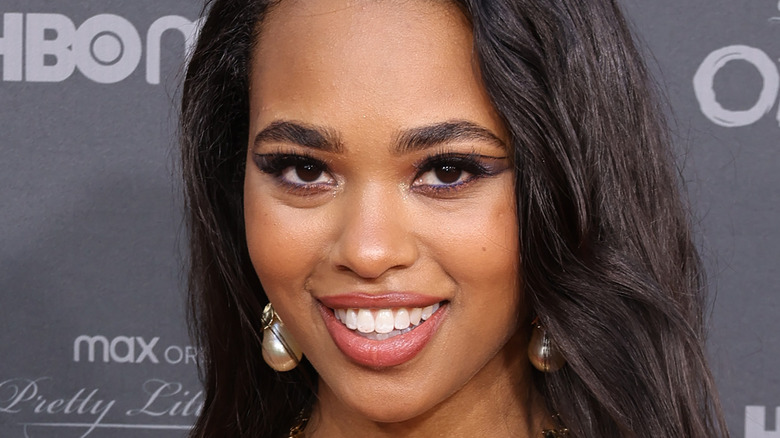 Amy Sussman/Getty Images
It's been five years since the world last saw Spencer's evil twin reveal herself in the series finale of "Pretty Little Liars." However, it turns out, A has still been keeping busy behind the scenes. Now, the world will be introduced to an entirely new set of victims in the spin-off series "Pretty Little Liars: Original Sin."
In the city of Millwood — not far from Rosewood where the original "Pretty Little Liars" lived — a new group of girls have found themselves at the center of A's awful schemes. As their own secrets start to slowly unfold over the course of the season, they begin to realize that their parents also have a long-kept secret that A has set out to expose.
Stepping onto the set of a series that has already had its own fandom for years was something actress Zaria didn't take lightly — and we had the opportunity to ask her all about what it was like stepping into the shoes of a pretty little liar.
In an exclusive interview with The List, Zaria told us what she's most excited for fans to see in the spin-off, discussed the special scene she asked to be written in for her character Faran, and shared her initial reaction to what she calls a "surprising" ending to Season 1.
Zaria reminisces on how she landed the role of Faran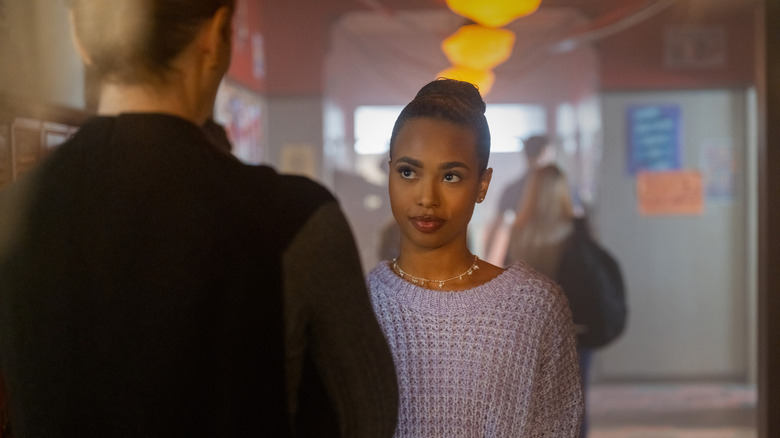 Karolina Wojtasik/HBO Max
Did you watch the original "Pretty Little Liars" series in order to prepare in any way for "Pretty Little Liars: Original Sin"?
I didn't revisit it to prepare it, because I was such a fan when I was younger — genuinely, reading the books to watching the series, to the whole gamut. I knew that we were creating a new world inside the universe, so I wanted to be protective of Faran in her story.
[I'm] definitely revisiting it now [and] definitely geeked out when Lucy Hale did our panel. It's really the best series to be a part of in terms of the re-imagination, so I'm thrilled.
What was your audition like?
I did a self-tape, [which means] you audition in your room or with your coach.
I did one of those, and then I got a session with our creators and Lisa [Soper], who directed a lot of the episodes. It was, genuinely, the most collaborative experience I've ever had. It was so amazing. I was asking questions about the character. They were experiencing the same type of person that I was experiencing through the words.
Honestly, this isn't just because they hired me off of it, but it was the best audition experience I've ever had. Sometimes you get the role, and it wasn't a good audition experience. I can't say that for this. It was collaborative through and through, throughout the whole process.
How did you find out you had landed the role? Do you have a fun story there?
Actually, I was in the same room as my acting coach. We were self-taping for something else, and he has been working with me for three years, for as long as I need. That's not typical. Sometimes it costs so much, but he's been so helpful with me on my journey.
I got the call, and he overheard, and he started crying, and so that made me start crying. My agent is patching everyone else in, and we know that normally when they patch other people in, it's good news. They don't call and embarrass you in front of the whole group. [Laughs] They patched everyone in, and I'm sobbing, like, "Really?" It was definitely a surreal moment.
Here's how she prepared to become a ballerina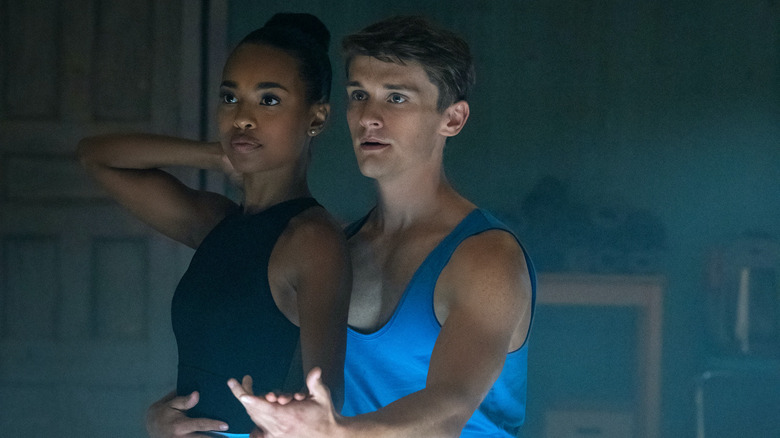 Barbara Nitke/HBO Max
Your character Faran is a ballerina. Did you have any ballet experience, or did you have to prepare any way in that aspect?
There was a lot of preparation that went into Faran, but I did have some dancing under my belt. I moved around quite a bit, so I was never as consistent as Faran was growing up. She is so sure that to be the best, she has to be practicing every day, and that's a big part of who she is.
I was definitely channeling her when our choreographer Kelly Devine was hounding me and Ben Cook [who plays Henry] for eight hours at a time. [Laughs] Mallory Bechtel [who plays Karen] got in some practices with us, so it was really a great learning experience.
I'm so grateful to the dancing community. They're the most beautiful creatures ever, like majestic otherworldly creatures. It's an athlete and an artist mixed into one beautiful package, and I'm excited to be a part of that community in this way.
Her thoughts on joining the Pretty Little Liar universe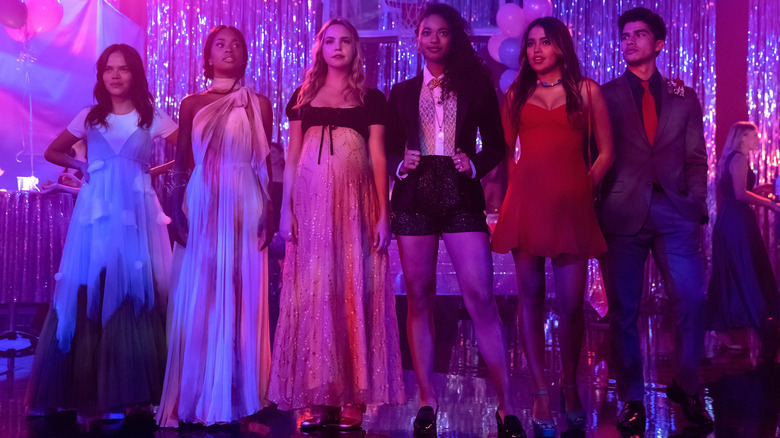 Barbara Nitke/HBO Max
"Pretty Little Liars: Original Sin" has some nods to the original series, but there are a lot more horror elements. Since it is a spin-off series, did you feel any pressure approaching this project?
Throughout this entire experience, whether it's been our creators, Roberto [Aguirre-Sacasa] and Lindsay [Calhoon Bring], or having Lucy Hale do the panel, or having all of the O.G.s welcome us with open arms, I have felt so supported, that I'd say I feel grateful that I get to step into this series.
The fans are amazing. They are so accepting and ready to see what we've made for them, because that's what we do it for. We do it for you guys.
Have you met any of the other original cast? Did they give you any guidance headed into this fandom?
I feel like that's almost a spoiler. [Laughs] I can't say ever if I have or have not met anyone else.
I can say Lucy Hale gave me the biggest hug and was so welcoming and was on our team on that panel. It's been really fantastic to see the online interactions that different cast members have gotten. Mallory Bechtel [who plays Karen] got this amazing nod. It's phenomenal to feel supported, especially by female actors and artists.
Do you think there is an original character that Faran would get along the most with?
I've been saying Spencer. They're very practical and have their head on like, "This is how it works." [Faran and] Spencer would get along.
Many of the sets they worked on were haunted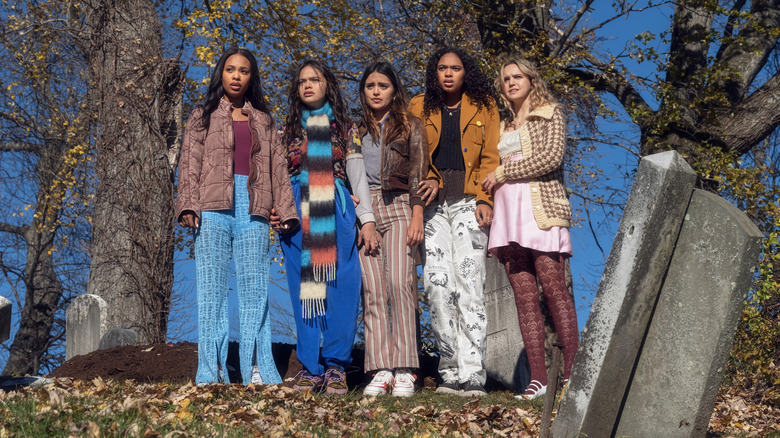 Karolina Wojtasik/HBO Max
What kind of comments or responses have you heard so far from fans? Have you heard any crazy fan theories yet for what's going to happen?
The theories haven't really started quite yet. Maybe [once it premieres], we'll get some really fun ones, but we had some wild theories we cooked up by ourselves, because we were getting the scripts as they came. We went on that ride ourselves. We know that fans will be able to go on that ride, which is really exciting because it's a fun [idea of], "Who is it really?" and keeps you wanting to see what happens next week.
I actually heard that you filmed at some haunted locations. Is that true?
[Laughs] I'm laughing, because we definitely called it "haunted." I know exactly what people are talking about.
I cannot watch scary movies, because I am a scaredy-cat, and every time filming at this specific location, I would get the chills [Laughs], because there definitely were some unexplained instances within it. I don't know if I can say too much more about that either.
Zaria shares her favorite memories from filming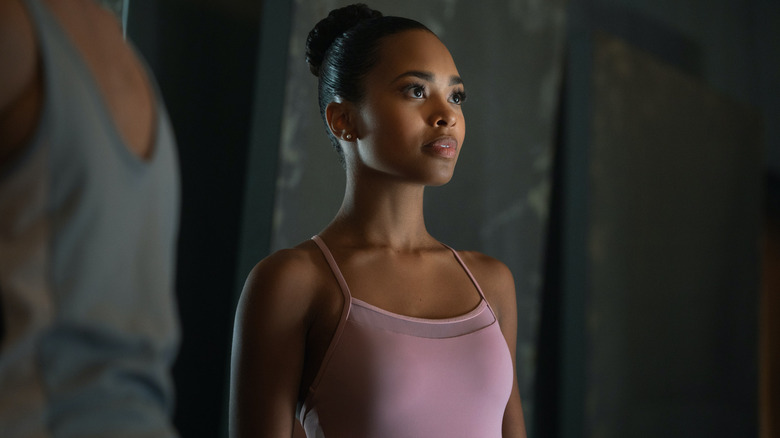 Karolina Wojtasik/HBO Max
Is there a behind-the-scenes moment from shooting Season 1 that's been the most special to you?
Oh, there's so many. If I had to pick one, I would say the very first performance that Ben Cook [who plays Henry] and I put on, because there was so much preparation, and we knew it was going to happen for so long, and we worked so hard on it, and he is such a great teacher in that way.
Having the support of Kelly Devine and him and Mallory Bechtel [who plays Karen], who was in those practices as well ... It was so magical being able to do it on a stage. You don't really have that when we're performing for TV. It's not really a stage, and Faran had that many times. It felt like being in a play and also being in a show, which was really special for me as an actor.
Getting the best of both worlds.
Yeah, exactly. We were performing it. Sometimes the producers would come and watch, and that was so nerve-wracking. [Laughs] It was like performing it. Even in rehearsal, it was like, "Oh, got to nail the move," and it felt like high stakes, even though we could cut and redo it. [Laughs]
The Season 1 ending is sure to surprise fans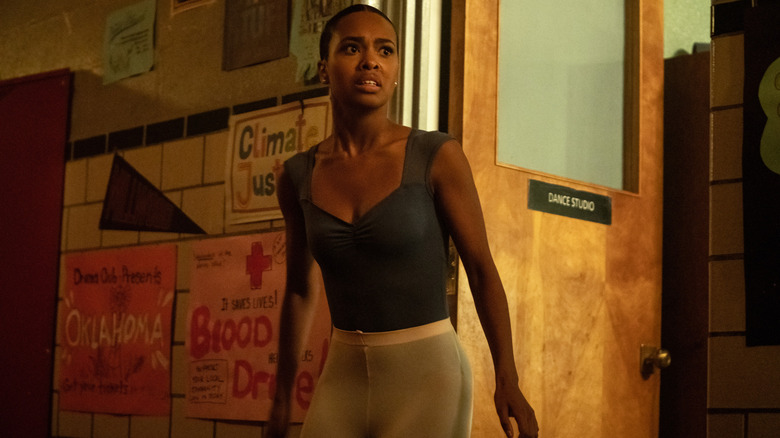 Karolina Wojtasik/HBO Max
Are we going to find out who A is by the end of the season?
I always call these questions "landmine questions." [Laughs] There's this really funny video where we're filming, and we're not supposed to show where we're filming, and I'm like, "Oh, look, it's this person," and all the girls were like, "No! No! No!" So that has happened.
I've been very cautious in being able to give all the viewers what they deserve when they watch, and they are surprised. I feel like Lindsay [Calhoon Bring] and Roberto [Aguirre-Sacasa] and all of our beautiful writers did a fantastic job at creating different versions of A for each character.
I know for sure that Faran deals with a lot of problems from Madam Giry, and everyone has their major antagonist [like] her and Karen. Faran would be most suspicious about her micro-aggressors.
Did you have an idea of where the end of the season was going, or were you surprised yourself?
I was surprised. I was delightfully surprised throughout the entire season. I remember texting everyone in our group chat whenever we'd get a new script, because it was so exciting. [I said], "Did you hear this happen with Faran and Henry? Did you see this happen with your character?" It was so juicy every time, so I was surprised.
I write as well, so the most magical thing about being a writer is finding an ending that makes sense, but surprises your audience. They've done just that.
Her favorite part of becoming Faran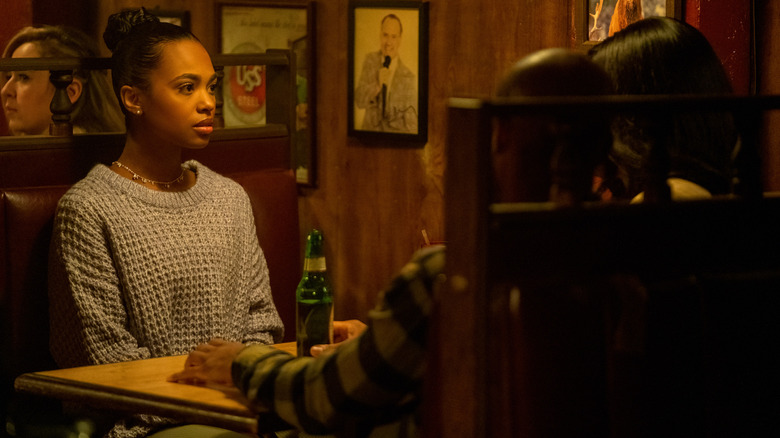 Karolina Wojtasik/HBO Max
What are you most excited for fans to see once Season 1 is released?
I'm most excited for fans to see that we created our own world. It does have a lot of nods, and it pays immense homage to the past in so many different ways, but it also tackles very sensitive topics and very of-the-now things, which "Pretty Little Liars" continuously does throughout. Every time it pops up, it's like, "Oh, this is what we're talking about now." I'm excited for fans to see the new "now" that we're talking about.
There are a lot of really important themes explored in "Pretty Little Liars: Original Sin." There's grief, revenge, and rejection. Was there one that stuck out the most to you?
What really stuck out for me playing Faran was her ability to stand up for herself.
One of the first scenes that I ever auditioned for is a scene where she expresses how she feels, and how she feels someone sees her, and what that means for her. The theme that Faran explores is: What does success mean, and how do you win in a world that doesn't accept you just because you're you, because you exist in that way?
I was really grateful to be able to find that part of myself, because in high school, I wasn't like that. I didn't feel confident enough to stick up for myself. When things were subtle, it seemed not worth bringing up, and Faran does not feel that way at all. [Laughs]
Zaria asked to have this special moment written into the series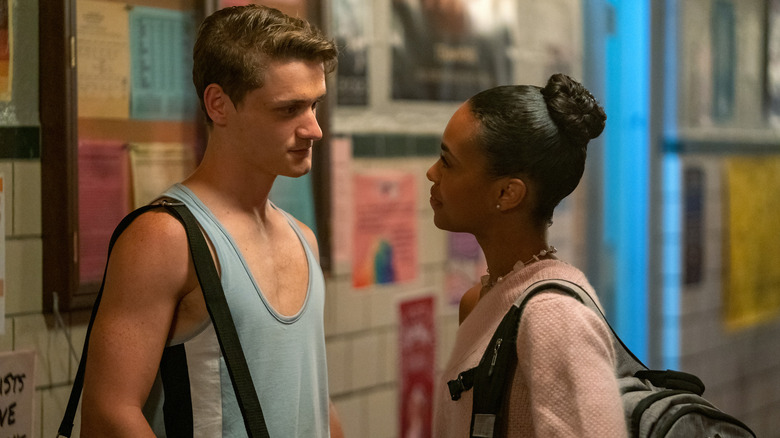 Karolina Wojtasik/HBO Max
You were working with Roberto Aguirre-Sacasa and Lindsay Calhoon Bring, who have produced shows like "Riverdale" and "Chilling Adventures of Sabrina."
Yes. Legends.
What was that experience like to be able to work with them?
You say that resume, and you go, "I bet they were inaccessible. I bet they were out in another universe." [Laughs] That was not the case. They were so accessible. They were so collaborative. They were so willing to hear my experience as a Black woman, and what I wanted to put into Faran, and how I saw her interacting with all of the girls. I can't even express in this short amount of time how helpful they were.
Lisa Soper, [who] directed a lot of our episodes, gave us a playlist. She printed out what she saw the series to look like. It was just me — I love art and all of its forms. I was like, "Yum! Yum! Yum!" [Laughs] I was eating it all up.
We had mostly female directors, [but] we had one male director of the season, and he was so amazing. Finding a team that really cultivates that environment for you, I do not take for granted because I know it doesn't happen all the time. It is just as wonderful as you think it might be is what I think the answer to your question is.
It's fun to hear that it was such a collaborative process. Was there anything that you were able to put into your character?
There were so many things ... I don't think this is a spoiler. [Laughs] One subtle thing that Faran does in the season is she changes ballet slippers. She goes from a pink point shoe to a brown point shoe.
That was something that I talked to Lindsay [Calhoon Bring about ] early on. She's one of our creators. I said, "I feel like Faran is learning where she is in the world at this age and learning what it means to be a part of a world that doesn't accept you." For so long, she's trying to get the world to accept her, and then she turns around and realizes, "I have to be me because that's what I've got, and the world has to figure it out by themselves."
The first three episodes of "Pretty Little Liars: Original Sin" are now streaming exclusively on HBO Max. Two new episodes will be released each Thursday.
This interview has been edited for clarity.