Here's What Meghan Markle Has To Say About Her Half-Sister's Accusations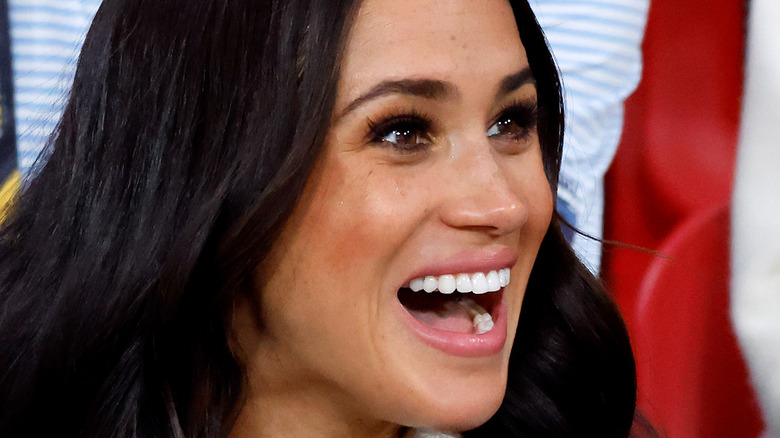 Max Mumby/indigo/Getty Images
We may receive a commission on purchases made from links.
Since her wedding to Prince Harry, Meghan Markle's relationship with members of the royal family has varied from warm and cordial to icy and hostile. (That controversial new biography, "Revenge: Meghan, Harry, and the War Between the Windsors," alleges that Meghan was at fault in the "crying mystery" involving Kate Middleton.) As if that weren't enough to contend with, the Duchess of Sussex is also at odds with two key family members. 
Meghan's relationship with her dad, Thomas Markle, has been strained for a number of years, and the drama surrounding her wedding to Prince Harry only made things worse. Thomas allegedly staged paparazzi photos of himself preparing for the wedding — a royal no-no — and then dropped out of the ceremony at the last minute, per Business Insider.  He has since criticized his younger daughter for disrespecting the royal family and for keeping him apart from his grandchildren (via Us Weekly).
Her half-sister, Samantha Markle, has an even lower opinion of the duchess, even writing a memoir called "The Diary of Princess Pushy's Sister." In early 2022, she went a step farther by filing a defamation lawsuit against Meghan for remarks she made during the famous Oprah interview. As Insider notes, Meghan said, "I grew up as an only child," noting that she didn't know her stepsister well. Samantha's legal team calls this a "vendetta" against her that "caused people who watched Oprah and who adore the Duchess to have and display hatred toward Mrs. Markle." 
Meghan and her lawyers aren't having it.
Meghan's lawyers say her memories aren't slanderous
According to TMZ, Samantha Markle is particularly incensed over Meghan's claim of being an "only child" who had limited contact with her step-siblings. Another area of contention is Meghan's account of coming from an underprivileged background and working to pay for college. In fact, Samantha counters, Thomas paid for both Meghan's college and for private schools. The alleged falsehoods, Samantha claims, has damaged her reputation and made her unemployable.
Not so fast, says Meghan. HollywoodLife just released court documents from the duchess's legal team that address her half-sister's defamation claims. For one, the lawyers argue, "Meghan's response to that question that she 'grew up as an only child' was obviously not meant to be a statement of objective fact that she had no genetic siblings or half-siblings. Rather, it was a textbook example of a subjective statement about how a person feels about her childhood." 
Samantha's lawsuit also alleges that Meghan made similarly false statements in the biography "Finding Freedom," which details the Sussexes' decision to leave royal life. Again, Meghan's lawyers dismiss the claims, pointing out that the bio wasn't actually written by Meghan. Therefore, "the motion to dismiss as to alleged defamation and injurious falsehood based on those statements should be granted."