Has The Meghan Markle And Kate Middleton Crying Mystery Finally Been Solved?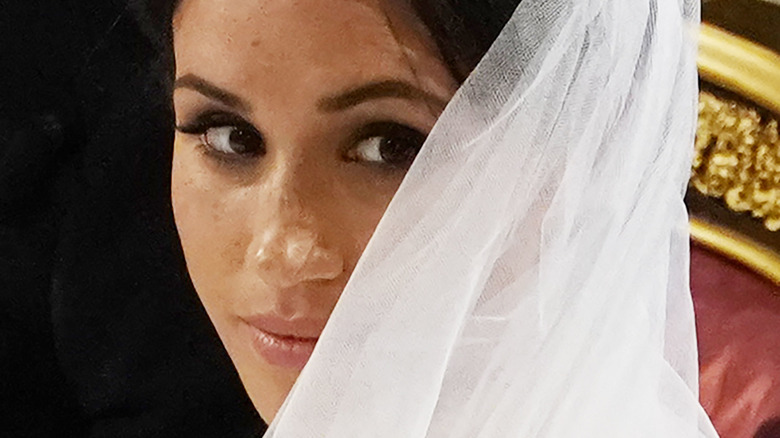 Wpa Pool/Getty Images
It's been a tale of she said, she is remaining mum. A rumor that Kate Middleton made Meghan Markle cry sometime before her wedding to Prince Harry was squashed by the Duchess of Sussex herself during her controversial interview with Oprah Winfrey in 2021.
While Meghan told the former TV show host that she didn't want to "get into the details" of what happened since it would be unfair to the mom of three, the former actress asserted that it was actually Kate whose provocation brought her to tears in 2018 (via ET). But the mom of two told Oprah that the two had moved past the situation, with Kate apologizing for her behavior.
For her part, the Duchess of Cambridge has never spoken publicly about the sisters-in-law's fight, with royals author Katie Nicholl telling OK! Magazine, "Kate is so discreet and respects her personal life. You never hear about her falling out with anyone because she is very careful with how she treats others" (via Page Six).
Of course, no one outside of the royal family knows for sure what went down between the two royals to make one of them cry. But now, a new account of the pre-wedding wrangle has been published and it once again paints Meghan as the villain.
A new book about Meghan Markle is not kind in its treatment of her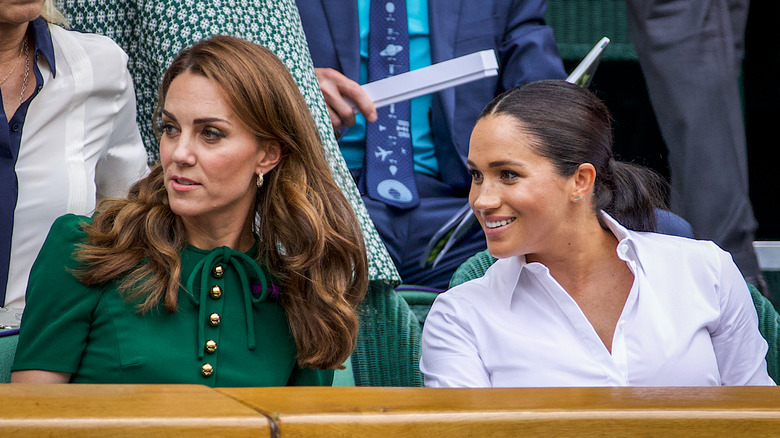 David Gray/Getty Images
Tom Bower's new book, "Revenge: Meghan, Harry and the war between the Windsors," is certainly intent on portraying Meghan Markle as a bad person, according to the author himself. In fact, the British journalist, in a seemingly-sinister plan, even told Piers Morgan in a recent interview that he is fine with his tome accelerating the downfall of the Duke and Duchess of Sussex (via Newsweek).
That said, perhaps taking his account of what transpired between Meghan and her sister-in-law Kate Middleton four years ago with a grain of salt would be advisable. After all, Bower has included several unfavorable stories about Meghan in his new book, including asserting that Prince Harry's friends called him "nuts" for dating the "Suits" star and that the Duchess of Sussex fumed over being compared to the Duchess of Cambridge.
Bower also took on the fight between Meghan and Kate in his book, and let's just say that his version reverts back to presenting Kate as the victim of mean girls behavior at the hands of the soon-to-be bride.
Meghan Markle's version of events is called into question in the new book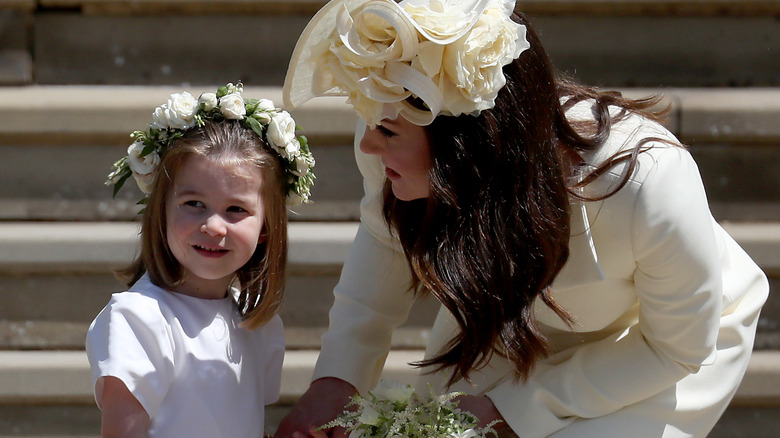 Wpa Pool/Getty Images
Tom Bower's version of the fight between Kate Middleton and Meghan Markle has the Duchess of Sussex bullying the Duchess of Cambridge over the hemline of Princess Charlotte's bridesmaid dress (via Daily Mail). The author also writes that Meghan compared Kate's daughter to her friend Jessica Mulroney's daughter Ivy, who was also in the wedding — and her words were apparently unkind.
As a result of the bride-to-be making the comparison and refusing to compromise with Kate, Bower claims the senior royal was left in tears, not the other way around. To be fair, his account is only supported by an unnamed source, so again, fans are left not knowing for sure whether it's Meghan's account that is the truth or if Kate was the offended party in the whole incident.
Either way, one thing is probably certain: The eventual queen is highly unlikely to comment on the fight. And it's unlikely according to one public relations expert who spoke to Newsweek that Bower's new book is going to make much of a splash anyway, given his heavy reliance on anonymous sources.