Here's Where You Know Purple Hearts' Cassie From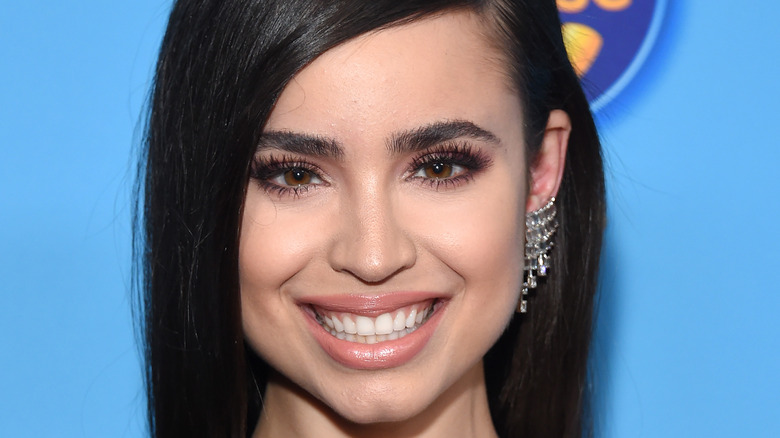 DFree/Shutterstock
Netflix's "Purple Hearts" is the tearjerker tale of two lost young people — from very different worlds — who discover they have more in common than they realized and fall in love in the process (via Rotten Tomatoes). Headstrong Cassie is the self-sufficient liberal who chafes against the conservative, no-nonsense attitude of army man Luke. He's recently enlisted in an effort to improve his life after a battle with drug addiction and wrongfully pegs Cassie for a spoiled brat with a trust fund.
Lead actors Sofia Carson and Nicholas Galitzine share crackling chemistry onscreen, whether their equally likable characters are bickering over competing worldviews or comforting each other in their darkest moments. Both Cassie and Luke get an opportunity to be vulnerable and look after each other, too, since Cassie has Type 1 diabetes while Luke gets injured in combat, necessitating a lengthy rehabilitation process in Cassie's shabby-chic apartment. 
"Purple Hearts" is sure to have viewers swooning over both of them. Carson, however, might already be familiar to certain people, particularly Disney fans.
Actress Sofia Carson is a former Disney star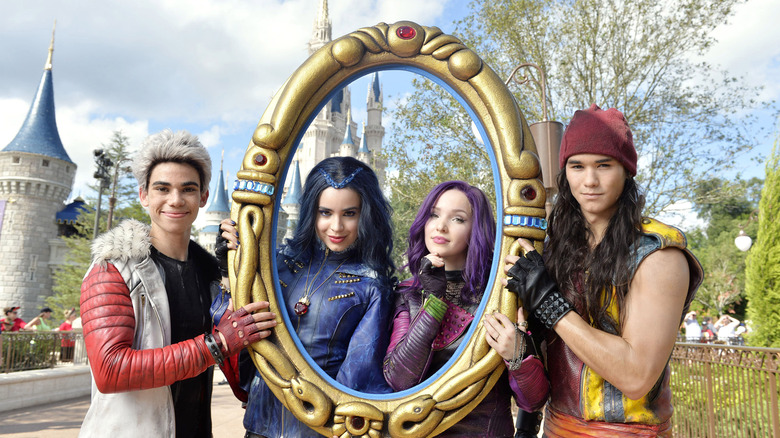 Handout/Getty Images
Sofia Carson made her onscreen debut in the Disney Channel show "Austin & Ally" back in 2014, and she quickly became a Disney star after landing a leading role as Evie in the TV movie "Descendants" (via IMDb). As the actress told Cosmopolitan, producers initially passed on her, believing Carson needed to hone her craft more. However, they ultimately changed their minds and, after a lengthy audition process, the part was hers.
In the subsequent years, Carson would appear in several different iterations, including the sequel "Descendants 2: It's Going Down" and the spinoff show "Descendants: Wicked World." Looking back on her trajectory during her interview with Cosmopolitan, Carson put it simply: "There's a certain magic to this world. It's a combination of preparation — preparing as much as you physically can — passion, luck and a little bit of pixie dust, and timing."
The Florida native branched out with a more adult role as Ava in "Pretty Little Liars: The Perfectionists" (per IMDb), but she continues to view her Disney past with fondness. As Carson clarified, to Teen Vogue, she was "a grown woman" when her relationship with the entertainment conglomerate started, so it was a "different experience" for her, albeit positive and life-changing all the same. Carson knew she wanted to be in the spotlight from a young age, and she fought hard to make it happen. Like many ambitious young women before her, the Disney breakout is also multitalented.
The Purple Hearts star is a musician in real life too
Netflix
Her singing and performing prowess is evident in "Purple Hearts," so it's not exactly a shock to learn Sofia Carson has a successful music career in real life, too. She's had several releases to date, many of which are from her various acting projects (via Spotify). It wasn't until early 2022 that her self-titled debut, "Sofia Carson," was finally released to the world, though. 
During a chat with E! News to promote its release, Carson admitted, "It's surreal to even be talking to you about this because this has been something that I've been dreaming about since I was a little girl." The "Descendants" star acknowledged sharing her music publicly is akin to sharing "a little piece of my heart." Moreover, Carson noted, "It's a privilege to be able to make art that is a reflection of who I am and to share it with the world." 
Coveteur describes her as "the next Jennifer Lopez," based on a "TRL" interview Carson gave back in the day. When it comes to balancing her loves of music and acting, the Disney alum revealed she looks to Lopez, Cher, and Barbra Streisand, for inspiration. However, Carson doesn't favor either discipline, arguing, "I equally love film and I equally love music, and I think it's different forms of expressing myself and telling a story. If I'm lucky enough, I would like to keep doing both — keep making films and to keep releasing music."