Why The Pilot Of Married...With Children Had Different Actors Playing Bud And Kelly Bundy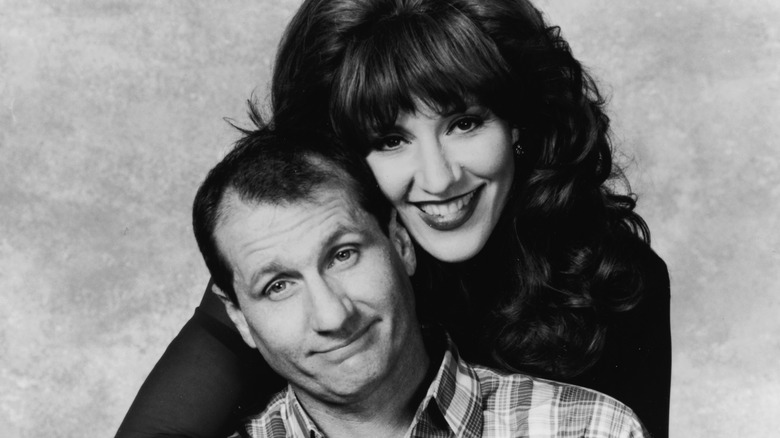 Fox Broadcasting/Getty Images
Before he played the delightfully grumpy Jay Pritchett on "Modern Family," Ed O'Neill was acerbic patriarch Al Bundy on another beloved sitcom. "Married... with Children" ran for a decade on Fox, from 1987 to 1997, and made stars out of the likes of O'Neill; Katey Sagal, who played Al's long-suffering wife, Peggy; David Faustino, who was their son, Bud; and Christina Applegate, who portrayed rebel daughter Kelly. 
Sagal revealed that she knew the show was a hit when she got her very own wig. During an appearance on "Jimmy Kimmel Live!," the actor explained, "Because the first three years I would just do my own hair, and then all of a sudden they started dishing out money, like wigs are not cheap. They got me a wig." As Sagal pointed out, though, Fox aired the show so often that it was impossible to ignore. 
She also reminisced about attending a parade with O'Neill, at which tons of fans were dressed up as their characters. Sagal admitted, "We thought no one was going to really watch it because it was so irreverent and it was so not like anything else on TV. Which is why I thought I got the job, because I wasn't like anything else on TV." 
As for her TV husband, O'Neill simply can't believe his luck. The "Modern Family" fan favorite told Page Six that he's won the Hollywood "lottery" twice over with the two hit shows.
Applegate and Faustino, meanwhile, very nearly didn't get the jobs that would change their lives. 
There were major chemistry issues with the original actors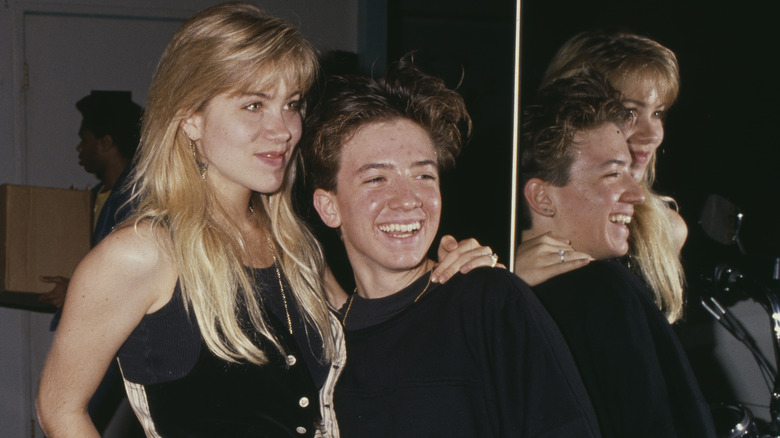 Michael Ochs Archives/Getty Images
As Screen Crush reports, in an unaired pilot for "Married... with Children," Bud was played by Hunter Carson, with Tina Caspary as Kelly. They were ultimately recast, of course, with David Faustino and Christina Applegate taking over their respective roles. 
According to Screen Rant, the reason Caspary, in particular, was swapped out for Applegate was because of a lack of chemistry with Ed O'Neill. Showbiz CheatSheet confirms that it was the actor himself who approached higher-ups and suggested replacing them, meaning he had a hand in getting Faustino and Applegate the jobs that would make their careers. 
As for their predecessors, Caspary seemingly quit acting in 1994, while Carson took a break until 2000, when he began performing again. The actor also works behind the scenes, too, as a writer and director. 
O'Neill, meanwhile, got a taste of his own medicine when he was cut from the Vietnam movie "Flight of the Intruder." Per the Los Angeles Times, he was so well known as Al Bundy that test audiences kept cracking up whenever O'Neill popped up onscreen, which didn't sit well with producers, who recast the role. O'Neill pointed out that he was a serious actor long before the show came along.  
David Faustino and Christina Applegate instantly clicked with the cast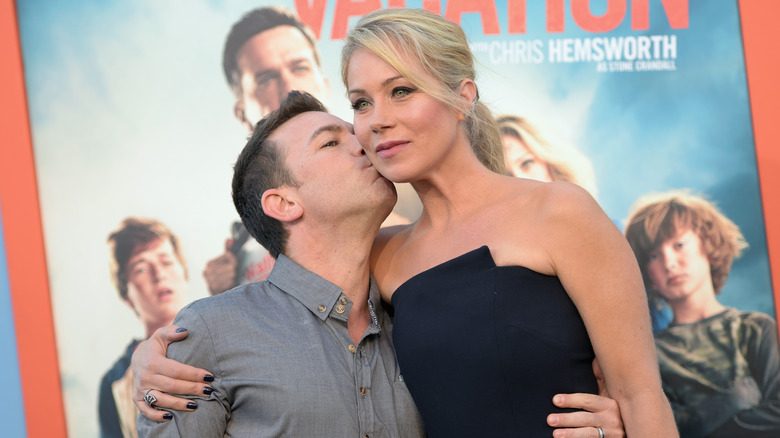 Jason Kempin/Getty Images
It's been a long time since the show was on the air, so it's unsurprising that there are several "Married... With Children" actors who have sadly passed away. Elsewhere, David Faustino and Christina Applegate, who played brother-sister duo Bud and Kelly Bundy, have worked consistently since their big breakout moment. 
Faustino has mostly done voice work in the years since, while he also enjoyed a recurring role on "The Young and the Restless." As for Applegate, she's appeared in a variety of movies, including "Anchorman" and "Bad Moms," and fronted TV shows such as "Dead to Me" and "Samantho Who?" 
During the 2019 Comic Con Baltics, her onscreen brother admitted he used to hate being recognized as Bud but now acknowledges just how important "Married... with Children" was for a whole generation of fans. Likewise, Faustino noted that Bud was "such a fun character in a non-threatening, loving way."
Per ET, Applegate reunited with onscreen mom Katey Sagal for a couple of episodes of "Dead to Me," with the older actor gushing that it was wonderful to share scenes with her again. Looking back on their time working on "Married... with Children," Sagal gushed, "We just got on great, so that was fantastic."
She also referenced the recasting of her onscreen kids. Sagal described it as "instant chemistry," noting, "The whole thing clicked. We were all kinda a bunch of little outcasts."