Royal Author Dishes On The Drama Between Emma Watson And Meghan Markle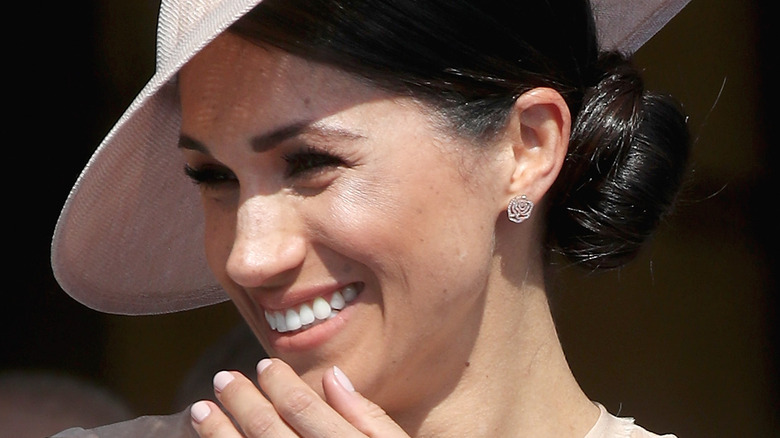 Chris Jackson/Getty Images
For years, Meghan Markle has dodged accusations of being fame-hungry. When the "Suits" alum first hooked up with Prince Harry, plenty of commentators  posited that she didn't really love him, and only wanted to increase her public profile. As biographer Lady Colin Campbell memorably put it, per Page Six, at the time, Meghan allegedly instructed her PR team "to make her into the most famous person on Earth."
Moreover, the duchess pursued a number of commercial interests while she still had her official royal title in an effort to capitalize on it. When the Sussexes defected from the royal family, all bets were off, but their subsequent, and highly lucrative, deals with the likes of Spotify and Netflix have set tongues wagging once again — even if this royal expert thinks Meghan and Harry might be pushing the limits of their fame by being too ubiquitous.
Royal author Tom Bower argued, while promoting his new book, "Revenge: Meghan, Harry and the war between the Windsors," that Meghan wasn't particularly famous to begin with and she desperately needed Harry to increase her notoriety. Express notes that, according to Bower, "She said to her father 'I want to be famous, I want to walk down the red carpet' and marrying Harry she achieved exactly that ambition.'"
Prior to becoming one of the most well-known women in the world, though, Meghan couldn't even manage to get a meeting with one of her biggest inspirations. 
Emma Watson reportedly had no interest in meeting Meghan Markle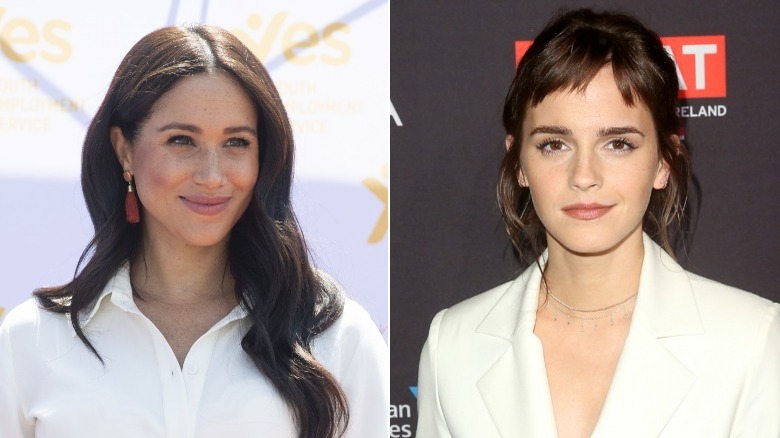 Wpa Pool & Jesse Grant/Getty
Newsweek reports that, in his new tell-all tome, "Revenge," royal author Tom Bower details a humiliating snub from Meghan Markle's activist idol, Emma Watson. The Duchess of Sussex attended the HeForShe initiative, which was being put on by UN Women, back when she was still most well known for "Suits" rather than dating Prince Harry.
Bower writes, "During a trip to London [Meghan] went to a small meeting addressed by Emma Watson, her hero and role model. At the end, she asked to meet Watson. The actress rejected the request. The snub was mortifying. Watson's rebuff was not mentioned when Meghan described her UN role in The Tig. 'I was in London,' she wrote to her followers, 'to support Emma Watson in her HeForShe Initiative for UN Women.'"
There is an archived copy of the article in question, which gushes over Watson's activism and pays particular attention to her young age. Meghan doesn't claim to have spent any time with the "Harry Potter" star, however, confirming only that she "sat directly across" from her. At the time, the duchess was serving as the UN Women's Advocate for Women's Political Participation and Leadership. 
People chronicled how Meghan has been fighting for women's rights since she was a kid. These days, her feminist bonafides are undeniable. As for being fame hungry, that sadly remains an ongoing topic of discussion. 
Being royal didn't suit the Duchess of Sussex for one major reason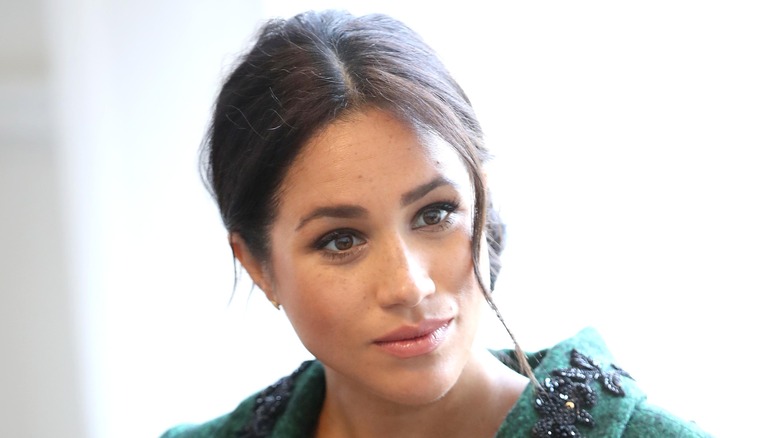 Chris Jackson/Getty Images
There are several shocking revelations in "Revenge," including some eyebrow-raising details about Meghan Markle's royal training. But one of Tom Bower's most damning claims surrounds the Duchess of Sussex's alleged desire to be famous above all else. In fact, Bower contends that the real reason she and husband Prince Harry ultimately opted to leave the royal family and relocate to the States, was because Meghan simply couldn't handle playing second fiddle to the queen any longer.
Speaking on "Good Morning Britain" (via Express), Bower fought back against the Sussexes' allegations, during their infamous Oprah Winfrey interview, that they had been mistreated by the royal family, arguing, "She didn't understand she couldn't be number one, there's only one number in the monarchy and she didn't understand hierarchy." This was the duchess's undoing, since Meghan treated it like the Hollywood circles she was more used to.
"It's about hard work with little reward and she didn't like that," Bower claimed. Per Express, during an appearance on "GB News," the author went even further, reiterating that Meghan married Harry to increase her fame, but, "She discovered that she wasn't going to get the status of number one, which is what she wanted." He explained, "There is only one number one in the royal family and the rest of the family is there to support the queen." Hence why, Bower alleges, the Sussexes absconded to California.