Eyebrow-Raising Details About Meghan Markle's Royal Training Have Been Released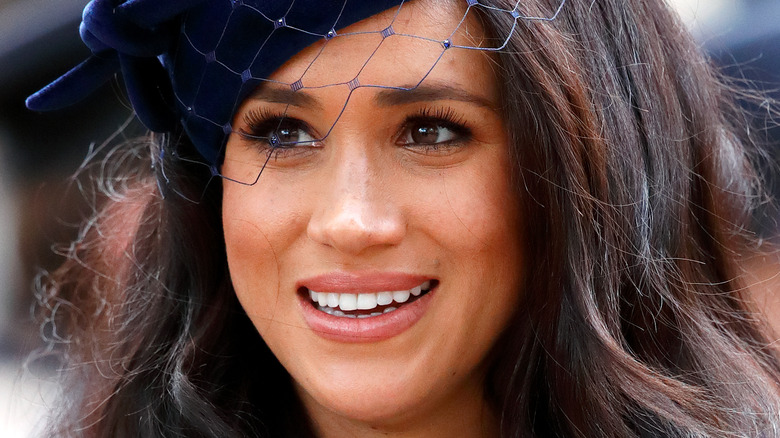 Max Mumby/indigo/Getty Images
By now it's clear that there was some tension between Meghan Markle, the Duchess of Sussex and the royal family. The 40-year-old sat down with Oprah Winfrey to get into the nitty gritty of it all during their infamous interview, but it turns out that the royal family did try to help her transition into royal life (via Newsweek). In fact, Queen Elizabeth II allegedly went above and beyond to make sure she was trained. Tom Bower's new book "Revenge: Meghan, Harry and the war between the Windsors" is shedding light on the  amount of training that she received, and it's catching people's attention. 
Typically when people get married, they're welcomed into the family and then, well, that's it. When you marry into the royal family, you actually receive a job. According to Oprah Daily, the royal family does get paid for their work. Prince Harry, the Duke of Sussex and Meghan were paid £2.4 pounds (about $2.89 million) to renovate a property before stepping back from the royal family. They promised to pay it back and moved to their mansion in Montecito.
With that kind of money comes rules each royal needs to follow. Meghan has spoken about learning family etiquette rules — such as how to curtsy — but there was much more going on behind the scenes (via the Independent). The Duchess of Sussex actually went through more training than you might think. 
The queen allegedly hired 14 people to train Meghan Markle on 'expectations on royal life'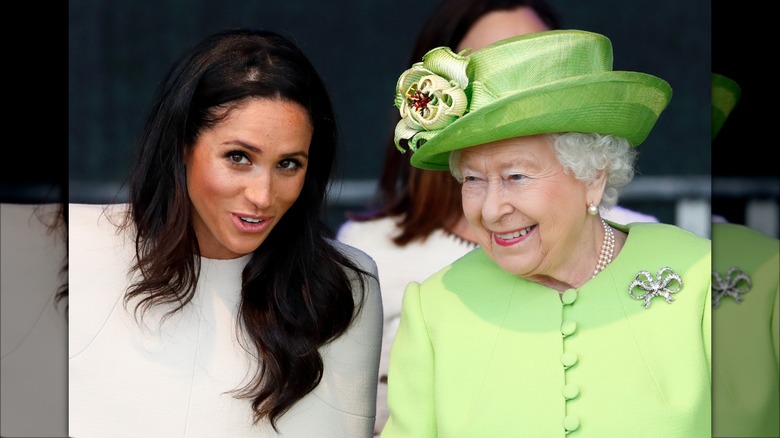 Max Mumby/indigo
Investigative journalist Tom Bowers' book, "Revenge: Meghan, Harry and the war between the Windsors," has been a bombshell. From details about Meghan Markle's first marriage to how the comparisons to Kate Middleton reportedly affected Markle, the book has made a variety of claims. One of the most eye-catching is that Queen Elizabeth II allegedly hired 14 people to help train her on "expectations of royal life" (via Newsweek). 
According to the publication, Queen Elizabeth actually convinced Samantha Cohen, a long-time member of the royal household, to take responsibility for the training program. "Under Cohen, a team of 14 young, intelligent and experienced officials, including Jason Knauf, was assembled to introduce Meghan sensitively to the quirks and expectations of royal life and service to the nation," Bower's book reads. "There would be, said the Palace, six months of listening and learning."
While that might seem like a moment straight out of "The Princess Diaries," this wasn't your typical pinky-up tea drinking tutorial. "For hours they discussed resolutions to problems and how she should feel as part of the royal family," the author writes.
Meghan Markle's crash course likely didn't end the way the royals hoped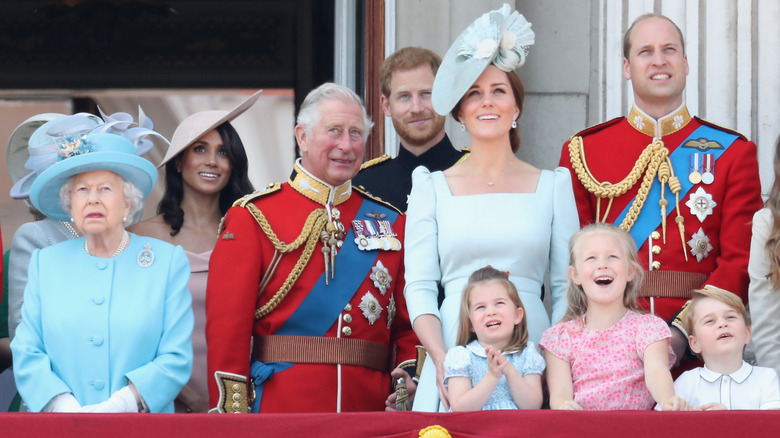 Chris Jackson/Getty Images
While six months might seem like a while, it's actually a crash course when compared to other royals. According to People, the royal family members born into the family start their etiquette training almost immediately. "Etiquette training for the royals starts as soon as they're old enough to sit at a table," Myka Meier, an etiquette training expert tells the publication. "They are raised having formal meals, going to formal events and practicing everything from voice levels to dressing appropriately to even, of course, how to curtsy and bow."
Meghan Markle, the Duchess of Sussex was years late to her training, so it makes sense that a six-month course didn't completely transform her into what the royal family allegedly hoped she'd become. "I would say I went into it naively because I didn't grow up knowing much about the royal family," Markle said in her infamous Oprah interview (via Newsweek). "I didn't fully understand what the job was: What does it mean to be a working royal? What do you do? What does that mean?"
The Duke and Duchess of Sussex ended up leaving the royal family and trading their Buckingham Palace balcony waves for a much more unexpected place and Fourth of July celebrations in the U.S. You know, and a deal with Netflix. Although Meghan is trading curtsies for handshakes, she seems to be doing just fine.