Donald Trump's Latest Public Appearance Has 9/11 Families Absolutely Furious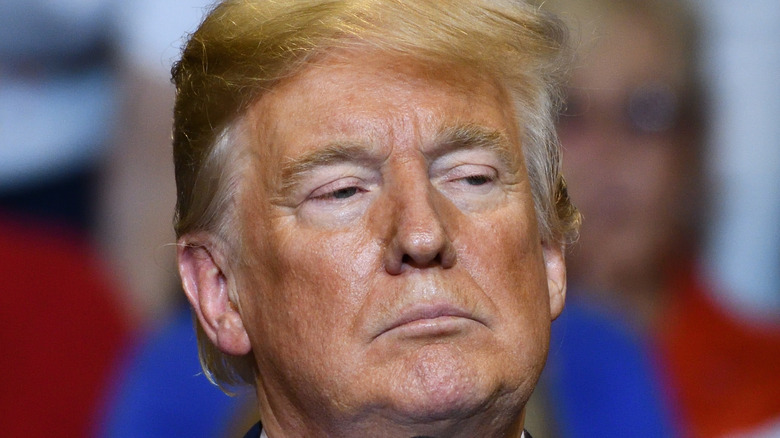 Evan El-Amin/Shutterstock
Ask someone how they feel about Donald Trump and you're not likely to get an ambivalent answer — he's someone who has polarized opinion, particularly politically, since he ran for and was elected president in 2016. Before he threw his hat into the political ring, Trump followed in his father's footsteps and worked acquiring real estate. Along with condo developments and casinos, Trump seemed to want to make a name for himself in the sports world.
He was an owner of a team in the United States Football League (USFL) in the 1980s, which was to be a rival to the NFL, but some believe Trump was the reason the league collapsed in 1986 (via Esquire). He also tried to buy the Buffalo Bills in 2014, according to Sports Illustrated. 
The most sports success Trump has seen has been tournaments held at the Trump golf courses. Though those have also caused controversy; the 2022 PGA Championship scheduled to be held at Trump National Golf Club in Bedminster, New Jersey was canceled after the January 6 insurrection, via The New York Times. The latest golf tournament at Donald Trump's Bedminster course is also causing an uproar.
9/11 families are incensed Trump would host a Saudi-backed tournament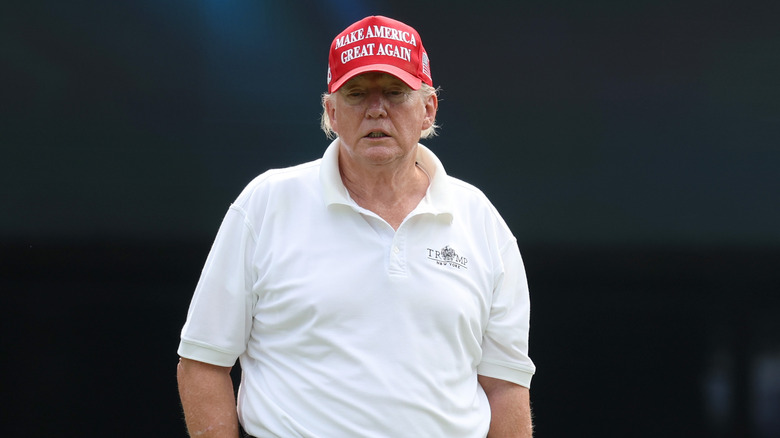 Jonathan Ferrey/liv Golf/Getty Images
Trump's Bedminster golf course is going to be a stop for the Saudi-backed LIV Golf International, per The Guardian. And Donald Trump and his wife were front and center at a New York City gala for the tournament (via Daily Mail). Families of 9/11 victims are horrified considering Saudi Arabia's connection to and funding of the 9/11 hijackers, and they're planning a protest at the course — just 50 miles from Ground Zero (per CBS News). When asked about the anger from 9/11 families, Trump said "Nobody's gotten to the bottom of 9/11, unfortunately," according to the Daily Mail.
9/11 Justice, an advocacy group, wrote to Trump to express "deep pain and anger" about the tournament, as reported by the Daily Mail. Dennis McGinley, whose brother died on 9/11, told the outlet, "it is beyond comprehension" that Trump would host the tournament, particularly as a former U.S. president. A Trump aide called one of the signers of the letter and told him "9/11 is really near and dear to [Trump], and it's so important to him he is going to remember everyone who signed the letter." She also said, "the President was flattered with the letter" (via Politico). 
The LIV Golf tournament has been giving out big paychecks to lure pro golfers, per The New York Times. Supporters have downplayed Saudi Arabia's human rights violations, including 9/11 and the murder of journalist Jamal Khashoggi; players in the LIV tournament have been suspended from the PGA.