Daytime Vet Eva LaRue Reveals Shocking DNA Results Worthy Of A Soap Opera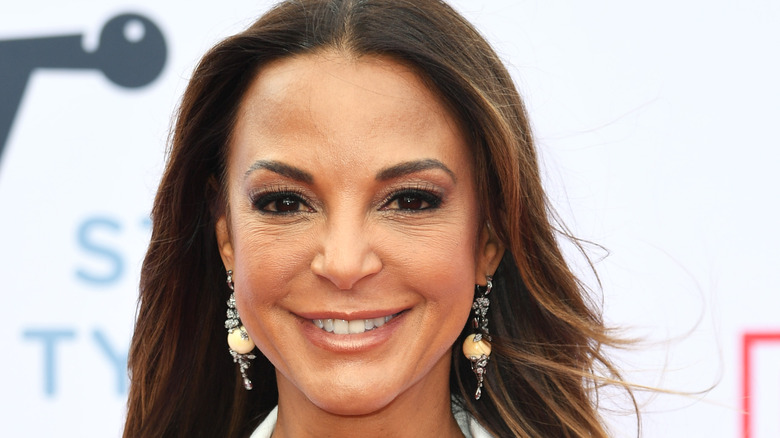 Jc Olivera/Getty Images
Eva LaRue started acting way back in 1986 when she was on "The New Gidget" and "The Love Boat." Over the years and 57 credits later, her soap career grew including playing Margot Collins on "Santa Barbara," Dr. Maria Santos Grey on "All My Children," and more recently Celeste Rosales on "The Young and the Restless." The actress is ubiquitous on social media and recently posted a congratulatory comment on actor Cameron Mathison's Instagram post for his 20th wedding anniversary.
Aside from being an Emmy winner, world traveler, and horseback rider, TV Overmind reports LaRue has been married three times, loves to give back to people, and started acting in commercials at age six.
She also has a wildly popular YouTube channel with almost 200k subscribers in which she shares stories of raising her teenage daughter and helps other parents navigate raising kids in this crazy adulting world including "all of its ups and downs, funny moments, stressful situations and everything in-between!"
Being an actor who's been on soaps and beyond, having characters that go through all kinds of crazy drama such as relatives coming out of the woodwork that they didn't know previously existed, LaRue recently posted on social media something that happened in her life that could also very well be a plot from a soap opera.
Modern genetic testing is bringing soap opera level drama to real life people
Actor Eva LaRue recently posted on Instagram that due to "Relatively New DNA Technology" via 23AndMe, she discovered a sister that she never knew existed — Stacey Hiles Lynch — opening the door to new relatives. Mirroring the plotlines of a soap, LaRue exclaimed, "While You're Minding Your Own Beeswax, Life Throws You A Huge Plot Twist!"
Producer Max Tucci responded with, "I love this for you. You've got your own soap opera going on ... so chic. Welcome to the family ... wait until your new sister meets her 'brother' max!"
Another fan posted "OMG! This is so beautiful and wonderful. I'm so happy for all of you. I can't wait to hopefully meet her too one day. Love you all so much!" And the outpouring of love from the fans was overwhelming.
On her own website, LaRue not only shares personal stories and opinions on travel destinations and cocktail drinks, she also helps parents manage child rearing, as she does on her YouTube page.
While there are probably more stories that "The Young and the Restless" could have explored, particularly with her character Celeste Rosales, LaRue has happily moved on to other projects. She is so ingrained in parenting these days, helping other parents, and invested in her family that this sudden discovery of relatives that she never knew existed is a welcome happenstance in her life.