General Hospital Star Cameron Mathison Celebrates A Romantic Life Milestone With Stunning Pics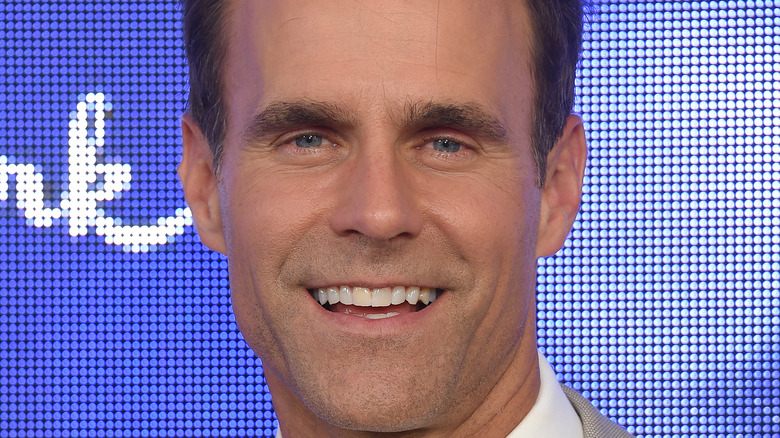 DFree/Shutterstock
Since 1997, Cameron Mathison has been acting in movies and TV shows, but he didn't start to become a household name until his run as Ryan Lavery on the soap "All My Children." After becoming an instant star as a soap actor, he went on to make a name for himself as one of the Hallmark Channel's biggest stars, performing in various TV movies, murder mysteries, and even hosting the channel's talk show, "Home & Family."
In 2019 Mathison had surgery for kidney cancer. ET Online reported that the experience has changed him. He has found a greater appreciation for helping others as well as simply enjoying every moment of his life and finding the right balance between work and family. He told ET that because of his new strict regimen of diet, exercise, and living healthy, he felt the same physically as he did in his 20s.
In 2021, Mathison joined the cast of "General Hospital," taking over the part of Drew Cain, the role of which had previously been played by actor Billy Miller. Mathison told ABC7 about how this was his first recast, but he was happy to take over for Miller since the two had become close friends on "AMC." Mathison also went on to say that since his son has gone off to college he longs for any communication, even if it's a "like" on a post.
Mathison, a true family man, recently shared an amazing milestone on social media.
Love has kept Cameron and Vanessa Mathison together for 20 years
As part of the 20th anniversary of their marriage, Cameron Mathison released a post on Instagram celebrating that milestone with his wife, Vanessa Mathison. The heartfelt message was a tally of all the months, weeks, days, and hours they've shared together — "20 years of marriage, 240 months of morning coffee together, 1043 weeks of cherishing each other, 7035 days of togetherness, 175,320 hours of love, and 1 beautiful family."
He went on to wish his wife a happy anniversary and added, "I have no idea how you've put up with me for 20 years." Also shared were two beautiful pictures of the happy couple. One is of the couple embracing at sunset in front of an amazing coastal view, and the other is the couple embracing just after their wedding ceremony.
Many fans offered their congratulations including fellow daytime actors Laura Wright, Don Diamont, and Jacob Young, who posted, "Congratulations you beautiful people! Here's to many more!" Eva LaRue wrote, "Stunning!! And what a gorgeously worded tribute!"
For Mathison, life as a soap star and TV personality has been grounded by his love for his wife and children. In fact, he was able to share that with Vanessa, who landed a small part on "General Hospital" as Drew Cain's executive coach. The couple clearly is making the most of their lives and are looking forward to the next 20 years.