Ava's Blistering Take-Down Of Nikolas Has General Hospital Fans Cheering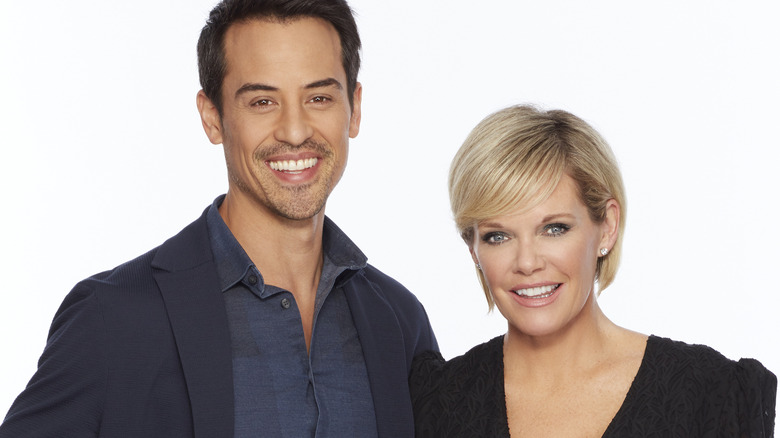 ABC
Nikolas Cassadine (Marcus Coloma) and Ava Jerome (Maura West) had a toxic relationship from the beginning. Coloma has been playing Nikolas since 2019, taking over the role from Tyler Christopher who once said that while he's disappointed they recast him, he was happy that the character he created lives on.
And Coloma has taken Nikolas' staggeringly bad choices to an art form. When he thought his marriage to Ava was over, he slept with Esme Prince (Avery Pohl), the girlfriend of his son, Spencer Cassadine (Nicholas Chavez). Esme had been blackmailing him about it which, as a Cassadine, is something he's used to (via Soap Central).
Maura West has had a long career as a leading soap opera star since playing Carly Tenney on "As the World Turns" in 1995. In 2013 she brought a hitherto unknown member of the Jerome crime family, Ava Jerome, to life on "General Hospital." Per Soaps in Depth, Ava's had a long road of bad decisions herself, starting with attempting to take over Sonny Corinthos' (Maurice Benard) crime syndicate. Lately, she's had to deal with quite a few family issues, including tangling with the scheming and manipulative Esme.
When it looked like Esme was going to spill the beans about their one-night stand, Nikolas manned up in an attempt to beat her to the punch (via Soap Hub). He told Ava everything and she understandably lit into him in a scene that reminded fans why they enjoy watching soap operas.
The truth is setting General Hospital's storyline on fire
"General Hospital" posted on Twitter that while there is no love lost between Ava and Esme, "Nikolas ... is about to lose all of it." Which Maura West gleefully retweeted with snake and black heart emojis. The fans were overjoyed seeing Ava Jerome finally pushed into attack mode, seething with rage against Prince Nikolas. One fan responded with, "Brilliant. Can't wait to see Ava's brand of revenge," while another stated, "Maura West is giving a masterclass in acting right now. I can't even recap it. She's just amazing."
Per YouTube, Nikolas' only explanation was that he was weak to which Ava replied, "So weak that you cheated on your wife with your son's girlfriend!" Maura West's amazing acting shows prominently here as she goes from shock to tears, to anger and unleashes her wrath on Nikolas. When he again claimed weakness she told him, "You're stupid."
Another fan responded to the Twitter post, "You are amazing! We need more Ava's on soaps!!" And @reblavoie commented, "@MauraWest is legit one of the best actors working right now on *any* screen and I've been waiting for her to get these scenes for a YEAR." Clearly "General Hospital" has been delivering what the fans want.
Finally, Ava said to Nikolas, "I thought I married a man. You're no man. You're spineless." She went on to inform him that she plans to burn him to the ground (via YouTube). This is the kind of writing and acting that have the fans overjoyed.