How A Secret Letter From Queen Elizabeth Made A Trip Around The World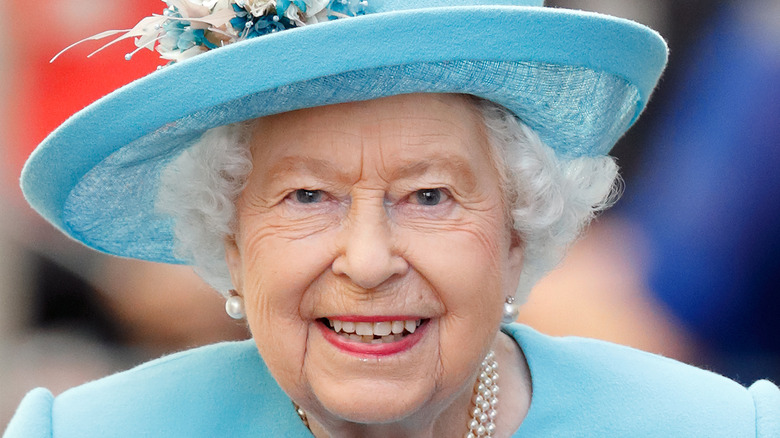 Max Mumby/indigo/Getty Images
The 2022 Commonwealth Games have officially launched, with the United Kingdom and 71 other nations in Queen Elizabeth's Commonwealth gathering in Birmingham to compete in a variety of sports. Launched in 1930, the Commonwealth Games — also known as the "Friendly Games" — takes place every four years and was created to foster a spirit of collaboration and good sportsmanship among the participating countries.
The British royal family have always played an important part in the festivities, with the queen — who is patron of the Games — participating in the opening ceremonies throughout the years. This year, the ceremony featured a cast of 1,500 and a 32-foot-high mechanical bull, but unfortunately, Her Majesty was unable to attend. Instead, Prince Charles represented his mother, arriving with his wife, Camilla Parker Bowles, the Duchess of Cornwall, in the Prince of Wales' 1969 blue Aston Martin DB6 Volante convertible, per iNews. Prince Edward and his wife, Sophie, Countess of Wessex, were also in attendance, according to People.
Although Elizabeth wasn't there in person, she still managed to open the Games. In fact, she wrote a secret message in a special baton that traveled 90,000 miles in an over 200-day journey leading up to the competition — and her words were finally revealed at the opening ceremony.
Prince Charles shared the queen's special message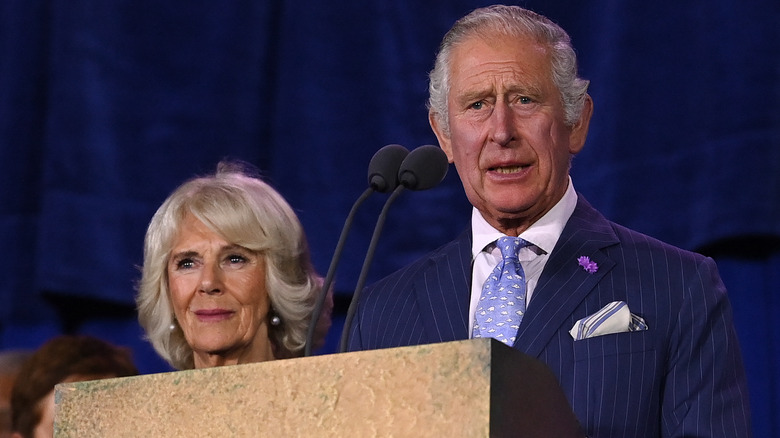 David Ramos/Getty Images
After visiting all 72 nations competing at the 2022 Commonwealth Games, the secret message sent by Queen Elizabeth to commemorate the Game's opening ceremony in Birmingham has finally been revealed. Prince Charles, with his wife, Camilla Parker Bowles, the Duchess of Cornwall, by his side, read his mother's note.
"On October 7 last year, this specially created baton left Buckingham Palace to travel across the Commonwealth. Over the past 294 days, it has carried not only my message to you, but also the shared hopes and dreams of each nation and territory through which it passed, as it made its way to Birmingham," Elizabeth wrote, per People.
She added: "Over the years, the coming together of so many for the 'Friendly Games' has created memorable shared experiences, established long standing relationships, and even created some friendly rivalries! But above all they remind us of our connection with one another, wherever we may be in the world, as part of the Commonwealth family of nations."
The monarch went on to spotlight the Game's host city, Birmingham, calling it "a city symbolic of the rich diversity and unity of the Commonwealth."
The 2022 Commonwealth Games will take place from July 28 to August 8. Several members of the royal family are expected to attend, including the Duke and Duchess of Cambridge and the Duke and Duchess of Gloucester, per Hello! Magazine.