Why One Wedding Photographer's Story Is Going Viral On TikTok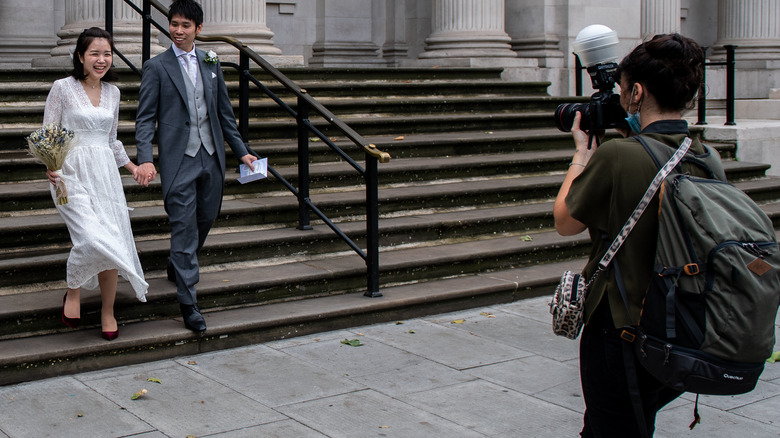 Chris J Ratcliffe/Getty Images
Wedding photographers are usually there for some of the most private and personal moments of the whole day. Along with the happy moments, they witness plenty of arguments and awkward situations, too. Each wedding is unique and adheres to different trends, but wedding photographer Shayla Herrington quickly had a booking turn into a nightmare when not everything went to plan.
On 7/12, Herrington posted a video to TikTok telling the story of a wedding she was booked for. In the caption, Herrington asks the simple question: "was I in the wrong?" As of now, her video has over 350,000 likes, almost 2000 comments, and is still gaining traction. In the TikTok video, Herrington explains how a bride contacted her to photograph her wedding ceremony and reception for a period of four hours. Although the bride admitted she had no venue yet, she signed the contract and paid Herrington's non-refundable deposit. 
However, things started to go downhill when, a few weeks before the wedding, Herrington sent the bride a questionnaire about location details and other important information. When the bride still had not responded to this questionnaire after a week, Herrington sent her a sympathetic text with a $5 Starbucks gift card as a gesture of goodwill, reassuring the bride that she understood it was a busy time and asking her to fill in the questionnaire when she could.
Shayla Herrington shares her past experiences with clients on TikTok
After a few more days of no contact, Shayla Herrington started to grow concerned about the lack of any information. In the TikTok, Herrington informs us that the bride was not responding to any communication, including texts, emails, and phone calls. The night before the wedding, Herrington sent an email to the bride informing her that the contract she signed was no longer valid and that she could not photograph the wedding. 
However, in a shocking turnaround, the bride emailed Herrington on the day of her wedding and called her cancellation email "the most unprofessional thing she has ever witnessed." She also left Herrington a bad review on Facebook. To wrap up the story, Herrington goes on to say she refunded the bride her deposit despite her initial non-refundable policy.
The story is undoubtedly wild, though the comments are mainly flooded with support for Herrington, with the consensus being that the bride was definitely in the wrong. Responding to some of the comments, Herrington admits she has changed her policies since then and is much less lenient when dealing with awkward situations.
As Herrington seems to have learned, it's always important to stand your ground and stick to your rules and policies. By doing so, you're helping to protect yourself and your business no matter what happens.