Peppa Pig And Her Clubhouse's Designer Share The Story Behind It - Exclusive Interview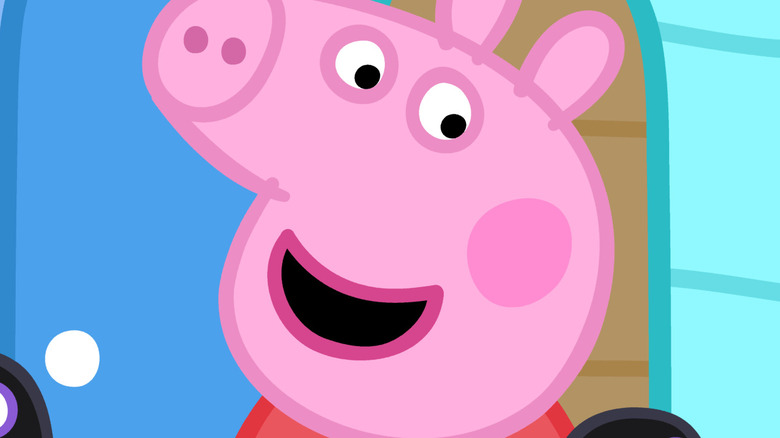 Hasbro
Peppa Pig and her family have been making little ones smile for nearly two decades on television. Since its initial inception, the British series has blown up all around the world — in 180 countries, to be exact — influencing both children's imaginations and their accents.
Nowadays, viewers can catch Peppa Pig hanging out in her Clubhouse, which Mr. Bull surprised her with back in May. Complete with a slide, swing, and tons of toys inside, Peppa has since had all sorts of adventures there alongside her friends. Today, children everywhere can even dream up their own fun with a Hasbro toy based on the animated (and now iconic) Clubhouse.
In an exclusive interview, The List got the unique opportunity to speak with the 4-year-old pig herself and ask her everything she loves about her newest place to play. We also got the inside scoop from the person who made it happen: Pete Kellond, the Vice President of Content and Commercial Development at Hasbro. He described exactly what it was like watching Peppa Pig's Clubhouse come to life — from its animated form to developing it into a Hasbro toy.
The best parts about the Clubhouse, according to Peppa Pig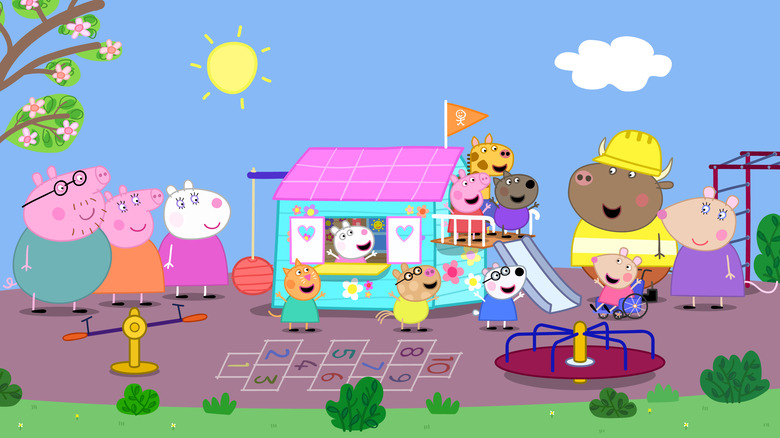 Hasbro
Hi, Peppa! How are you today?
Peppa Pig: Hello! I'm very well. Thank you.
We want to know all about your new Clubhouse. What was your first thought when Mr. Bull was installing it on the playground?
Peppa Pig: I am so excited about the new Clubhouse! It has so many fun things. There's even a shop! I didn't know why Mr. Bull was digging up the playground. Then we saw the Clubhouse! [Giggles]
What do you like most about how the Clubhouse looks? What makes you the happiest when you look at it?
Peppa Pig: I like how everything is children-size. It's not too big and not too small. It's just right for me and my friends. The flowers are pretty, too.
What is your favorite thing that's in the Clubhouse?
Peppa Pig: The toy cooker, toy fridge, and the wooden phone. My favorite thing is everything!
Peppa Pig tells us her favorite games to play in the Clubhouse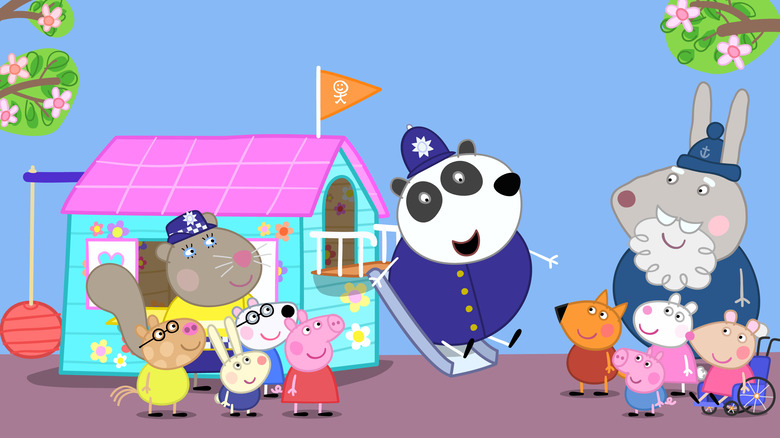 Hasbro
What are your favorite paint colors? Does one make you the happiest?
Peppa Pig: Red is my favorite color. [Snorts]
Where do you spend the most time when you're at the Clubhouse?
Peppa Pig: I chat on the toy phone a lot. I answer it and say "Hello? Peppa Pig speaking!" I even spoke to the King of the World on the telephone.
Which game has been your favorite to play inside the Clubhouse?
Peppa Pig: We love to play detectives. We solved the mystery of Daddy Pig's missing keys. Can you guess where they were?
We're sure Daddy Pig was so happy you found them! What's your favorite part of the Clubhouse's outdoor space?
Peppa Pig: The swing is brilliant! Even the penguins from the zoo love to play on the swing. I also love going up the ramp and down the slide. Weeee!
Now to hear from the Clubhouse's designer Pete Kellond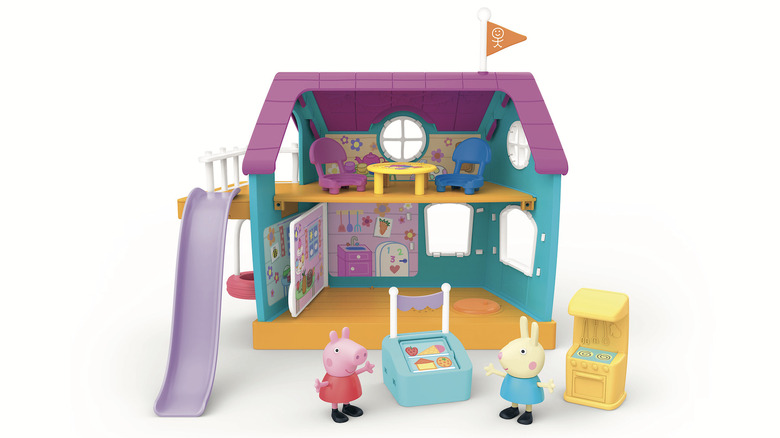 Hasbro
We'd love to talk to the designer of the Clubhouse, too. Who created it?
Pete Kellond: As all things Peppa Pig do, the Clubhouse came to life out of true collaboration. The animators at Astley Baker Davies created the brand-new, kids-only location in the show, and then the toy design team at Hasbro worked with me to "build it from the ground up" in toy form.
What were some sources of inspiration for your Clubhouse design? Which features did you want to make sure to include for Peppa and her friends?
Kellond: Peppa and her playgroup friends were the true inspiration for the Clubhouse. The team wanted to create a world just for kids where they can imagine, play, and pretend. That inspiration comes across in the toy design, as well. There are figures, accessories, and add-on pieces — allowing preschoolers to recreate the Clubhouse of their dreams!
Everything is an adventure to Peppa and friends, and we wanted the Clubhouse to reflect that. There's a slide, swing, and balcony for outdoor fun, plus a whimsical interior filled with floral patterns. In my opinion, it's oinktastic!
What it took to create the perfect Clubhouse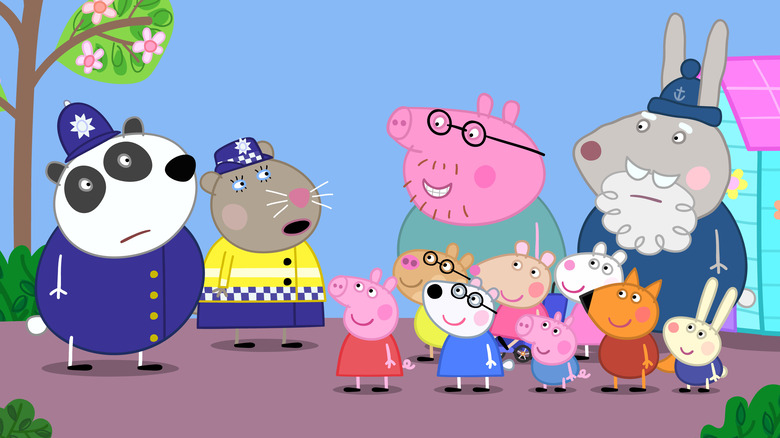 Hasbro
How did you choose the Clubhouse's exterior and interior colors?
Kellond: By streaming Peppa's "Rainbow, Rainbow" song at the start of each brainstorm — but seriously, the color works so well on screen and in [the] toy and is bright and full of life.
Is there anything you had originally planned for the Clubhouse that wasn't included in the final design?
Kellond: We fit just about everything in there. There's the slide, swing, and balcony, like I mentioned. There's also a toy cooker and fridge, wooden phone, and shop window — so little ones can serve up whatever is on the menu that day.
However, after watching the Peppa Pig Clubhouse Special, I do wish we made some additional space for those penguins ... and maybe a safe spot for Daddy Pig's keys, and a garage for a pedal car.
Will there ever be any future upgrades or renovations to the Clubhouse?
Kellond: I'm sure Peppa will let the grown-ups know what is needed and what further adventures they want to play out.
What would you love to design and build for Peppa and her friends next?
Kellond: Is a leaning tower of pancakes sustainable? Something for all her friends!
The "Peppa's Club" four-part Special is now available to stream on NickJr.com. Catch "Peppa Pig" live on Nick Jr. on Saturday and Sunday mornings from 9 a.m. to 12 p.m. ET. The Peppa's Kids-Only Clubhouse Playset is available now on Amazon.
This interview has been edited for clarity.