How Much Does It Cost To Be A Maid Of Honor?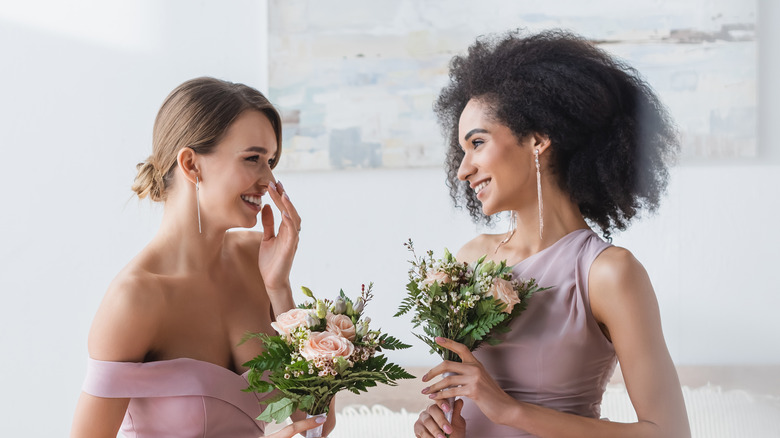 LightField Studios/Shutterstock
2022 is the year for marriage. In fact, according to data collected by The New York Times, there will be around 2.5 million weddings happening this year. Weddings are a time for shared love, happiness, and joy. The lovely couple you've watched grow together has finally decided to tie the knot, jump the broom, etc. Everyone is probably over the moon with excitement right now.
We'd be lying if we said weddings are all cake and champagne, though. As much as we might like to ignore the fact, weddings usually don't happen without a little spending involved. The Knot estimates that last year's average cost of a wedding was $34,000. The couple-to-be aren't the only ones who have to think about money when those wedding bells ring, either.
Behind every beautiful bride is a gorgeous maid of honor holding them together. While it's a huge honor to be asked to be the maid of honor at a wedding, this role usually comes with a large amount of responsibility and the added pressure of making sure the wedding takes off with no mistakes. If you've been chosen to be the maid of honor, you might also be expected to foot some of the bill. How much might you expect to pay as the maid of honor?
You'll have to pay for pre-wedding events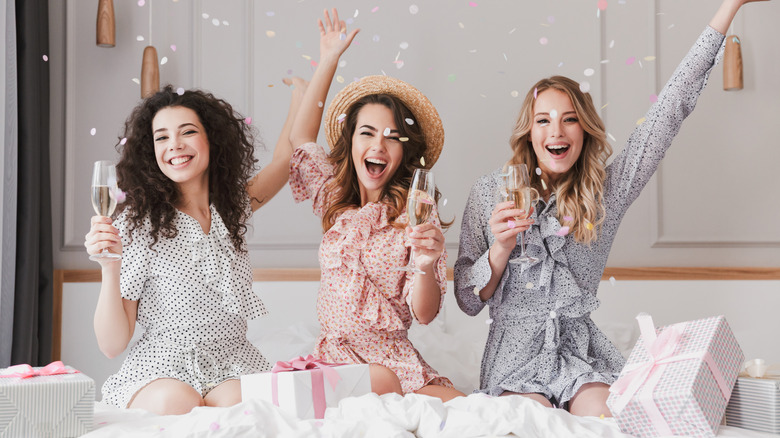 Dean Drobot/Shutterstock
Wedding trends in recent years have taken a turn towards smaller, cheaper ceremonies with less frills and planning. However, at the end of the day, it all comes down to the wishes of the bride. It's their day, after all! That means a bridal shower and bachelorette party may both be on the table. The bride who's asked you to be their maid of honor might be the "bigger is better" type who wants all the works for their pre-wedding parties. As the host for these extravagant events, you should be prepared to pay at least part of the bill.
According to Seattle Bride Magazine, honoree attendees should have a checklist prepared for what they'll need to purchase for a bridal shower and bachelorette party. The suggested items include a shower gift, decorations for the shower and party, and travel expenses. You're looking at about $800 in contributions, and that's not including the actual wedding ceremony expenses.
Bridal showers are usually a smaller affair, but according to The Knot, the cost of bachelorette parties tend to climb a little steeper. Their 2021 study showed that bachelorette partygoers are prepared to spend up to $1,000 to party with their besties. With COVID restrictions loosened, many bridal parties are willing to fly to their faraway destination, adding to travel costs as well. As the maid of honor, you're in charge of making sure things go off without a hitch, so you'll most likely have to spot any bridesmaids who don't have the immediate funds.
You'll need plenty of dresses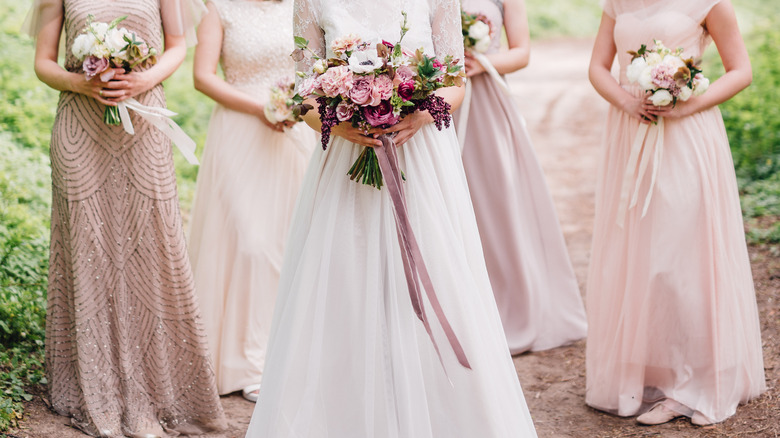 dfrolovXIII/Shutterstock
As the maid of honor, it's your unspoken duty to be a pinnacle of beauty before, during, and after the wedding as well. The bride wants you to look lovely for their special moment, so it's time to pull out all the stops (as long as you don't outdo the bride!) and find a trendy dress for the wedding, bridal shower, and bachelorette party. Yep, that's more money to be spent.
In a YouTube video that's sparked hundreds of comments, Glamour states that the cost of being a maid of honor climbs high when you factor in how much you'll be spending on outfits. The video estimates that the maid of honor could be looking at spending upwards to $2,000 when all is said and done. The married couple may offer to pay for your dress, hair, nails, and makeup, but this isn't always the case (via My Perfect Wedding.) It's tradition that the bride instead gives the maid of honor a special piece of jewelry to wear on the big day.
Overall, it's best you prepare to spend a little extra when it comes to getting ready for these occasions, but most importantly, don't forget to enjoy yourself!