Why The Queen's Latest Public Message Has Neil Diamond Fans Buzzing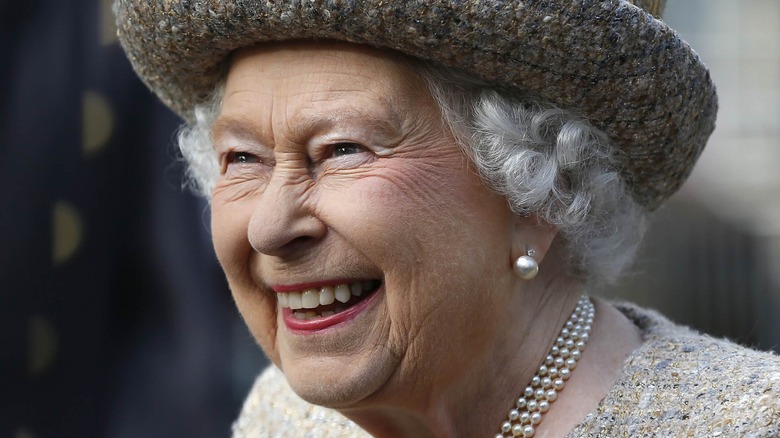 Wpa Pool/Getty Images
Four times a week at Buckingham Palace — the queen's official residence even if she's not always there — crowds gather to see the Changing the Guard ceremony. It's a tradition that goes back over 500 years, and it features the iconic red-suited guards with their tall black bearskin hats. As the old guard and new guard switch places, they're accompanied by the State Ceremonial Musicians of the Bands of the Household Division. With such pomp and circumstance and such a depth of history, it would be easy to assume that the music is always regal. But that isn't always the case. 
Through the years, along with traditional music, the band plays renditions of popular tunes. They don't always go over well though. According to the Household Division website, in 1920, King George V sent a letter down to the Director of Music after hearing a popular operetta song. The letter read "His Majesty does not know what the Band has just played but it is never to be played again." But one of the latest popular tunes played at Buckingham Palace seems to have been endorsed by none other than the queen.
England football fans loved hearing Sweet Caroline by the royal guard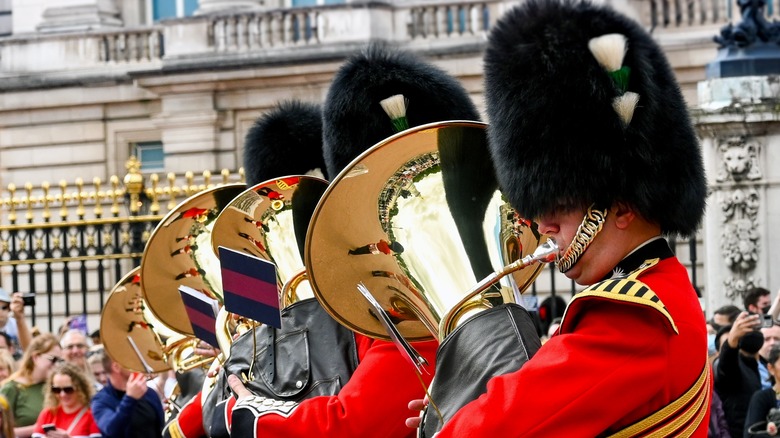 Ceri Breeze/Shutterstock
On the official Royal Family Twitter page on July 30, there was a clip of the Changing the Guard band playing "Sweet Caroline" by Neil Diamond, and the caption read, "There was some special music at today's Changing the Guard . . . #Lionesses." The Lionesses are the women's English soccer — football for the Brits — team who were set to play Germany in the final of the women's UEFA Euro tournament. And fans went crazy for it.
One wrote "Now that is epic — what a wonderful way to start off the day." Another was moved to tears, and one tweeted "Absolutely brilliant, I love it and so fitting". They were hardly alone. "That's wonderful and very uplifting" tweeted one user. One kept their support for the message concise, just tweeting "Class." One user hoped the queen would watch the match, and one was stoked for the support from the royal family, writing "What a lovely gesture and treat to hear the sweet Caroline song played by the royal guards."
Prince William and Princess Charlotte also sent best wishes to the Lionesses team on Twitter before the match. The royal family tweeted congratulations to the Lionesses after their win over Germany on July 31. "Sweet Caroline" was played after the win, and player Chloe Kelly left a post-match interview to sing along with her teammates and fans in Wembley Stadium, via The U.S. Sun.