Princess Charlotte's Video With Prince William Proves She's The Spitting Image Of Kate Middleton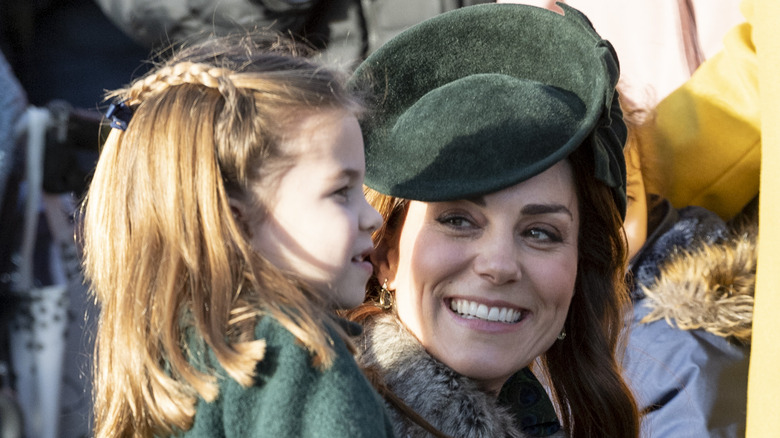 Uk Press Pool/Getty Images
As the middle child of one of the most powerful royal couples — Prince William and Catherine Middleton — Princess Charlotte has been growing up under the media's watchful eye. Born in 2015 between older brother Prince George, and little brother, Prince Louis (per the royal family's official website), Charlotte has not always enjoyed being the subject of the paparazzi's attention. Like Louis, who recently stuck his tongue out at the Queen's Platinum Jubilee pageant, Charlotte has had her fair share of letting the world know what she's thinking at public royal events (via Town & Country).
When the princess was just four years old, Kate, Duchess of Cambridge, tried to get young Charlotte to wave at the crowd at the King's Cup Regatta. Instead, Charlotte stuck her tongue out at reporters (via YouTube). Middleton broke out into a laugh but immediately tried to get Charlotte to stop, which she did. Yet Charlotte seems more settled into royal life now, at the tender age of seven, than she was a few years ago. At the Queen's Platinum Jubilee Concert, she and George stole the show, as Charlotte sang, waved her flag, and seemingly enjoyed herself. 
Recently she appeared with her dad, the Duke of Cambridge, in a video message posted to social media. Not only does Charlotte appear more comfortable in front of the camera, but many royal fans have pointed out that the youngster is the spitting image of her mother, Kate.
Prince William and Princess Charlotte wish England's soccer team well
It's not often you see Prince William in a personal video with his daughter Princess Charlotte, but they recently filmed a message for England's women's soccer team, who go by the nickname "The Lionesses" (via the New York Times). The video, which was posted to Instagram, showed the pair sending good luck wishes to the team as they prepared to take on Germany in the Euro 2022 Final match.
Prince William said, "We both want to wish the Lionesses the best of luck tonight, you've done amazingly well in the competition and we're rooting for you all the way!" Charlotte, who was sitting right next to him, joyfully chimed in to say, "Good luck! I hope you win. Bye!'"
Though Princess Charlotte looks nearly identical to a number of royal family members, including Queen Elizabeth II, it's evident from the video that who she resembles the most is her mother. Charlotte's long brown locks and porcelain complexion may be handed down straight from Kate Middleton, Duchess of Cambridge. Charlotte's grace and demeanor also beckon forth thoughts of the classy duchess.
Incidentally, the good luck wishes may have worked, as England beat Germany in what's being touted as the "first-ever major women's championship" for the country (via CNN). Now that's girl power!