Frank Grillo On Morgan Freeman And Juliette Binoche In Paradise Highway - Exclusive Interview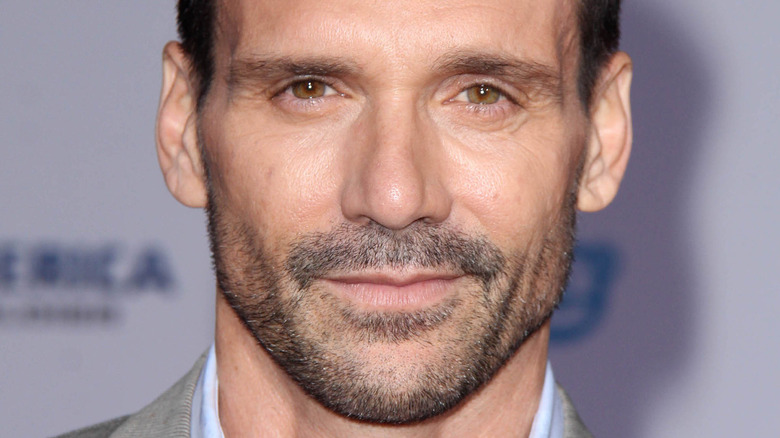 Kathy Hutchins/Shutterstock
To say that Frank Grillo is a busy actor is a major understatement. A quick look at his IMDb page reveals that Grillo has as many as 17 new projects in production, pre-production, or recently completed. His latest movie, "Paradise Highway," sees the actor collaborating with Morgan Freeman and Juliette Binoche on a dark thriller about human trafficking. 
In "Paradise Highway," Grillo plays Dennis, the incarcerated brother of truck driver Sally, played by Binoche. Prior to his release, Dennis asks Sally to smuggle one last illicit shipment in order to guarantee his safety from a gang. However, upon retrieving the shipment, Sally finds that she's transporting a young girl, and the FBI is soon on her trail. The shocking story is a very human look at a global issue that needs to end. Playing siblings in the film, Grillo and Binoche's scenes together are electric, making "Paradise Highway" a gripping watch.
The List sat down with Frank Grillo to talk about "Paradise Highway," returning to the "Purge" movies, playing Lamborghini, and who he'd like to work with next.
Collaborating with Morgan Freeman and Juliette Binoche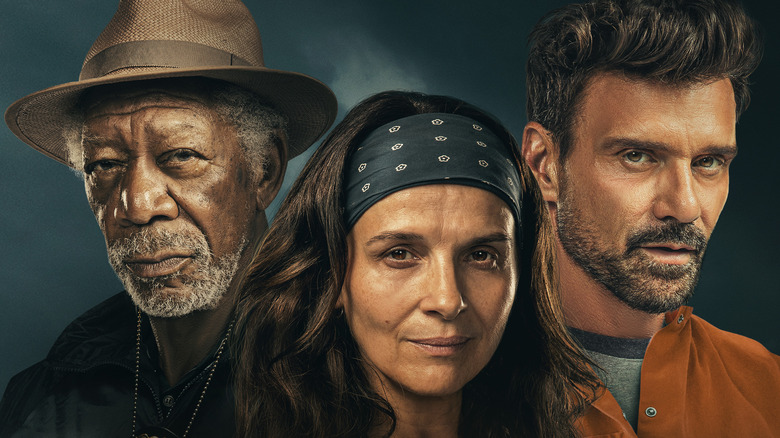 PR provided/Courtesy of Lionsgate
"Paradise Highway" is such a thought-provoking thriller. What drew you to the movie?
What drew me to the movie was, first, the script. I got a chance to speak to [director] Anna Gutto, who wrote and directed the movie, and then Juliette Binoche. It was the easiest thing that you could possibly make a decision about. There was no saying no.
Many of your scenes in the film are with Juliette Binoche. What was it like working so closely with her?
It was a dream working with Juliette. I've been a huge Juliette Binoche fan for forever. Getting to do that with her, I was humbled and it was a great experience. It was like I thought it would be. She was as good as I thought she was.
It was really nice to see you in a more emotional role. You had some great moments together.
Thank you. It was fun to do. It was nice not to have to run or shoot or kill anybody or be [shot at], so it was a nice departure, and I really enjoyed the experience.
Morgan Freeman is also in "Paradise Highway." Did you get a chance to watch him at work?
I watched Morgan. I've done a movie with Morgan before and also have watched him. Watching Morgan Freeman, it's no joke that he played God because when he's there, his presence is godlike, and to hear him speak, it puts you in another dimension. He's Morgan Freeman. He's probably one of the best there's ever been.
What was it like being on this set with this cast?
It was a lot of Juliette and I. It was a joy. It was great. It was really fun working with Anna [Gutto]. This was her first big feature that she directed, and it was her baby, and she wrote it. It was really nice for me to be part of her creative process. She wasn't used to me questioning her. It was an interesting dynamic. It was a very creative open experience.
That's why it's so nice to see a film that's written and directed by a woman, and really female-focused in its lead characters. That's a really fun thing to see.
I agree, especially in that you throw Juliette in that circumstance where she's a truck driver. She couldn't be further from a truck driver and yet, she drove trucks and she became a truck driver.
Working in the MCU and portraying Lamborghini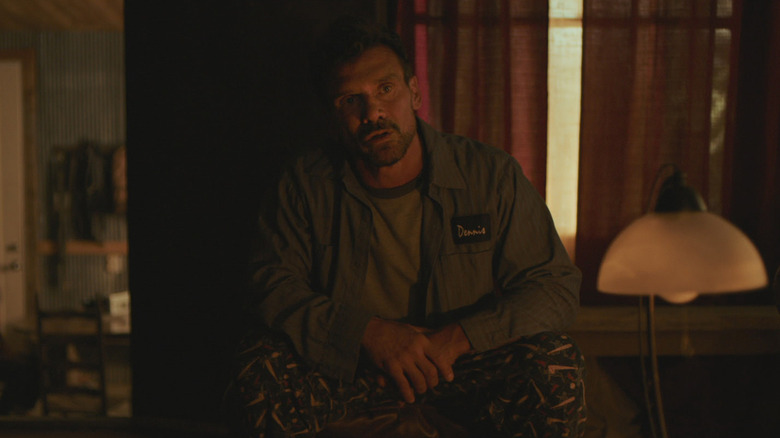 PR provided/Courtesy of Lionsgate
You've had such a prolific career to date, which includes being part of the Marvel Cinematic Universe as Crossbones. How does filming something like this compare to filming a big action or superhero movie?
It's entirely different. It's almost like doing a play, because those big movies, they take a long time. Action movies, in general, take a long time, and there's a lot of moving parts. This is a much quieter, simpler, creative experience. I say it all the time. It's far more fulfilling for me as an actor. I love doing all the things that I do, but it's far more fulfilling. When I go home at night, it's a different feeling.
I know you have so many projects coming up. You are going to play the founder of Lamborghini, and your son is going to direct [you in "Man's Son"]. What else do we have to look forward to?
"Lamborghini" is coming. It's going to the Rome Film Festival. I have a really cool movie called "Little Dixie" with a great director, John Swab, who I've worked with three times before. I have a couple of other things coming out. I just did a movie with Scotty Caan and J.K. Simmons ["One Day as a Lion"]. I have my son's film, which he's just about done editing. It's going to be a busy fall, which is good.
Is your son's film [Man's Son"] a horror film?
It's more of a thriller, loosely about Charles Manson [with] myself, and I got my friend Jaime King to play with me in the movie, and there's some other young actors in it. My son actually did a good job. I'm not shocked, but it's weird that my son is now a director.
More Purging and Scorsese dreams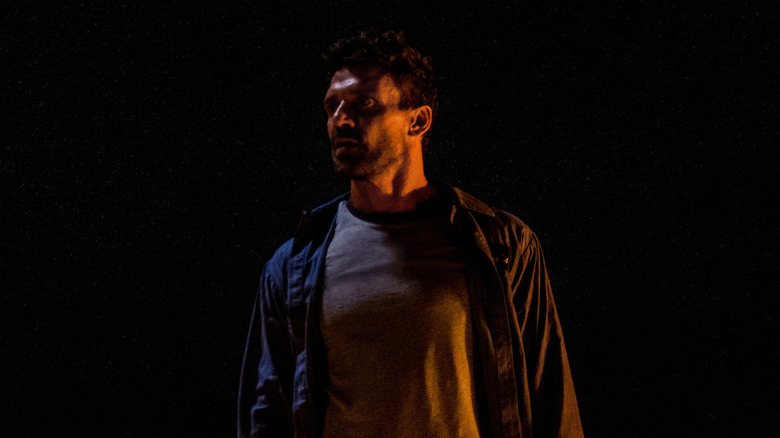 PR provided/Courtesy of Lionsgate
I'm a really big horror fan, so I loved you in the "Purge" movies. What were they like to film? Were they as fun and scary as they are to watch?
"The Purge," specifically "Anarchy," was one of my favorite movies I've ever made. It was so much fun to make. I adore, he's like a brother, James DeMonaco, who created that whole world. I love those movies. They hit the zeitgeist at the right time. Maybe I'm wrong, but I think we're doing one more with me and DeMonaco. We're in the process of figuring out when we would do it, but based on the Leo [Barnes] character ... so, hopefully.
That's why that second film is so exciting, because it's nonstop. It's one of those journeys where you just don't take a breath.
I know, I'm really proud of that movie. We made that movie for $9 million, and it's become a really iconic film in that world. I'm not winning any Oscars for it, but it's a great fun ride.
Horror needs to be taken more seriously.
You're absolutely right, and the stuff that Jordan Peele's doing in a lot of his films, they are great movies. They're not horror movies. They're great movies.
You've worked with pretty much everyone in this business, but is there anyone you haven't collaborated with yet that you still want to?
You know, because of my background and being an Italian New York guy, I would love to go and work with Scorsese, like any actor, and maybe Robert De Niro before he quits. I'm friends with Al Pacino, and I'm trying to get him into a movie. My buddy, Andy Garcia, just signed on to play my brother in a film. I'm very excited because I've been trying to do a movie with him, and he finally said yes because he's been one of my favorite guys too. Scorsese and De Niro [are] probably high on my list.
"Paradise Highway" is now playing in select theaters and is available for rental and purchase on digital and on demand.