Here's How To Begin A Career As A Personal Trainer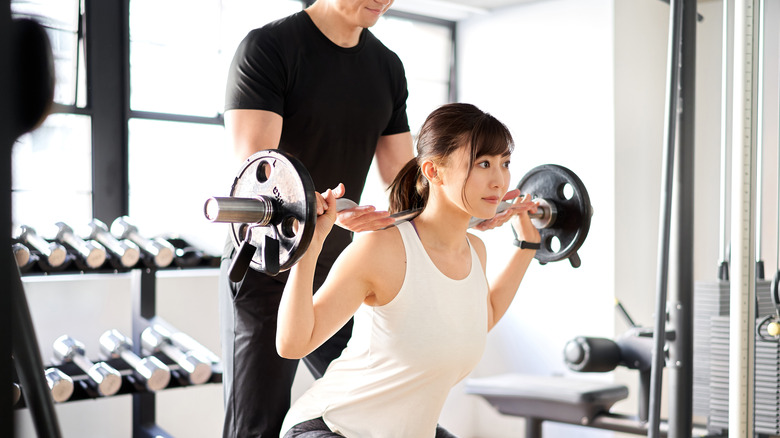 mapo_japan/Shutterstock
If you love being in the gym and helping others while you lift weights, you may be wondering how you can turn that passion into a career. At their core, personal trainers create programs for clients to enhance their fitness in a way that's beneficial, effective, and safe (via Become). However, many personal trainers also help others with their eating habits and nutrition. This means that your wealth of knowledge needs to expand past how the rowing machine works at the gym in order to help your clients become truly healthy and well-rounded.
According to the National Academy of Sports Medicine, you'll need to be quite business savvy. To be successful as a personal trainer, you also need to understand sales and marketing, plus finance and customer service. And above all, you need to have patience. If you are just starting out, it may take some time and a lot of effort to become successful. Here's how to do it.
Steps to becoming a personal trainer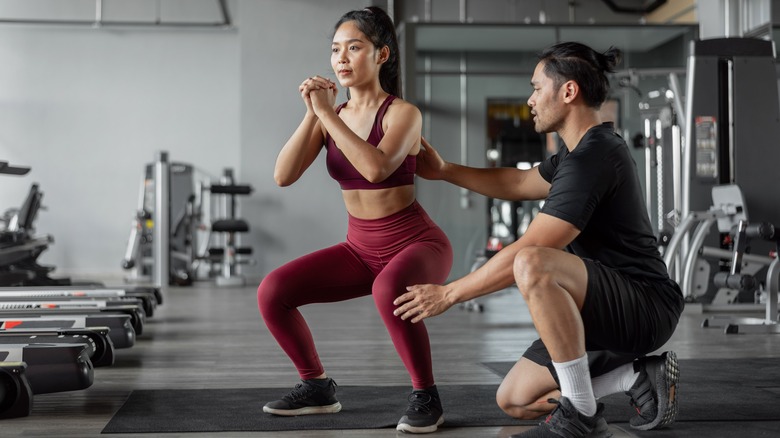 Sarayut Sridee/Shutterstock
As Become reports, a personal trainer likely just needs a high school diploma or GED. Once that is secured, you must become certified. To do this, you have to pass the cardiopulmonary resuscitation (CPR) and automated external defibrillator (AED) certification programs, which ensure you can help a client should they go into a medical emergency. These certificants are short and inexpensive — they cost about $55 each and will take you around four hours to do.
Once you are certified in the medical emergency realm, you will need to receive a personal training certificate. There are a few different types of certifications you can get, each depending on the type of fitness you want to pursue. According to Fitness Mentors, you should allow yourself about three to six months to complete the personal training certificate. Once you pass the exam, you can start your journey and begin looking for the right gym or fitness facility.
What to consider before starting a career as a personal trainer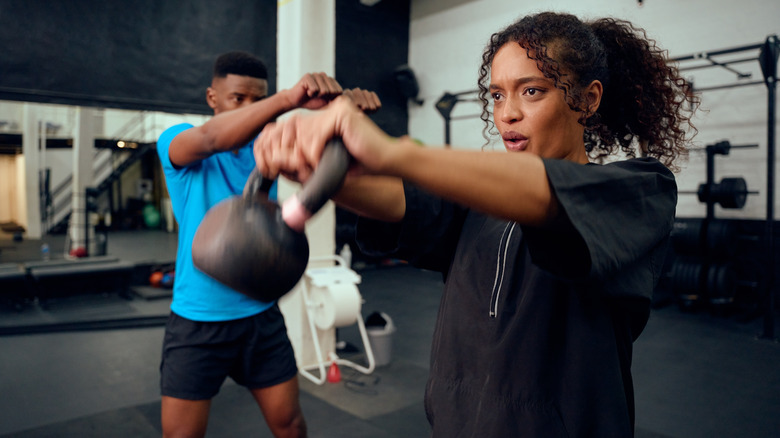 StratfordProductions/Shutterstock
If you spend a lot of time in the gym, you may see personal trainers often and dream about having their job. But while from the outside, it may look like a dream position, there are some things to consider before jumping the gun. Very Well Fit notes that personal trainers are faced with a lot of challenges. They often have to deal with rude or unhappy clients, especially those who blame you when their desired fitness is not achieved fast enough. You will need to understand customer service and often bite your tongue in these situations. In addition to the clientele, you will also face nontraditional working hours (many of your clients may want early morning or late evening hours to fit their schedules), unpredictable pay, and an increased risk of being burnt out by your career. You may also be forced to perform your least-favorite exercises again and again.
But there are great parts about it too. A personal trainer has a flexible career, not to mention extremely rewarding. If you do choose to go this route, you can expect to be paid about $58, 318, per Fitness Mentors, but can increase that number by having business savvy, training, and a good reputation.