Princess Charlotte Channels Louis With Funny Expressions During The Commonwealth Games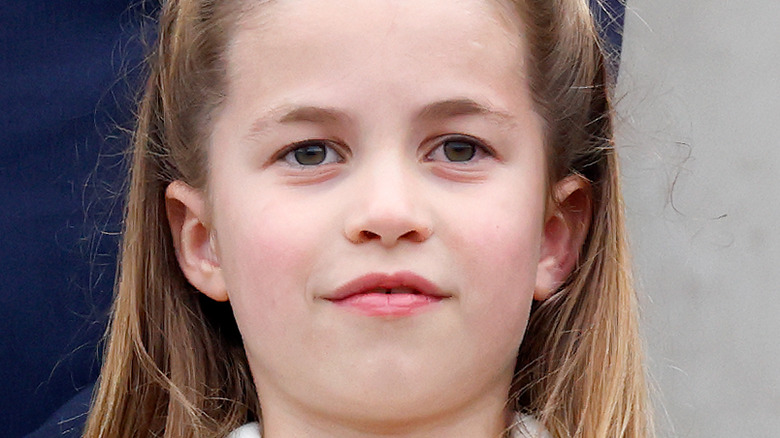 Max Mumby/indigo/Getty Images
What's now the Commonwealth Games started in 1930 as the British Empire Games, featuring more than 400 athletes from 11 countries, per Topend Sports. Much like the Olympics, the games have taken place every four years since — excluding 1942 and 1946 — but unlike the Olympics, all the teams that participate share English as a common language. This has helped give the games the nickname the "Friendly Games." The 2022 Commonwealth Games are being held in Birmingham, England, and this year marks the debut of women's T20 cricket, 3x3 basketball, 3x3 wheelchair basketball, and para table tennis, per Sporting News.
Queen Elizabeth is the head of the Commonwealth, and royal family members are showing up at a number of events over the 11 days of games. Buckingham Palace cited mobility issues for the reason the queen wouldn't be in attendance, but Prince Charles represented the crown at the opening ceremony – he showed up in an Aston Martin that runs on wine – via Town & Country. Prince William and Catherine Middleton showed up to watch some events, too, including swimming heats, field hockey, and gymnastics, and they were accompanied by their daughter Princess Charlotte (it was her first outing with her parents and not with either of her brothers). But while watching, Charlotte was giving some Prince Louis vibes.
Princess Charlotte was an excited and engaged Commonwealth Games spectator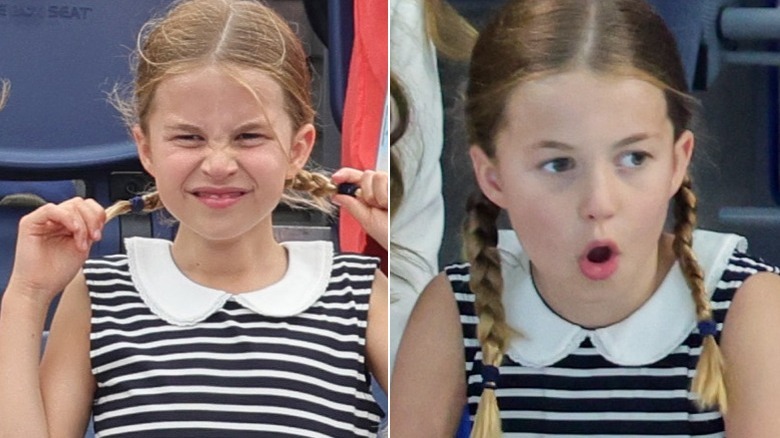 Chris Jackson/Getty
Prince Louis — the youngest of the Cambridge kids — made international headlines with his antics during Queen Elizabeth's Platinum Jubilee. He covered his ears watching the parade from the Buckingham Palace balcony, and he made faces at mom Catherine Middleton at the Platinum Jubilee Pageant, per People. And at the 2022 Commonwealth Games, Prince Louis' older sister, Princess Charlotte, was equally as animated as she watched the athletes compete — smiling, frowning, sticking her tongue out, and seemingly completely engrossed in the drama of the competition.
One person on Twitter pointed out how Charlotte's facial expressions showed "the highs and lows of live sport." Another noted how nice it was to not just see Charlotte engaged and excited, but it was sweet to see her parents enjoying her excitement. And another tweeted, "She's a middle child having alone time with her mum and dad at an event that excites her...this is going to be a very special memory for her."
Charlotte previously shared her love of sports when she, along with Prince William, voiced their support for the England women's soccer team – known as the Lionesses — as they played Germany in the final of the 2022 Euro tournament.
Princess Charlotte also shared a sweet moment with her father at the event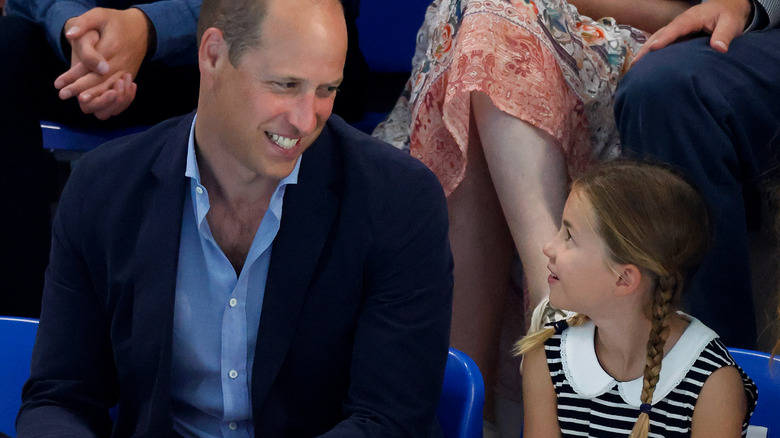 Max Mumby/indigo/Getty Images
Although Princess Charlotte clearly enjoyed herself at the Commonwealth Games, she apparently found the event taxing after sitting around for so long. Per the Daily Mail, the Duke of Cambridge comforted his daughter when she started to get a bit bored, giving her a little cuddle and encouraging Charlotte to cheer up by tucking her hair behind her ears. Prince William also patted his daughter's head, much to the youngster's visible — yet evidently playful — annoyance. It seemed to work since the mini royal soon brightened up. 
Fans were loving their sweet interaction on Twitter, with one gushing, "I love how Catherine and William are always doing something to comfort the kids in these public situations." Moreover, as another suggested, Charlotte may simply have had more interest in watching the gymnastics rather than the hockey event, which would explain her restlessness. 
Charlotte's minor infraction is surprising, however, since, as Page Six reported at the time, the princess scolded brother Louis for misbehaving at the Jubilee. In a clip that quickly went viral, Charlotte was spotted pulling her sibling's fist out of his mouth, in an effort to help her parents keep him under control. She also stopped Louis from waving too enthusiastically during a carriage ride. Elsewhere, Charlotte corrected her older brother, George's, posture. 
Clearly, the princess runs a tight ship in support of her doting parents — provided she doesn't get too bored herself, of course.