Meghan Markle's Father Faces Restraining Order After Disturbing Allegations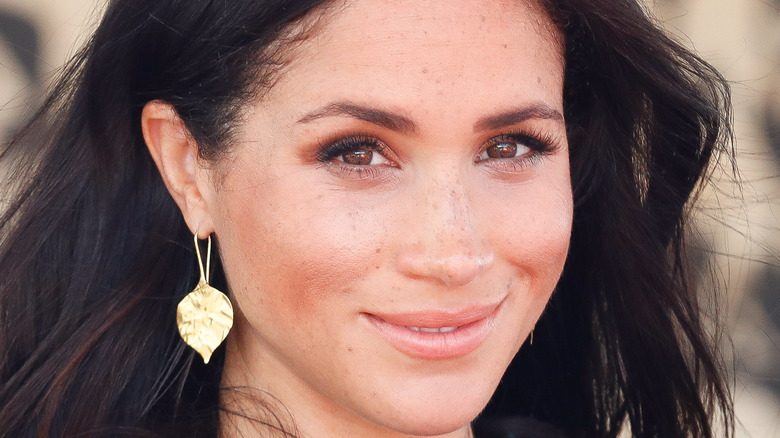 Chris Jackson/Getty Images
Meghan Markle doesn't have the best reputation in the eyes of royal family fans. While it is clear how English citizens feel about Prince Harry and the Duchess of Sussex following their exit from royal duties and the explosive interview with Oprah Winfrey, Meghan's popularity in the United States also seems to be losing momentum. A survey conducted by YouGov found that Meghan isn't as well-liked in her home country as she once was. Following the couple's interview with Oprah, her approval rating in the U.S. was at +15, down from +28.
While Meghan's reputation amongst fans of the monarchy is poor, her father, Thomas Markle, has an even worse track record. Known for taking his bad behavior public, Meghan and Thomas have an estranged relationship that has often found itself in the headlines (via Us Weekly).
Meghan isn't the only one who has been at the receiving end of Thomas' public outbursts, either. New allegations are coming forward regarding the Markle family's patriarch.
Markle's father has some serious allegations against him
Thomas Markle doesn't have a great reputation in the media. Some blame the press for pushing Meghan Markle away from her father — however, it seems their relationship was strained far before her marriage to Prince Harry (via Insider). Regardless, Thomas continues to make a bad name for himself in the press, and now, more disturbing allegations regarding his behavior are coming forward.
According to TMZ, Jeff Rayner, the co-owner of the tabloid and news agency Coleman-Rayner, is seeking a restraining order against Thomas due to fears for his safety. He is said to be concerned that the Duchess of Sussex's father may try to kill him.
TMZ obtained the restraining order, and within the document is a quote from Markle that reads, "I got screwed by Rayner and I'm going to find a way to screw him over before I die. I want to tear him down. If they tell me I've got terminal cancer, then I'll kill him because I have nothing to lose."
The beef between Thomas and Rayner started when the former sued Coleman-Rayner last year, claiming that staged photos the pair set up ruined his relationship with Meghan and Harry. Tensions have been high ever since, and Rayner is clearly concerned for his safety.