Thomas Markle's Former Friend Reveals Surprising Behind-The-Scenes Details About His Behavior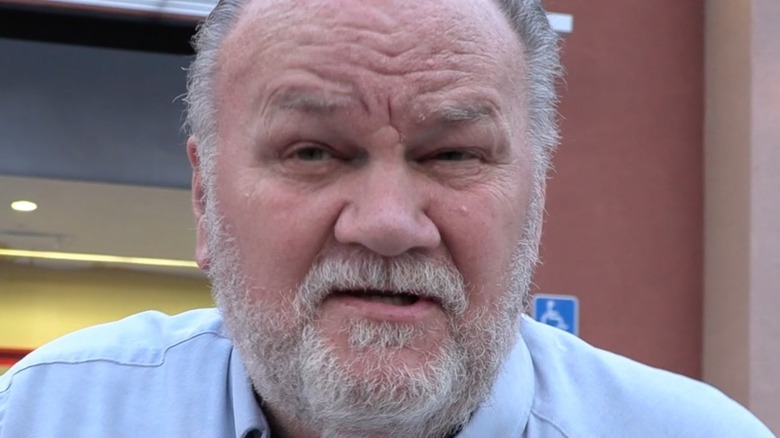 BACKGRID
During an April 2022 appearance on GB News (via YouTube), Thomas Markle expressed his desire to attend the queen's Platinum Jubilee so he could finally set the record straight about where his family stands on the monarchy. 
"I'm looking forward to it," he said. "I'm going to show my respect for the queen and I'm going to make sure the queen understands my entire family respects the queen and the royals and we admire them and we want them to know that is how we feel about them." 
The retired lighting director also wanted to reunite with his estranged daughter, Meghan Markle, and her husband, Prince Harry, acknowledging that he had yet to meet his grandchildren Archie and Lilibet. 
Elsewhere in the explosive interview, Thomas compared himself to Prince Charles by claiming that both men had been "ghosted" by their kids. The duchess' father hoped to have a chat with Charles to compare notes. He took the opportunity to brand Harry an "idiot" for worrying about the couple's security in Britain, too.
Thomas ultimately couldn't attend the Jubilee after suffering a massive stroke in the days leading up to it, per the Daily Mail. He shared a message for Her Majesty regardless, writing on a whiteboard, "I wanted to come to pay my respects to the queen. I wish her a happy Jubilee and many more years." 
Despite Thomas' public admiration for certain royals, his former YouTube co-host asserts that, sometimes, he speaks unfavorably of the family.
Karl Larsen claims Thomas Markle's comments had to be heavily edited
Thomas Markle's former YouTube co-host, Karl Larsen, revealed that, despite his protestations to the contrary, Meghan Markle's estranged dad doesn't always have the best opinion of the British royal family. 
The celebrity photographer spoke to Insider about their channel, "Remarkable Friendship," which was used predominantly as a way for Thomas to air his grievances about the duchess. It's worth noting that, after Insider published its interview with Larsen, Thomas' son, Thomas Markle Jr., told the outlet that their working relationship had ended.
According to Larsen, "Remarkable Friendship" was created to show the world who his co-host really is. "The Thomas I know is sort of that dry sense of humored guy, that sort of comes out on our YouTube channel, even though we seem awkward together," he said.
However, Larsen found himself editing out certain inappropriate comments by his co-host since "he's got no filter," which is something the likes of Piers Morgan and Dan Wootton capitalize on by peppering Thomas with rapid-fire questions. "But people like Dan Wootton, he's not gonna cut out, 'Oh, Harry's an idiot?' We gotta keep that," Larsen clarified. 
As Newsweek notes, Larsen has a dodgy reputation himself, having bragged about camping out at the house next door to Meghan's mother, Doria Ragland, when it was up for sale. He alluded to hearing kids playing who may have been the Sussex children. The paparazzi then reasoned he wasn't being serious.
Meghan Markle's father has criticized the royal family publicly before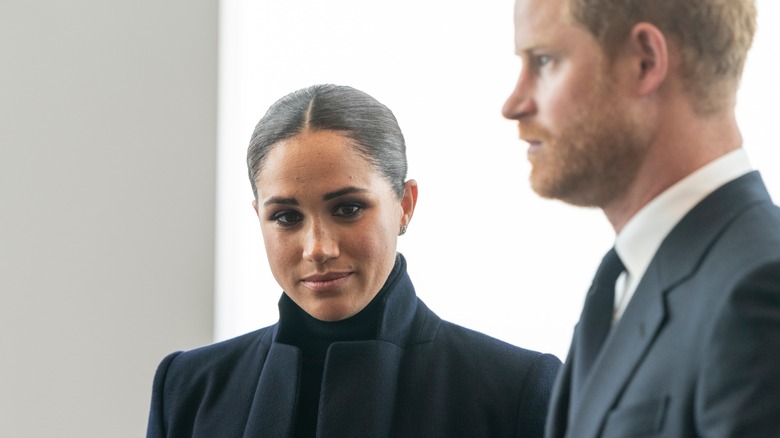 lev radin/Shutterstock
Meghan Markle's estranged father has made his dislike of Prince Harry clear several times over the years. 
Per the Irish Mirror, during an interview on Australia's "60 Minutes," Thomas Markle branded his son-in-law "stupid" and declared that Harry keeps contradicting himself, including while discussing his mental health struggles in the Apple TV documentary series "The Me You Can't See." 
As for whether Thomas is partly responsible for Meghan dealing with similar mental health issues, he argued that she should've contacted him if she needed help. As far as he's concerned, leaving the royal family was the "biggest mistake" the Duke and Duchess of Sussex could have possibly made.
Likewise, Thomas accused Harry of changing his daughter for the worse in an interview with "Good Morning Britain" (via Twitter). He then claimed that the Sussexes are only after money and will do anything it takes to get it, including betraying their families, as he sees it. Thomas even branded Harry's upcoming memoir "cruel" and an "insult [to] his grandmother." 
However, while he might claim to be the queen's biggest fan and one of her most vocal defenders nowadays, there was a time when Thomas aimed some ire at Her Majesty, too. He took particular issue with the queen meeting Donald Trump before him. "If the queen is willing to meet our arrogant, ignorant, and insensitive president, she has no excuse not to meet me," he told TMZ. "I'm nowhere near as bad."