How Much Money Do Bank Tellers Make?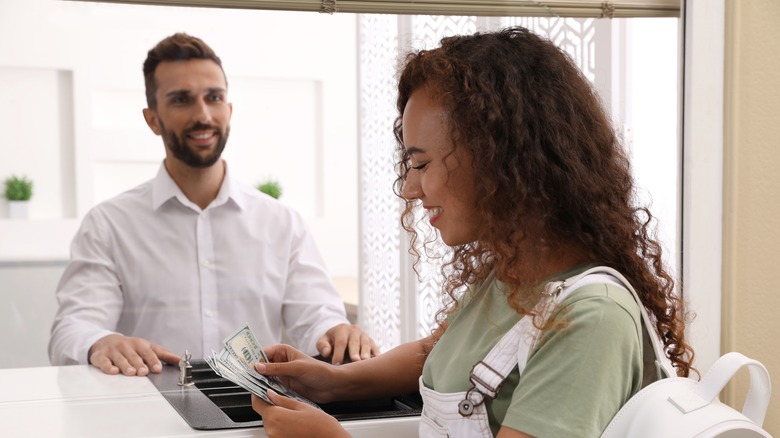 New Africa/Shutterstock
When you walk into a bank, whether it's to deposit a check, withdraw money, or obtain a money order, the person there to help you is known as the bank teller. According to Indeed, a bank teller is a finance pro, but also a customer service expert. They work to ensure customers' needs are met and questions are answered, and are additionally responsible for helping their customers manage their bank accounts and make sound financial decisions.
As a bank teller, your job is centered around money. According to The Balance Careers, you start your day counting the money in the drawers. As the day goes on, you'll be handling deposits, withdrawals, checks, and cash. You will also likely work with foreign exchange and speciality money items like traveler's checks, savings bonds, and money orders. If you are interested in becoming a bank teller, you likely have an interest in money and the way it works — so it makes sense that your own money-making potential is a big factor in the career you choose. If you do go the teller route, here's what you can expect to make.
A bank teller's salary can range depending on certain factors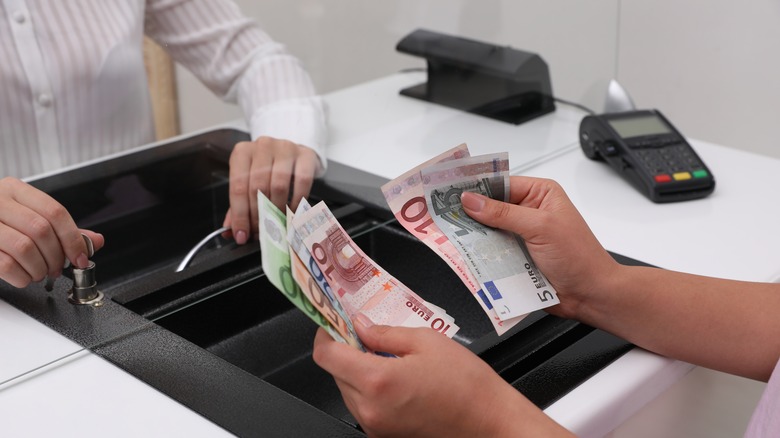 New Africa/Shutterstock
According to The Balance Careers, how much you make as a bank teller can vary based on where you live, how much experience you have, and who you work for. Overall, the average bank teller can expect to earn about $32,620 a year, or $15.68 an hour. Those at the top of their game can earn over $40,000, with newer bank tellers earning closer to $25,000.
But according to Glassdoor, your base salary isn't the only money you will earn as a bank teller. In fact, that $32,000 as your base pay may increase to $59,928 when you factor in other income sources like cash bonuses, commissions, and even profit sharing. But one of the biggest things that will dictate your pay is where you work. Wells Fargo is said to be the highest paid bank for a teller, per Glassdoor, offering about $20 an hour. Similar big-name companies are similar. Chase is said to pay about $17 an hour and Bank of America pays about $18 an hour. Does this sound like a salary you can work with? Here's what it takes to become a bank teller.
How to become a bank teller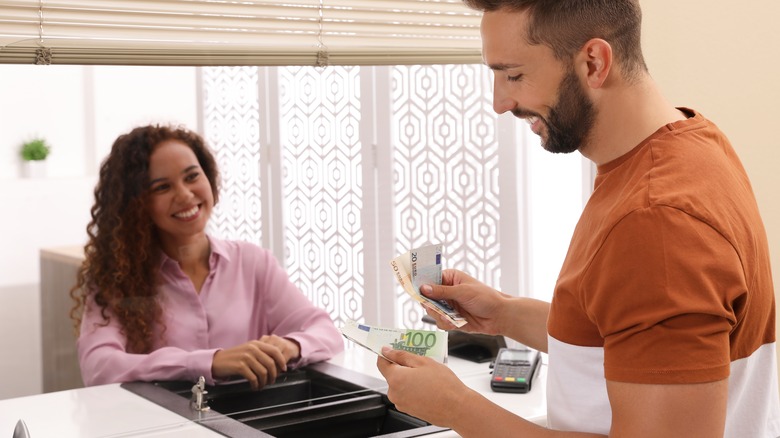 New Africa/Shutterstock
According to The Balance Careers, you technically only need a high school diploma to become a bank teller. But if you are hoping to advance in your career and make the higher end of the salary range, you may want to consider getting that college degree. If you do decide to go to college, consider studying something like finance, economics, or accounting. All of these degrees will help you advance from bank teller to assistant manager, loan officer, and more.
But while education isn't a top priority for those considering working for a bank as a teller, your skills are. According to Monster, in order to succeed as a bank teller, you need to have strong customer service skills, as well as math, financial, and documentation skills. You must also have a good attention to detail, a high level of integrity, and the ability to relate to others, as a big part of your day is spent talking to customers.