Little People, Big World's Matt Roloff Experiences A Heartbreaking Loss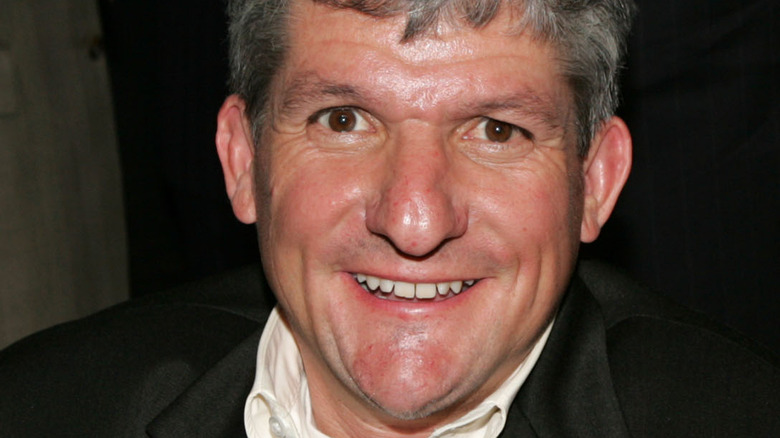 Thos Robinson/Getty Images
The long-running "Little People, Big World" reality series provided a little-seen look at how Matt and Amy Roloff, a married couple with dwarfism, navigate a society created for people of typical stature. Sadly, it also exposed the harsh fact that the Roloffs faced very familiar issues surrounding their marriage and work. In 2015, Matt and Amy divorced and went on to find love with other people, via In Touch Weekly; Amy married her boyfriend Chris Marek in 2021 on the family farm, per People. 
Matt's woes only intensified. In July 2021, Matt revealed on Instagram that his father, Ronald James Roloff, was undergoing chemotherapy for chronic lymphocytic leukemia (CLL), a form of blood cancer that starts in the bone marrow. According to the American Cancer Society, CLL can either present in a slow-growing form that may not need immediate treatment, or a faster-growing form that tends to have worse outcomes. Matt's mother, Peggy, was also recovering from a bad fall at the time, and he noted, "It's truly a scary moment in life when you find out your parents are needing all the prayers they deserve."
As Matt's Instagram feed shows, he spent as much quality time with his parents over the following year, most recently attending a screening of "Top Gun" in Arizona in June. But fans got bad news on August 1, when Matt announced that his dad had died at age 83. 
Matt Roloff was at his father's bedside as he passed
"Little People, Big World" star Matt Roloff shared a heartfelt eulogy of his father on Instagram: "A sad week for the Roloff family.. my dad... affectionately known as 'papa' to his 10 grandchildren and his 10 great grandkids, peacefully went home to be with his Lord and Savior yesterday evening."
Matt went on to say that his mother, Peggy, known as "Huny," was by her husband's side when he passed. The couple had been married for 63 years. Matt was also present, along with unnamed grandchildren who "race[d] to his bedside and hold his hands with mom and I in his final moments here on earth!!" He did not mention whether his girlfriend, Caryn Chandler, was there as well (the two have been dating for years, but Matt has not yet proposed). 
The post received more than 52,000 likes, along with numerous expressions of sympathy. The Johnston family of "7 Little Johnstons" — another popular TLC series about a family with dwarfism — wrote, "We are so sorry to hear of his passing. We wish you all peace during this time of sadness."
Another condolence message came from a fan who is also the parent of a child with diastrophic dysplasia (DD), the form of dwarfism Matt has. "I often wondered what it must have been like for parents like yours who didn't have social media to connect with other LP families. He seemed like a very proud Papa!"