Pulitzer-Prize Nominated Maya Angelou Was Honored For Her Literary Contributions In A Big Way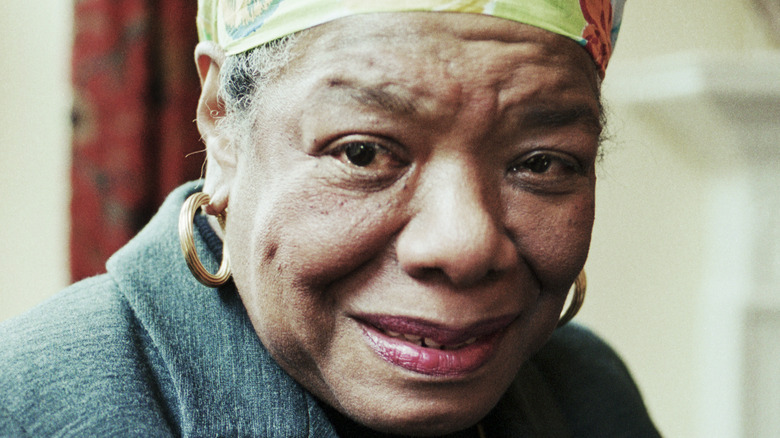 Martin Godwin/Getty Images
Glamour's Women of Year Awards is an annual opportunity for powerful women to come together and celebrate one another. For 30 years, the event has honored individuals from across disciplines and professions — from entertainers and artists to politicians and activists — including the likes of pioneering feminist Gloria Steinman and legendary singer Cher. With new winners being honored every year, it's important to remember and celebrate the many women who have broken down barriers and shattered glass ceilings throughout history.
In 2021, National Youth Poet Laureate Amanda Gorman, who first drew national attention by performing her poem "The Hill We Climb" during President Joe Biden's inauguration ceremony in 2021, was honored as a Glamour Woman of the Year (via Glamour). However, she isn't the first famous poet to be awarded the title. A legendary Pulitzer Prize-nominated poet received the very same honor in 2009, taking home the lifetime achievement award for her outstanding contribution to the literary world. 
Maya Angelou was recognized for her literary achievements in 2009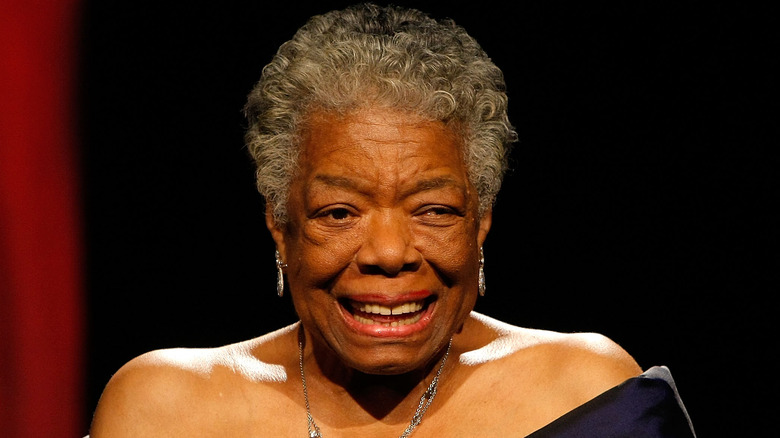 Jemal Countess/Getty Images
Maya Angelou was recognized as a Woman of the Year in 2009 by Glamour, as the publication gave the Pulitzer-Prize nominated writer the lifetime achievement award (per Glamour). The esteemed author sadly passed away in 2014, but remembering the many accomplishments that led to her winning the 2009 title is a great way to honor her memory and to familiarize yourself with her literary work if you've yet to dive into her breadth of publications. 
Per the Poetry Foundation, Angelou had a full career before establishing herself as an author in the 1970s. She began as a performer and toured Europe with an opera production before she moved to New York City in the late 1950s. According to Biography, as a civil rights activist, Angelou worked to further the efforts of both Malcolm X and Martin Luther King Jr. She eventually garnered acclaim as a memoirist through the 1970 publication of "I Know Why the Caged Bird Sings." As noted on her website, despite gaining praise from critics and reaching the best-seller list, Angelou's debut was also banned in many schools for its discussion of sexual abuse. However, it eventually made its way into the college literary canon.
Angelou had an illustrious writing career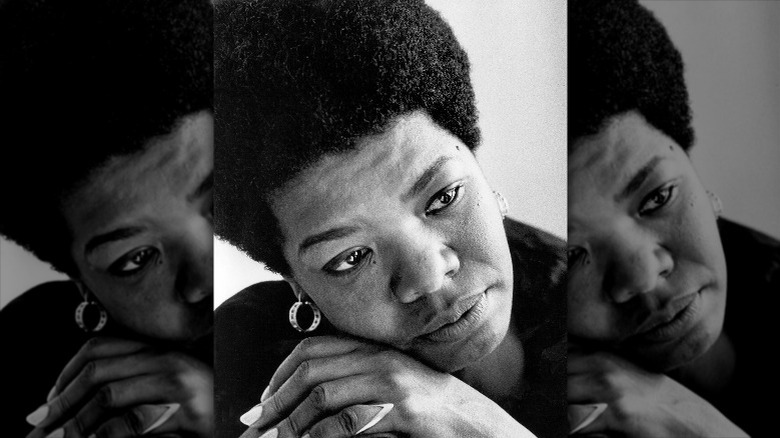 Michael Ochs Archives/Getty Images
Maya Angelou's first volume of poetry, "Just Give Me a Cool Drink of Water 'Fore I Diiie," was nominated for a Pulitzer Prize in 1972 (per The History Makers). Despite not winning, Angelou's poetry continues to receive praise for its discussions of race, identity, and suffering. Similar to Amanda Gorman, Angelou was the poet for President Bill Clinton's 1993 inauguration. Notably, she was both the first woman and the first Black American to serve as the inaugural poet, according to PBS.
With 36 published works under her belt, Angelou's influence as a poet, memoirist, and screenwriter persists to this day. Her writing is frequently used as a topic of study across numerous English writing courses, including ones specifically geared toward African American Literature (via Study.com). In addition to her most well-known poetry collections, Angelou also authored several autobiographies, children's stories, and even a few cookbooks, per her official website.