Data Shows Things Aren't Looking Bright For Jo-Ann Fabrics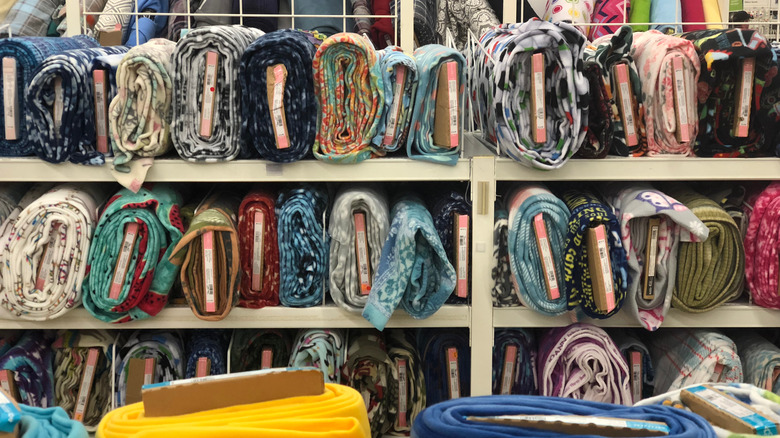 ZikG/Shutterstock
Contrary to what its name suggests, Jo-Ann Fabrics sells so much more than fabric: whether you're a sewer, a scrapbooker, a costume designer, or you just enjoy wandering the faux flower aisle, Jo-Anns is the place to be for all your arts and crafts needs. Jo-Ann Fabrics opened its first store in 1943 and has expanded nationwide with over 850 locations open today (via Jo-Ann). Like many stores, Jo-Ann Fabrics had a difficult time during the 2020 lockdown. Per The Richest, the company survived the pandemic with the help of online sales and the need for fashionable cloth masks. But recent trends show that shoppers may no longer be interested in what Jo-Anns is selling and how they are selling it.
In a breakup letter to Jo-Ann Fabrics, blogger and crafter Rachel Teodoro wrote, "Your lines are too long, your service is sub par, your return policy sucks and just stepping into your store is one of the biggest time sucks of my day." While we are sure not all shoppers share the sentiment, it seems that Jo-Ann Fabrics is struggling to keep customers in stores, and the data we collected may support our theory. 
The List created a graph with exclusive data that monitored foot traffic trends over the past two years, defining a shopper's visit as "a stay at the location lasting longer than four minutes." Based on our findings, we are worried that shopping habits may not be trending in the right direction for Jo-Ann Fabrics.
Have people abandoned their pandemic-era hobbies?
The List's foot traffic graph, pictured above, shows an expected average of between 90,000 to 100,000 visitors each month, with a drastic dip below 50,000 monthly shoppers in the spring of 2020 as the store navigated the COVID-19 pandemic. Although they show a strong recovery the following summer, the most recent decline in monthly visitors has raised some eyebrows: the graph illustrates a steady drop in shoppers beginning in May of 2022 that has continued through July. With no current signs of visitor averages rising, it makes us wonder why shoppers are no longer frequenting Jo-Anns.
Senior Vice President of Jo-Ann Fabrics Christopher DiTullio told the U.S. Chamber of Commerce that Jo-Ann Fabrics caters to crafters and creators, which means that customer service and experience is an important aspect of the store. "The more you can solve a problem for a customer, the more loyalty you'll gain from them," he said. Unfortunately, their efforts to provide a more streamlined in-store experience and more ways for customers to save money may not be enough. Shopping trends have indicated that people are putting down their knitting needles and heading to events, spending a majority of their money on experiences over goods (via Forbes). As post-pandemic prices rise and people shop elsewhere, Jo-Ann Fabrics could be in for a rough winter — unless people decide that blanket making is the rage: we could totally get behind that cozy trend.