Why Furious General Hospital Fans Feel Finn Is The Last Thing Elizabeth Needs Right Now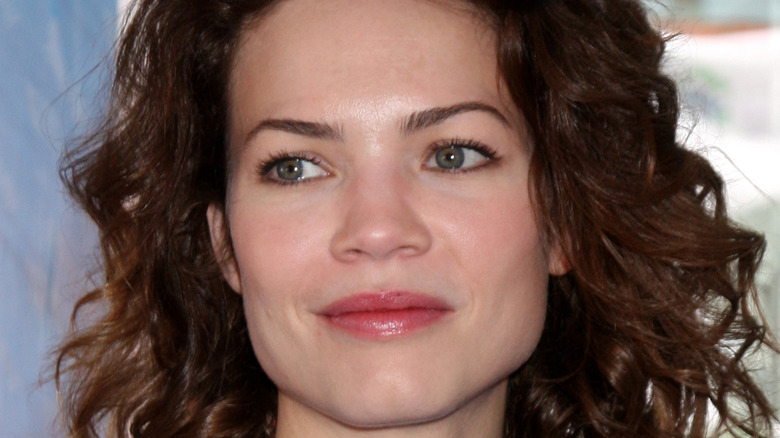 Kathy Hutchins/Shutterstock
Over the 25 years Rebecca Herbst has played Elizabeth Webber on "General Hospital," the character has had many ups and downs. As TV Season & Spoilers reported, Elizabeth seemed to be the victim of a stalker, only to find that she herself was doing the stalking because of a dissociative disorder, most likely caused by the fact that her parents abandoned her when she was young.
Per Hulu, Elizabeth got dizzy on the hospital stairwell, dropping the files she was carrying. She sat down on a step, and heard a young girl's voice calling, "Daddy!" She shouted back, "What do you want?" Most likely a memory from the back of Elizabeth's mind, which could indicate her issues are rooted in her past. Hamilton Finn (Michael Easton) found her and took her to his office.
Liz had previously checked herself into the Shadybrook Mental Hospital seeking help, and then checked out against doctor's orders (via Daytime Confidential). Finn sensed something was still wrong, asking her to get help for her kids' sake. She felt he was accusing her of not being able to take care of her kids (via Hulu), yet her whole reason for going to Shadybrook in the first place was so that she could better take care of her children once her mental issues were resolved.
While Finn's concern may appear somewhat smothering, the fans feel he might not be the best thing for her right now.
The fans feel Finn is hurting, not helping Elizabeth
Elizabeth explained to Finn that she was fine, but the official "General Hospital" Twitter page posted a video explaining that "Finn (respectfully) disagrees with Elizabeth's assessment of her state of mind." According to Soaps She Knows, the word "respectfully" sent fans into a frenzy, indicating the show used that word on purpose to get a reaction from the viewers. 
Fan responses ranged from displeasure that Liz doesn't seem to be the main focus of her own storyline, to likening the story with "trash." One fan wrote, "Finn is one of Elizabeth's problems." The audience discussion became divided as some fans felt Finn's concern is out of love and others felt he has been manipulating or even gaslighting her. One analysis of the situation stated, "He's not her doctor. He's dismissing her."
While Elizabeth doesn't need a man in her life to define herself, the helicopter boyfriend that Finn has become is not helping, and his overprotectiveness is causing her to misinterpret what he says. Soap Opera Spy speculates that Finn and Elizabeth don't work as a couple. In the Twitter post, a fan responded with, "Oh man! I hate to be a Jeff Webber fan! Ha! That child [he] abandoned is about to get some karma."
It's most likely that the time has come for her father Jeff Webber (Richard Dean Anderson) to return to the canvas and finally help his daughter resolve her issues.