The Young And The Restless' Christel Khalil Channels Schitt's Creek For Behind-The-Scenes Fun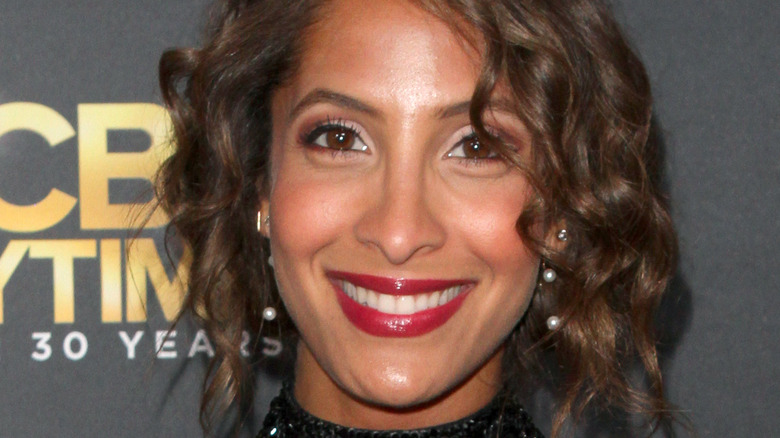 Matthew Simmons/Getty Images
Christel Khalil has dazzled fans as Lily Winters on "The Young and the Restless" since 2002. Her character has undergone many twists and turns throughout her two decades on the show. Often, Lily's storylines ooze dark subject matter and tug at the heartstrings. In 2006, the truth about her paternity came to light. Neil Winters (Kristoff St. John), the father she'd known her entire life, wasn't her biological one. Her birth father was her uncle Malcolm Winters (Shemar Moore), causing a whirlwind of chaos throughout the family (via Soaps.com).
Another storyline of Lily's that left viewers reaching for tissues was her ovarian cancer diagnosis in 2009. Ultimately, Lily survived the disease, but it was a story that showcased the trials and tribulations faced by those battling the disease (via Soaps In Depth). Lately, Khalil's acting revolves around Billy and Lily's relationship. 
However, even though Lily has been through her fair share of dark and painful moments, her portrayer Khalil finds ways to lighten the mood. Recently, she let loose in the hair and makeup chair and channeled the matriarch of an iconic comedic family.
Khalil embraced the matriarch Schitt's Creek in new video
Christel Khalil is no disgruntled pelican. Even though she's hard at work on "The Young and the Restless" these days, she's still finding time to let loose and has some fun. The busy soap actress posted a video on Instagram quoting Moira Rose from the Emmy-winning comedy "Schitt's Creek." In the video, Khalil's getting hair and makeup done on the closed set of "Y&R." Moira can be heard in the background, saying, "I am booked up, David. You should see my schedule. I'm positively bedeviled with meetings, etc."
Khalil is in full glam at the end of the video in front of a computer screen, keeping her busy. Perhaps she's looking at insider knowledge on the prospect of if Billy will cheat on Lily with Chelsea. Lily's live-in boyfriend, Billy Abbott (Jason Thompson), has been getting close to Chelsea Lawson (Melissa Claire Egan) lately, and sparks are flying. Whatever it is, Khalil looks dazzling in her latest video, and the nod to "Schitt's Creek" was the cherry on top.