Are Jennifer Lopez And Ben Affleck Compatible Based On Their Zodiac Signs?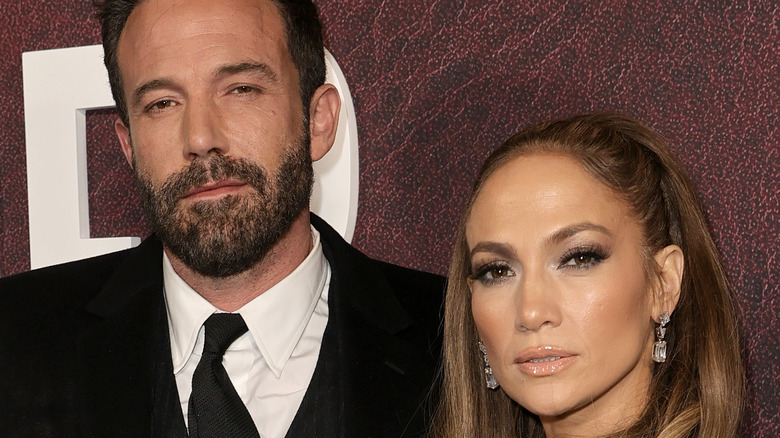 Kevin Winter/Getty Images
Jennifer Lopez and Ben Affleck have had one of the most interesting and talked-about relationships in Hollywood. The couple first met in 2001 on the set of the movie "Gigli" and the pair hit it off (via PopSugar). Eventually, they began dating and were engaged shortly after. The couple was set to get married in 2003, but just days before the ceremony announced that they were postponing the wedding due to the intense media spotlight. As PopSugar notes, the couple called it quits a few months later. 
Both Affleck and Lopez moved on and got married. Affleck wed actress Jennifer Garner and welcomed three children with her. Meanwhile, Lopez tied the knot with singer Marc Anthony, whom she shares twins with. Eventually, both of those marriages ended in divorce (via People).
The duo remained friendly, and in April 2021 rumors that they had rekindled their romance spread like wildfire online. A few months later, the couple confirmed that they had reconnected nearly two decades after ending their engagement, as People reported. The couple appeared to be happier than ever and thrilled their fans when they announced their second engagement in April 2022 (via CNN). This time, the pair made it down the aisle as they got married in Las Vegas in July 2022, according to Variety.
The couple known as Bennifer seemed to take the long road to get where they are, but they officially made it. However, is Lopez and Affleck's relationship truly meant to be?
Jennifer Lopez and Ben Affleck are both Leos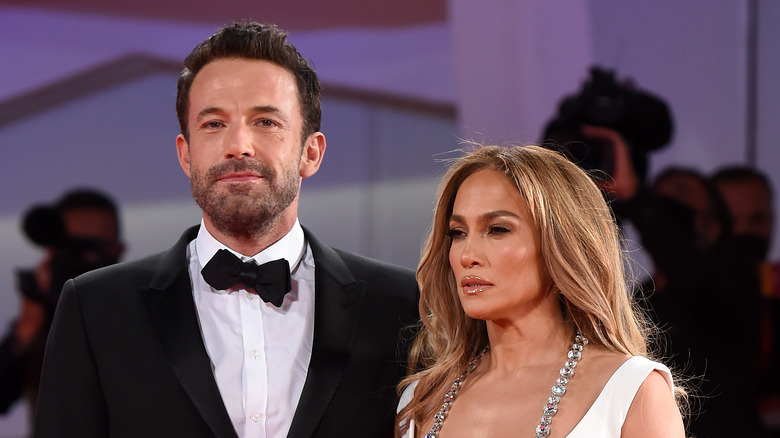 Stefania D'alessandro/Getty Images
Jennifer Lopez was born on July 24, 1969 (via Harper's Bazaar), making her zodiac sign a Leo. According to Thought Catalog, Leo women have many amazing traits such as their extreme loyalty. Females born under the fire sign are also known to be fearless and fierce when it comes to life, and are often able to roll with the punches. In addition, Leo women can be spontaneous and up for any adventure that life throws at them. However, this can sometimes lead to trouble. Leo women are also said to be artistic and have a knack for singing, dancing, and acting — which seems to describe Lopez perfectly, Forbes says.
Meanwhile, Ben Affleck was born on August 15, 1972, per Stylecaster. His birthdate also makes him a Leo, like his wife. Leo men are said to be attractive and charismatic and can embrace their inner child (via Astrology.com). Leo men are also said to be energetic and fun, and love to share their joy for life with those around them. Male Leos are allegedly drawn to creative career fields and like to be in charge in the workplace, which could explain why Affleck has made the transition from acting to directing in his career (via Vulture).
It appears that Lopez and Affleck have a lot in common, including their zodiac sign. But, are Leo men and women compatible when it comes to love and relationships?
Jennifer Lopez and Ben Affleck's shared traits make them a great match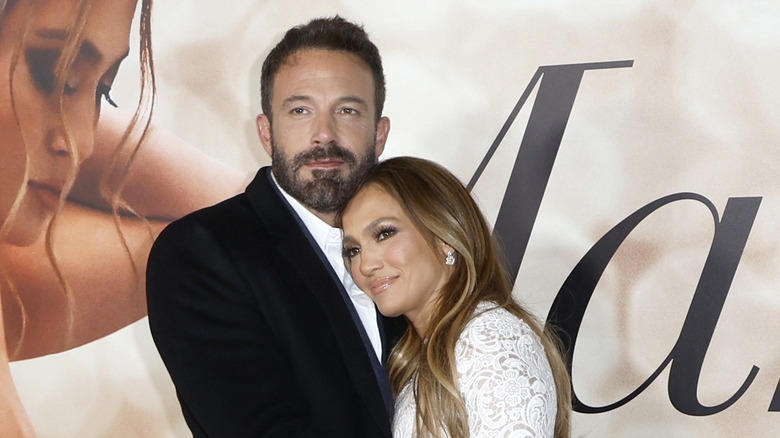 Frazer Harrison/Getty Images
According to astrology, Leo men and women like Jennifer Lopez and Ben Affleck can often make a good match (via Sun Signs). The fire signs share many of the same qualities like a great passion for life and love. This makes it easy for them to understand one another.
Stylecaster notes that Lopez and Affleck not only share Leo sun signs but that they are also both Scorpio moon signs, making them even more similar. This likely means that Lopez is a familiar and comfortable presence in Affleck's life and makes him feel like they're a perfect fit.
The New York Post suggests that the actors' shared zodiac signs make them fierce when it comes to their family and encourage them to be dedicated parents. The outlet claims that Lopez and Affleck are very much the Elizabeth Taylor and Richard Burton of their time, and have what it takes to share a long-lasting relationship together.
After a nearly 20-year gap between their two relationships, many fans appear to be rooting for Bennifer to make to the finish line this time around — only time will tell if Affleck and Lopez are endgame.