If You're An Enneagram Type 4, You Should Watch These TV Shows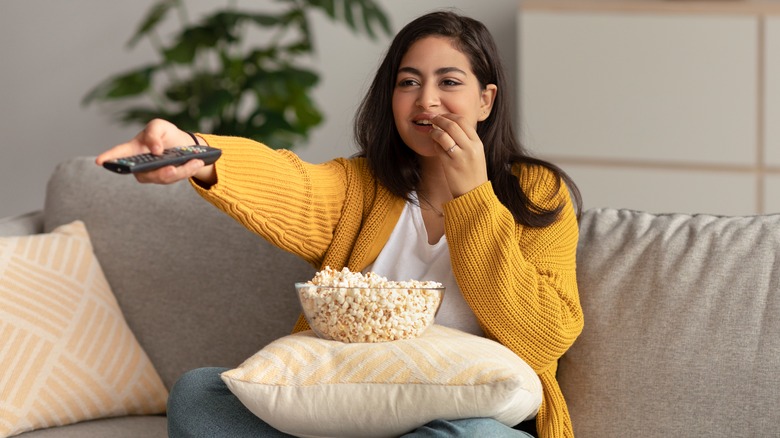 Prostock-studio/Shutterstock
With so many streaming services and a seemingly endless amount of TV shows, deciding what to watch has reached a new level of difficulty. If you're suffering from choice overload or are just looking for new show suggestions, using your Enneagram type for inspiration is always a good move. From changing your hairstyle to moving cities, it's is a great way to help you make decisions — and picking what TV show to watch is no different.
Because your Enneagram type reveals your desires, motivations, and fears, it can effectively guide your decision-making. According to Truity, Enneagram Type Four is called the individualist. Although they appreciate what makes them unique, Fours can also be insecure about their ability to connect to others and fit in. The Enneagram Institute highlights this personality type's dramatic, expressive, and creative characteristics. 
With this in mind, check out these TV show suggestions for Enneagram Type Fours.
TV shows as unique as the Enneagram Type 4
One of the defining features of the Enneagram Type Four is their individualism (per Integrative 9), so it isn't surprising that they would gravitate toward shows that are equally unique. 
"The OA" is one example of a TV show set apart from the rest by its original storyline. This 2016 Netflix original stars Brit Marling as Prairie, a young woman who has just returned home with her eyesight mysteriously restored after having gone missing for seven years (via IMDb). According to Netflix Junkie, this sci-fi mystery has been praised for its brilliance by fans and critics alike. Although its story arc was cut short in 2019 when Netflix announced the cancellation of "The OA," ending the series with only two eight-episode seasons, it's still worth the watch for Type Fours.
As mentioned by Crystal Knows, "Twin Peaks" is another show that will appeal to the expressive and creative nature of Type Fours. Following FBI Agent Dale Cooper, played by Kyle MacLachlan, as he investigates the murder of a teenage girl, this '90s cult classic may appear like your average crime drama at first glance. But its unique visuals and eerie atmosphere make it a truly one-of-a-kind show (per Rotten Tomatoes) — right up Type Four's alley.
Type 4s will love these TV show characters
Because Enneagram Type Fours value individualism and authentic self-expression, they are likely to appreciate interesting characters. 
Based on this, Netflix's "Russian Doll" is a great pick. Starring Natasha Lyonne as New Yorker Nadia Vulvokov, this show thrives off the witty and unique persona of its protagonist while taking viewers on a mystery akin to "Groundhog Day." The second season of this show was just recently released, so viewers will have plenty to watch.
A very character-centric show, Hulu's original series "Ramy" is a great option for Fours looking for a dramedy about the nuances of family life. Starring Ramy Youssef, this 2019 show follows a first-generation Egyptian-American living in New Jersey as he struggles to balance his spiritual identity with modern-day conventions. With an Emmy nomination and a 98% critic rating on Rotten Tomatoes, the funny yet reflective nature of this show is sure to appeal to Type Four.
According to Crystal Knows, another suggestion for the Enneagram Type Four is "Dickinson." Streaming on Apple TV+, this coming-of-age dramedy stars Hailee Steinfeld as Emily Dickinson. According to Rolling Stone, this portrait of the the 19th-century poet stands out in its depiction of her as a progressive woman too modern for the time period she was born into. With their individualistic attitudes and expressive natures, Type Fours are bound to appreciate this TV show's unconventional protagonist.