Joe Biden Shows He Might Be Stuck In The Past With His Latest Slip-Up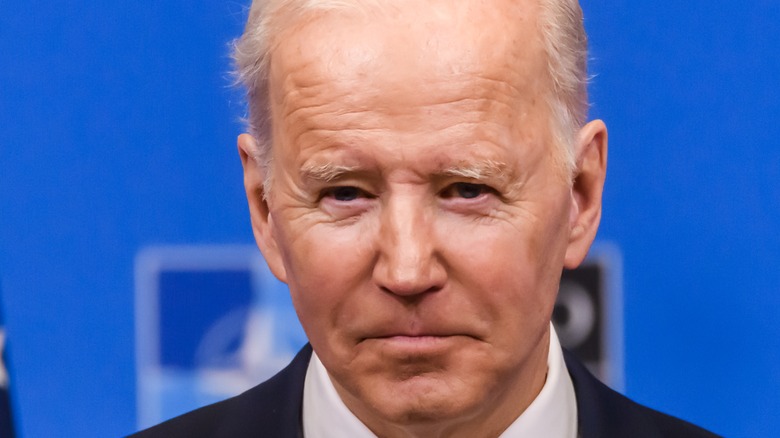 Gints Ivuskans/Shutterstock
Joe Biden is affectionately regarded by some for being gaffe-prone. Of course, others use the President's verbal slip-ups as an opportunity to attack him. Either way, one can't ignore the most recent instance of our commander-in-chief, well, not referring to himself as such.
It was during a call with General Motors to discuss its electric vehicles that Biden bemoaned that he can't try out an environmentally-friendly version of a Corvette. "I'm not going to be able to do it because I can't drive a vehicle while I'm vice president," the leader misspoke (via New York Post). Just a second later you can hear Biden revise his title by noting, "while I'm president."
Although the moment was brief, of course the blunder caught the attention of social media. "You know.....If this was the first slip up I'd laugh. This is like the 5th time he's said he's VP," commented one person.
Many Twitter users joined in to ridicule Biden for referring to himself as second-in-command. But to be fair, he had his defenders as well, with an individual noting that he was VP for eight years.
The timing of Joe Biden's latest gaffe is not ideal
Vice President, er, President Joe Biden has been known to step in it from time to time with his verbal errors. Who could forget when in January he famously referred to Kamala Harris as president (via Daily Mail)? Then there was the instance in March when the POTUS said that the first lady's husband had contracted COVID, when in fact it was Harris' spouse who was sick, a gaffe that may have left Jill Biden confused.
Unfortunately the timing of this latest Biden brain blip couldn't be worse, with a new poll revealing that more than 70% of Americans do not want to see him on the presidential ticket in 2024 (via CNN). Beyond rising inflation and gas prices that have characterized his term, many people are of the opinion that the soon-to-be 80-year-old is too past his prime to be effective for another four years (via The New York Times).
To that end, someone on Twitter said what was on the minds of many: "Why is it the American people have no faith in Joe Biden or take him serious. Why would we when he keeps telling us he's vice president."
But another observer of the debacle called Biden out for another reason, noting that he seemed "out of touch" talking about electric Corvettes when so many Americans are struggling.