How Fans Really Feel About Sasha's Never-Ending Torture On General Hospital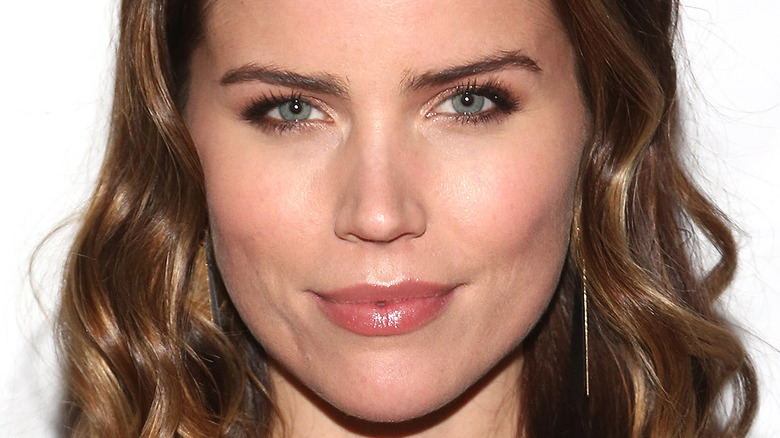 Tommaso Boddi/Getty Images
Sasha Gilmore (Sofia Mattsson) from "General Hospital" has been under pressure for years. Not only has she become the face of Lucy Coe's (Lynn Herring) cosmetic company, Deception, following in the footsteps of Brenda Barrett (Vanessa Marcil), but she also faked an affair with Detective Harrison Chase (Josh Swickard) in order to help Willow Tait (Katelyn MacMullen) and Michael Corinthos (Chad Duell) obtain custody of Michael's son, Wiley (Viron Weaver). According to General Hospital Blog, in 2020, Sasha turned to drug use as well.
In 2021, Sasha and her then-boyfriend, Brando Corbin (Johnny Wactor), were elated to find that she was pregnant. Sadly, the baby was not long for the world, and not even an experimental treatment could save it (via Soaps In Depth). Since that story aired around the holidays, "General Hospital" fans had a hard time embracing it.
Per Celebrating the Soaps, although Sasha became clean, she didn't properly grieve the loss of her child. Since then, she has since spiraled out of control yet again, obtaining drugs from artist Sienna Colby (Cynthia Zitter). Sienna not only provided Sasha with drugs, but was also in cahoots with shady reporter Grant Smoltz (David Lautman). Smoltz tasked Sienna with baiting Sasha into recording a confession of her drug use. Sasha, wise to this, confronted them. Smoltz disgustingly used the death of Sasha's baby against her and Sasha lost her mind, trashing his car (via Daily Soap Dish).
This latest portrayal of Sasha spiraling out of control and hitting rock bottom has made some fans furious.
Some fans are tired of seeing Sasha hit rock bottom
Websites and articles, including Jen Ainsworth's blog, discuss how soap operas have to retain the audience's interest. Characters repeatedly suffer trials by fire to become better people. However, after Frank Valentini, Executive Producer of "General Hospital," posted on Twitter, "Amazing performance today from [Sofia Mattsson] as Sasha totally loses it," not all the fans were thrilled by this.
Some of the responses online included one fan asking, "How many times is Sasha going to 'lose it' for y'all to stop making her suffer?? [sic]," while another replied, "I'm sure she'll be great, but hasn't poor Sasha been tortured enough?" Other fans had more understanding responses, like this fan who tweeted, "Some of you could be complaining these actors right out of a job. What good is a soap that doesn't shake things up and, keep us on our toes?" Another agreed, "Right you don't want it to become too predictable!!!."
An astute fan observed, "She refuses to get help, she doesn't want Brando looking after her, she claims Brando [and] his mom is [sic] smothering her, so ... she gets what she gets." A sympathetic viewer simply posited, "Why does this character constantly suffer?" The conversation has even shifted around from fans thinking Sasha needs to get her life together to other fans claiming she doesn't think she needs the help at all.  
Evidently, the fans are continually engaged, discussing every detail and character motivation of Sasha on "General Hospital."