Martha Stewart Gifts Fans With Another Thirst Trap For Her Birthday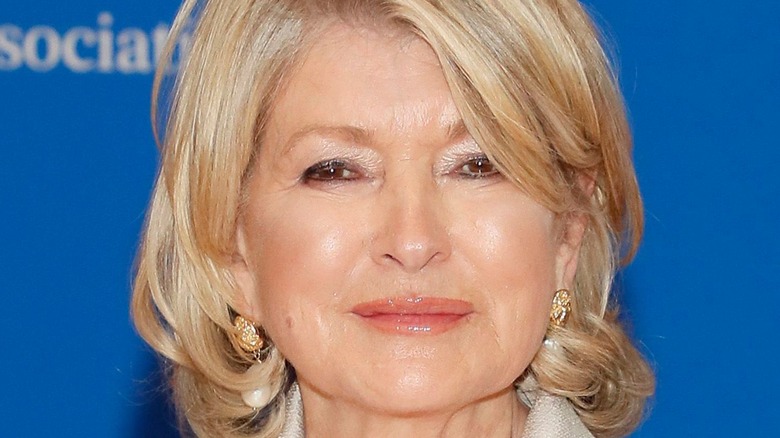 Paul Morigi/Getty Images
She may be 81, but age isn't stopping Martha Stewart from putting her best selfie forward. The home and cooking maven took to Instagram to celebrate her birthday this week, gifting her die-hard fans with an impressively-sultry photo that proves once and for all that 81 is the new 51.
Stewart captioned the flattering image, "birthday selfie @prior to big bday dinner -we had a delicious lunch and just a bit too much @19crimes martha's chard."
Indeed, as Food & Wine reports, the savvy businesswoman teamed up with the same winemaker as her longtime pal Snoop Dogg to release a white, while her rapper friend is behind red and rosé varietals.
No matter how much chardonnay Stewart may have sipped to kick off her 82nd trip around the sun, it seems she was still coherent enough to snap the selfie that everyone is talking about (via Page Six). A fan called the new selfie "beautiful" while someone else said, "You don't age Martha!!" 
Martha Stewart stays young the natural way — mostly
Martha Stewart swears her seemingly-ageless appearance is not the result of having had extensive plastic surgery, telling The New York Times earlier this year, "You can absolutely say that. No knife on my face, neck or back."
However, the domestic icon is not saying she doesn't visit the dermatologist's office for "non- or minimally-invasive" procedures i.e. injectables that are administered a few times per year "thoughtfully and conservatively," according to her doctor.
"Birthday queen" Stewart also credits her daily exercise habit and balanced eating for her good health (via MarthaStewart.com). She told her readers in 2021 that in addition to yoga and hitting the Peloton and her love for green juice, "But for me, doing the things that bring me happiness is most important for my long-term, overall wellness." 
To that end, the octogenarian counts horseback riding, gardening and simply "being around plants" as her favorite wellness-boosting activities.
Whatever she's doing, it's working and we are truly inspired!