The Audiobook You Never Knew Sissy Spacek Narrated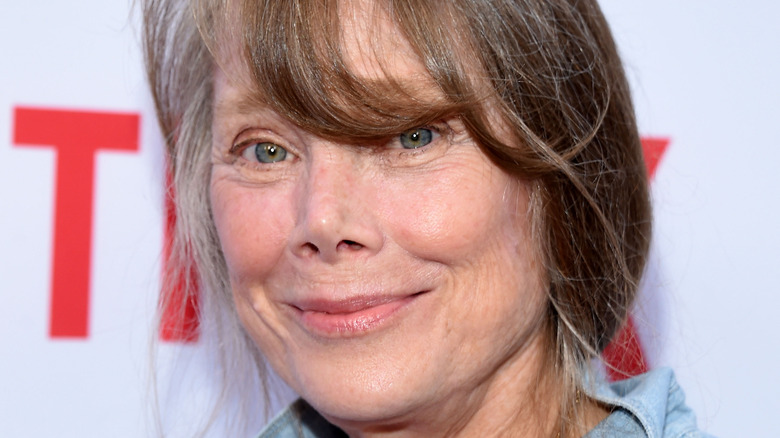 DFree/Shutterstock
Initially starting her career as a singer, Sissy Spacek decided to change paths and began studying at the Lee Strasberg Theatre Institute (via Biography). Spacek quickly found herself on the big screen, making her acting debut in the 1972 thriller "Prime Cut." Nine years later, she won the Oscar for Best Actress at the 1981 Academy Awards for her role as country star Loretta Lynn in "Coal Miner's Daughter." But out of her nearly 70 acting credits, Spacek will forever be recognized as the original Carrietta White in the 1976 adaptation of Stephen King's "Carrie."
Published in 1974, "Carrie" was King's first major success (via Fully Booked) and has since become one of his best-known pieces of work. It told the story of 16-year-old Carrie, a troubled girl living with her intimidating, devoutly religious mother (via King's website). Carrie soon discovers she has telekinetic powers, which she uses to spite those who've wronged her.
Sissy Spacek used her experience of playing Carrie to narrate the audiobook
Thanks to its many adaptations, millions are familiar with the story of "Carrie" — a great book to start with if you've never read anything by Stephen King. So when it came to making an audiobook for the King novel (via Audible), who better to narrate it than Sissy Spacek? The character and story obviously came naturally to the actress, who'd initially gone all in on the role when she first auditioned. Speaking to GQ (via YouTube), Spacek recalled how her husband, Jack Fisk, was a production designer on the film and had loads of art and drawings of Gustave Doré to influence the movie's aesthetic. This was when she "first understood how important research is" in getting the character right and how certain things would influence her portrayal of Carrie, like paintings and personal experiences.
Spacek had read "Carrie" before she knew the King's novel would be adapted to film, as she told Coming Soon, and re-read it before her audition. "The thing about the novel that really stood out to me was that this kid was so pathetic, she was such a loser," Spacek said. "I think the thing I added some time to shoot the movie was I believe I gave the character a little bit of hope."
The actress narrated another book related to a film she starred in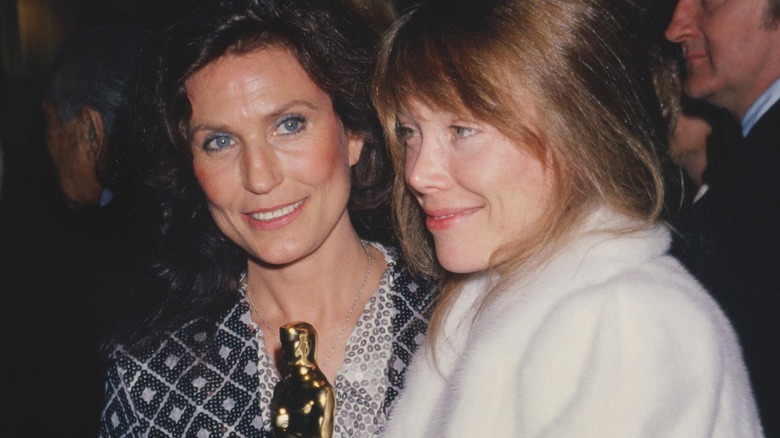 Michael Ochs Archives/Getty Images
"Carrie" wasn't the only audiobook Sissy Spacek had a deep connection to. She also narrated the 1976 autobiography "Coal Miner's Daughter," written by country stars Loretta Lynn and George Vecsey (via Grand Central Publishing). Spacek's portrayal of Lynn in the 1980 film still remains one of her favorite experiences to this day, despite it being somewhat of a daunting task. "When you're playing someone like Loretta who's so well known and so loved, that can be terrifying," she told GQ (via YouTube). Except I had her to say, 'You can do it, Sissy.'"
Before filming, Spacek followed Lynn's every move, even going on tour with her, as she told GQ. The actress absolutely inhabited Lynn on screen — so much so that Spacek didn't want it to end. "The saddest thing about [the film] is that I had to stop being her!" Spacek exclaimed. "For two months, I had a band, I had a bus, I had all these great dresses," she said.
"Giving up the character" was the most challenging part for Spacek, but the "saddest thing" was having to give up Lynn's accent. "I was so funny; I had her sense of humor... that was the hardest thing about the whole thing." At least Spacek got to relive that accent somewhat in the audiobook, as well as the experience she had filming "Coal Miner's Daughter."