The Designers Of Peppa Pig's Clubhouse Describe Turning The Cartoon Into Toy Form - Exclusive
Hasbro
We may receive a commission on purchases made from links.
Peppa Pig and her friends love playing on the playground. After all, what child doesn't? As soon as the 4-year-old pig — and all the little eyes that were watching the animated series — saw Mr. Bull installing a custom Clubhouse, the excitement surrounding the playground became even more elevated. Now, the animated character can't seem to get enough of her Clubhouse, and children around the world also have the opportunity to have their own version of it.
"The animators at Astley Baker Davies created the brand-new, kids-only location in the show, and then the toy design team at Hasbro worked with me to 'build it from the ground up' in toy form," Pete Kellond, the Vice President of Content and Commercial Development at Hasbro, said during an exclusive interview with The List.
The Peppa's Kids-Only Clubhouse Playset closely resembles what small viewers get to see on screen, filling their imaginations with all the same adventures that Peppa Pig and her friends get to experience. "The Clubhouse came to life out of true collaboration," Kellond said. 
He also told us all about the process of turning the animated Clubhouse into its toy form.
The team wanted to create the exact same imaginative space kids see on screen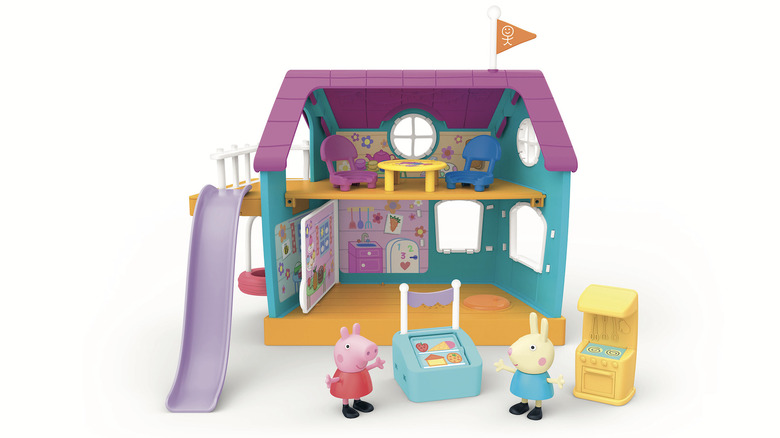 Hasbro
Both animators and toy makers alike had all sorts of ideas in mind while developing Peppa Pig's Clubhouse. Yet it was one thing to make an imaginative, animated version of it; developing it into a physical object that little hands in the outside world can use was a different kind of undertaking altogether.
The team started by incorporating the same bright, fun colors that little ones are so drawn to in the television series — including the pink roof, blue door, and interior floral print — with a flippable wall so kids can personalize the colors as they please. "The color works so well on screen and in [the] toy and is bright and full of life," Pete Kellond said.
To be able to include as many of Peppa Pig's favorite things as possible, the team turned the Hasbro toy into a two-story Clubhouse. By doing so, they were able to create a functional slide for the characters as well as a second room for even more adventures. "The team wanted to create a world just for kids where they can imagine, play, and pretend," Kellond told us. "That inspiration comes across in the toy design, as well. There are figures, accessories, and add-on pieces — allowing preschoolers to recreate the Clubhouse of their dreams!"
The "Peppa's Club" four-part Special is now available to stream on NickJr.com. Catch "Peppa Pig" live on Nick Jr. on Saturday and Sunday mornings from 9 a.m. to 12 p.m. ET. The Peppa's Kids-Only Clubhouse Playset is available now on Amazon.