Is The Peloton App Worth The Money?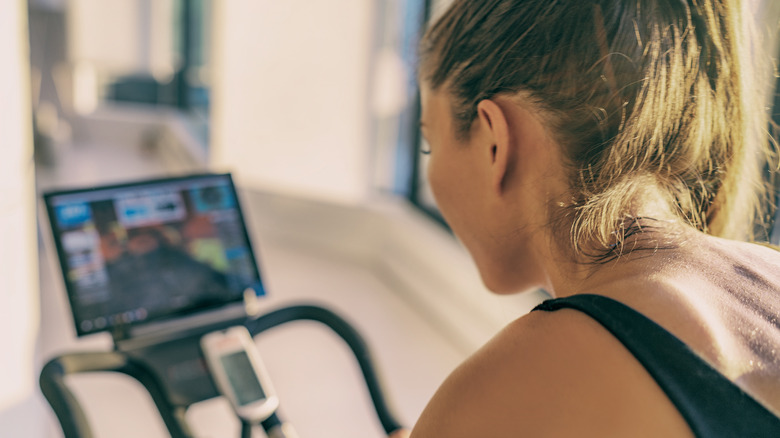 Maridav/Shutterstock
If you're not prone to keeping up with the fitness world, the Peloton app can seem daunting. The company, which flourished during the pandemic due to lockdown across the world, has recently dipped in sales (via The Guardian). Nevertheless, the app is a whole other story, and one which could be a very worthwhile investment if you dislike going to the gym. Costing $12.99 plus tax a month, the app offers hundreds of live and pre-recorded fitness classes for all levels (via Peloton).
As Peloton sells very pricey workout equipment, the thought of this expense may be off-putting to some who think you need the equipment to make full use of the app. Like with any fitness app, there can also be confusion over what exactly you get in exchange for your money.  Luckily for you, we've broken down some of the great and not so great things about the Peloton app so you can make your mind up without stress.
The Peloton app offers a wide range of workouts to suit every preference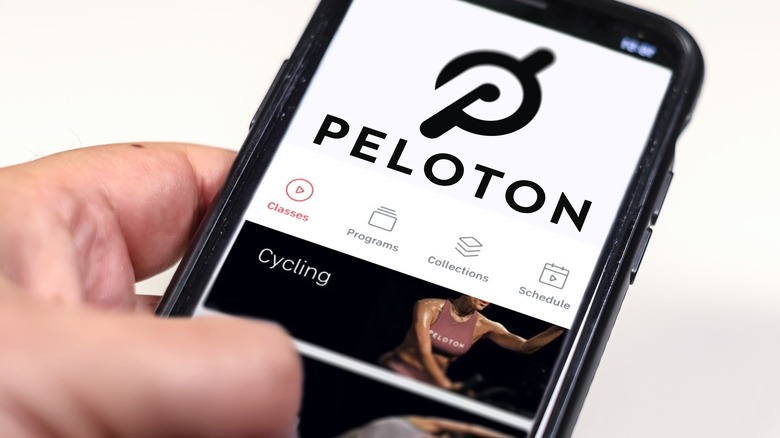 rarrarorro/Shutterstock
According to PCMag, the Peloton app is worth its price due to the fact you don't actually need a Peloton product to use it. You can sync up your workouts to your products with customized cycling and treadmill workouts, but there are plenty of other workouts available if you don't own a Peloton machine. There are also more low-intensity and chill workouts like yoga and meditation, as well as stretches to avoid that awful next-day burn. 
Mashable also rates the app highly for good value, noting that it offers helpful motivational features to get people working out, such as achievement badges and challenges. There's also the natural competitiveness you may feel with other users doing the same workout class as you, exacerbated by the fact Peloton instructors will sometimes mention the high scores of returning users. 
However, note that you'll need an internet connection when doing any workout. This is a major downside if you plan to workout in an area where there's no wifi, though you can preload classes to save any buffering during the actual workout.  
The personal trainers all bring something different to the table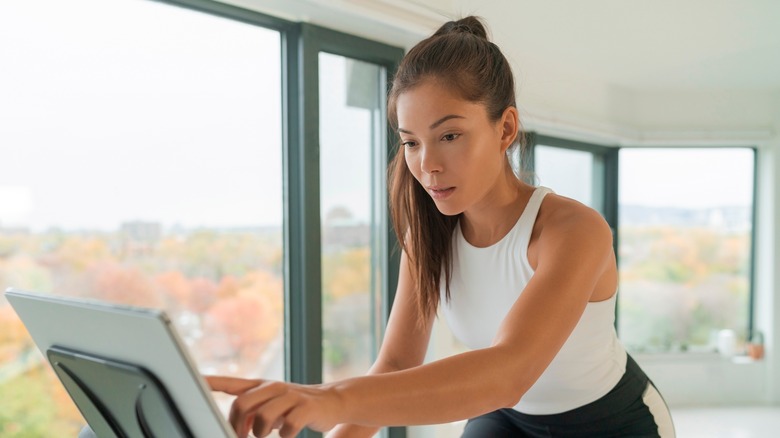 Maridav/Shutterstock
When reviewing her personal experience with the app, Byrdie editor Lesley Chen mentioned that one of her favorite things about the app was the variety of instructors. The large number of trainers, all with "different vibes" as put by Chen, means you're guaranteed to find an instructor that works for you. Chen states that Peloton has it all — from the loud and motivational to the calm and quiet. Plus, when you start to get bored of one instructor, you can switch to a new one for much less expense than finding another personal trainer in real life. All personal trainers are board-certified, too.
In a detailed Tom's Guide review, it is mentioned that one of the best things about the Peloton app is not the high-quality workouts, but rather the sense of community. For those of us too scared to go to the gym, it can be a great comfort to feel involved in something even when working out at home. 
It's worth noting that the app currently has a two-month free trial up for grabs, so you have a fair amount of time to try before you commit (via Reviewed). Overall, the Peloton app is a great accompaniment to at-home workouts if the gym just isn't for you. At its current price point, it is definitely worth the money.