The Crucial Way Prince Harry Wants To Be Distinguished From William And Charles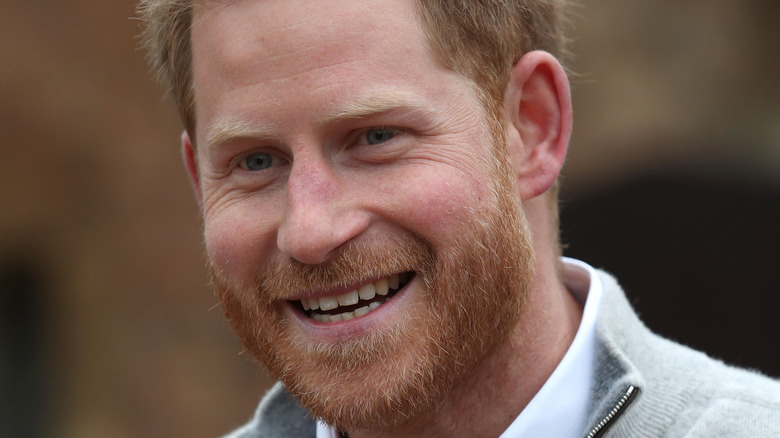 Wpa Pool/Getty Images
Prince Harry's Oprah Winfrey interview, alongside wife Megan Markle, lifted the lid on what reportedly goes on behind the scenes with the British royal family in a way hitherto unseen. Among other shocking revelations, the Duke of Sussex acknowledged he was "trapped" within the institution for his entire life before finally breaking free and fleeing to the States. Moreover, Harry argued his brother, Prince William, and father, Prince Charles, are still stuck in the monarchy (via Harper's Bazaar). 
As The Independent reported at the time, the duke admitted he wouldn't have been able to leave without Meghan because, "I was trapped, but I didn't know I was trapped." As for his father and brother, Harry argued, "They don't get to leave. And I have huge compassion for that." According to the prince, Charles stopped taking his calls as he and Meghan, Duchess of Sussex, were preparing to defect to America, leaving Harry feeling "really let down" by his father.
However, Prince Harry, Duke of Sussex, did confirm he wanted to work on their relationship moving forward. Likewise, he hoped to sort things out with William, Duke of Cambridge — at some stage — professing to still love his brother and father very much. And yet, during a "Today" interview conducted earlier this year (via The Mirror), Harry refused to be drawn on whether he truly missed either of them. Now, however, he is apparently making the divide between them abundantly clear.
The Duke of Sussex is following in his mother's footsteps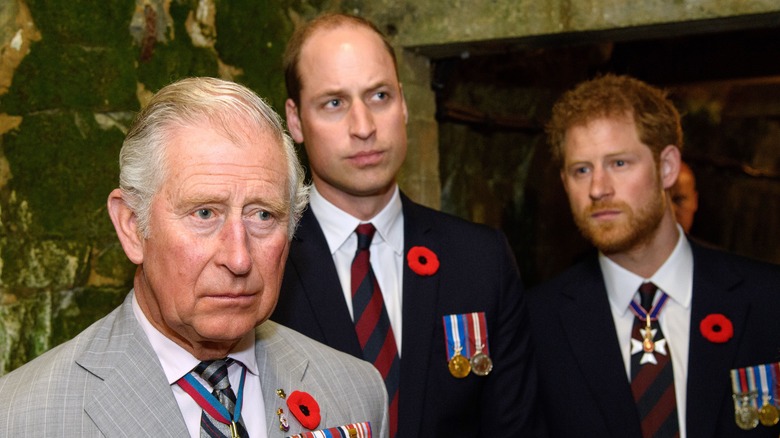 Pool/Getty Images
Prince Harry's relationship with Diana, Princess of Wales, was different from William's because the younger prince is reportedly quite like his late mother in many ways. Nowadays, the Duke of Sussex is adamant about honoring Diana's legacy, telling People, "I certainly hope and believe everything I do makes her proud." Harry went on to share how he got his passion for public service from his mother, noting it's what drives him to do better in every respect. 
Claims made in a new book may be to the detriment of Harry's estranged father and brother, though. Newsweek reports that, in "Diana: Remembering the Princess," — penned by the princess's former bodyguard, Ken Wharfe — it's alleged that Prince Harry, Duke of Sussex, is eager to be compared to the People's Princess rather than either Prince Charles or Prince William. "Harry doesn't want to be seen as the same sort of man as his brother and father. Instead, he wants to be trusted as Diana was," Wharfe writes. 
Harry may return to the U.K. someday, but it won't be in the same capacity. Further, "Although William has perhaps reverted more to a world away from the limelight when it comes to putting his children in the public eye, he does try to engage, he does try to bring a more modernized approach. But with Harry, we can see Diana more — and when he returns, which I think he will do, I believe that will be even clearer," Wharfe writes.
Prince Harry's relationship with his father just took another turn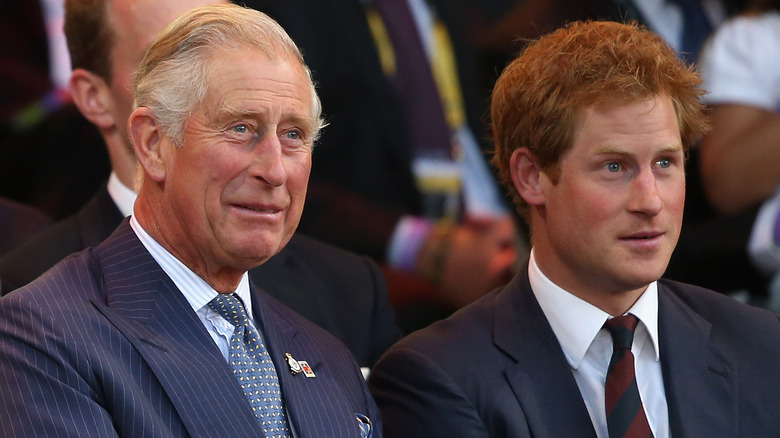 Chris Jackson/Getty Images
We can reportedly expect to see Prince Harry's bombshell memoir hitting shelves before the year is out, and any progress he's made with Prince William and Prince Charles may be undone when it arrives. The royal family is understandably concerned about what the Duke of Sussex might reveal, particularly given how frank he was previously, both with Oprah Winfrey and on "Today." Royal expert Neil Sean even claimed that Prince Charles attempted to wrangle some info out of Harry ahead of its publication, per Express. 
"Charles wanted to have a one-to-one chat but that ended up being a very brief meeting," he revealed. "According to a very good source, allegedly, Prince Harry refused to detail anything about his forthcoming memoir to Prince Charles." Charles, Prince of Wales, was apparently concerned about two events in particular. The first being Queen Elizabeth's Platinum Jubilee, which was celebrated in June, and for which Meghan and Harry travelled over to the U.K. with their kids, and his wife, Camilla Parker Bowles' 75th birthday. Harry wouldn't budge, though. 
Charles reportedly ended up giving his son the cold shoulder as a result. The Sun further confirms that the Windsor clan is taking Harry's memoir very seriously. A royal insider shared, "They are getting lawyered up. Harry and Meghan will be made aware and know repeated attacks will not be tolerated." It remains to be seen how Harry's relationship with his father and brother will be affected once the book comes out.