Optometrist Reveals The Beauty Product That Causes The Most Harm To Your Eyes - Exclusive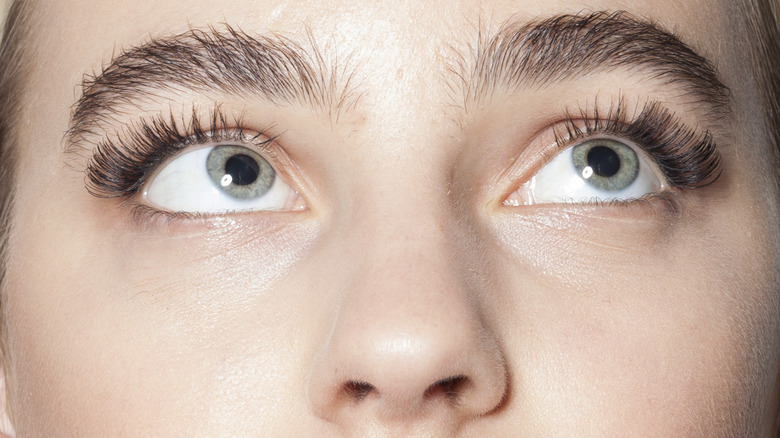 Rosdiana Ciaravolo/Getty Images
We may receive a commission on purchases made from links.
From lip fillers to nose jobs, the great lengths that people often go through in the name of beauty may take some aback. In fact, the Aesthetic Plastic Surgery National Databank reports a 54% increase in Botox injections, and a 75% increase in filler treatments from 2019. One procedure that literally goes to great lengths, however, comes with a considerable risk of a reaction — and it doesn't involve any needles. Dr. Ramin Rabbani, a certified optometrist at Eye Candy Optometry, often has patients visit him to be treated for allergic reactions, and he has found that a common culprit causing reactions is a popular procedure.
In fact, the Medical Hypothesis, Discovery & Innovation Ophthalmology Journal lists this procedure as one of the most commonly requested ocular enhancement procedures — eyelash extensions. According to PR Newswire, the global eyelash extension market is set to grow at a rate of 4.48% by 2026. However, it's important to take the proper precautions to avoid an adverse reaction from eyelash extensions. Rabbani, who also works for lens technology company, Shamir, spoke exclusively to The List about eyelash extensions and why these procedures have the potential to go sideways.
Glue used in eyelash extensions can trigger allergic reactions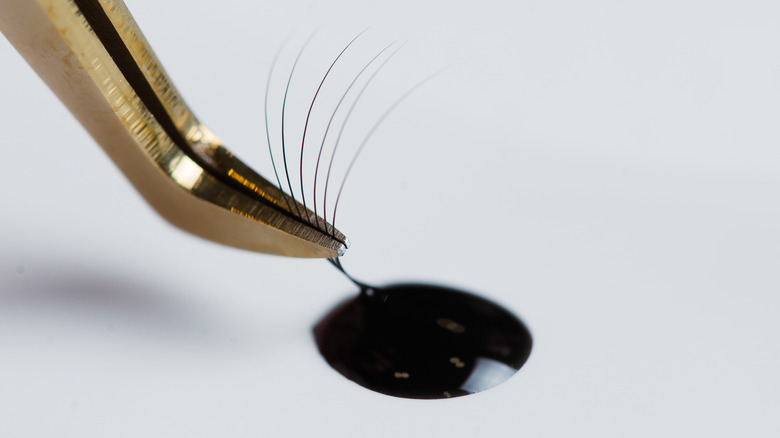 SFROLOV/Shutterstock
Eyelash extensions may be one of the most sought after cosmetic procedures, but caution should always be taken, Dr. Ramin Rabbani told us. 
"Glued-on eyelash extensions are extremely popular and can be safe when properly applied. However caution should always be taken with these applications, especially when using glue to attach them," Rabbani explained — some glues, as it turns out, can contain irritants that could trigger allergic reactions.
"I've had many patients have severe allergic reactions and the main culprit is usually the glue," Rabbani further told us. In fact, Refinery29 reports a 20-year-old Canadian woman named Isabelle Kun was rushed to the hospital after the glue from eyelash extensions caused her eyelids to be swollen shut and her tonsils to become inflamed. In another case, the Mirror UK reports 18-year-old Jasmine Dewhurst woke up with her eyes crusted shut from an allergic reaction to the lash extension glue.
In both cases, a patch test wasn't conducted, which is crucial in avoiding severe allergic reactions. From their experiences with glue-related allergic reactions, both Kun and Dewhurst recommend requesting a patch test before getting the procedure done. The tests are usually done behind the ear or on the forearm to see if the skin reacts to the product.
Signs of an allergic reaction to eyelash extension glue include burning, itching, redness, swelling, and/or pain around the eye area (per Missouri Poison Center). Minor allergic reactions may be alleviated by using a cold compress or over-the-counter allergy eye drops. For more severe reactions, call your local healthcare provider and/or the poison control center.
Make sure to use a glue that won't irritate your skin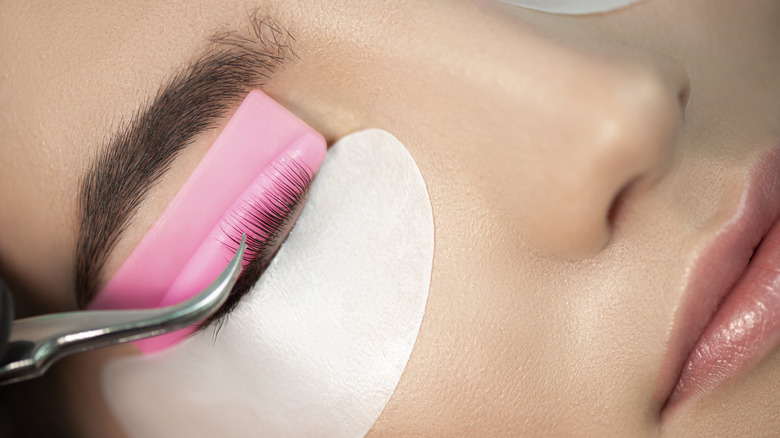 Juta/Shutterstock
According to WebMD, the FDA doesn't regulate lash glue or extensions, so it's crucial to be vigilant and research ingredients ahead of time to prevent allergic reactions from lash extension glue. It's also recommended to request the lash technician to use hypoallergenic glue. "The glue should be non-toxic, odorless, and hypoallergenic," Dr. Ramin Rabbani told us.
The Journal of Cornea and External Disease conducted a small study and hypothesized that formaldehyde in lash glue could be the main culprit causing allergic reactions. Missouri Poison Control also cites cyanoacrylates, latex, benzoic acid, and cellulose gum as other possible irritants that can be in lash glue. For professional lash technicians, Bustle recommends Forabeli Diamond Clear Eyelash Extension Glue as the best lash glue for sensitive eyes. The outlet also recommends CICI Lash Diamond Clear Eyelash Extension Glue as a fast-drying option that sets in two minutes, and LONRIS Sensitive Eyelash Extension Glue as a black eyelash glue option. Non-professionals should try i-Envy by KISS Super Strong Eyelash Adhesive.
Medical News Today also emphasizes the importance of keeping your eyes closed during the entire procedure, as several allergic reactions are a result of glue leaking into the eyes. People who are at a greater risk of an allergic reaction include chemotherapy patients, as well as those with alopecia, trichotillomania (a condition marked by the urge to pull eyelashes out), irritated eyes, and/or a latex allergy.