Is Dream Home Makeover Real Or Scripted?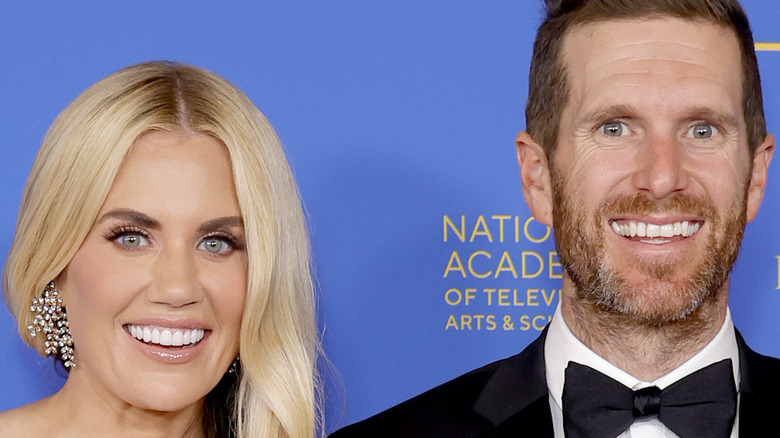 Frazer Harrison/Getty Images
We may receive a commission on purchases made from links.
"Dream Home Makeover" follows couple Shea and Syd McGee as they transform homes using their signature design aesthetic. According to The Biography, the renovation series first premiered on Netflix in October 2020 and after just six episodes, Netflix asked them to get on board with a second season. Since then, the McGee family — which also includes their three daughters, per People — has found even more success. They have collaborated on a line of home goods with Target, written a book titled "Make Life Beautiful," which teaches others how to live a balanced and fulfilled life, and launched the third season of their Netflix series.
What started this entire journey, their interior design firm Studio McGee, now has over 70 employees, which are all housed in a gorgeous redesigned office. And today, Studio McGee is so much more than simple design. The team works to provide services like project management and has created software to help clients organize their design. Watching the show on Netflix makes the McGees' business and life seem nearly perfect, leaving many fans to wonder if what they are seeing is real or scripted.
Dream Home Makeover is very real
Unfortunately, many home shows are not as real as they seem. Shows like "House Hunters International" do tricky things to ensure the show flows — like taking the house hunters on fake home tours. This makes many fans skeptical when they fall in love with a new show. Watching "Dream Home Makeover," viewers not only see Shea McGee designing gorgeous homes, but they also get glimpses of her personal life with her three kids and husband, Syd McGee. It appears to be a life that toggles on perfection. But, lucky for dream home fans, the show is very real, per The Biography.
When the McGees first started filming, they did what they have always done: meet with clients, discuss design, and create a beautiful finished product. Even the small arguments between Syd and Shea are real. On one of their Studio McGee blog posts, the pair wrote, "We were really lucky that our shares represent what our real process is actually like. What you'll see in this show is true to how we communicate with our clients, work with contractors, and collaborate with our team."
The show does take some liberties
While "Dream Home Makeover" is completely unscripted, it is still a television show. During an interview with The Salt Lake Tribune, Syd and Shea McGee opened up about their hesitation to join a TV show, especially when they were forced to be something they weren't. When they were first approached by a production company, they wanted Syd to be the contractor, something he definitely is not. "I got, like, a 40-pound sledgehammer, which is really heavy," Syd told the publication. "I had no idea. That's not what I do."
After that, the McGees vowed not to do television — until Netflix contacted them. When the show felt true to who they were, they were happy to come on board, sharing their work and their personal lives. "We wanted it to be true to us. And our business is very intertwined with our family life," Shea told The Salt Lake Tribune. Still, though, they admitted that the show does take some liberties. "There is some TV magic always, but for the most part, we wanted to be able to show the design process as it happens," Shea added.