Ramona Young Talks Third Season Of Never Have I Ever & More - Exclusive Interview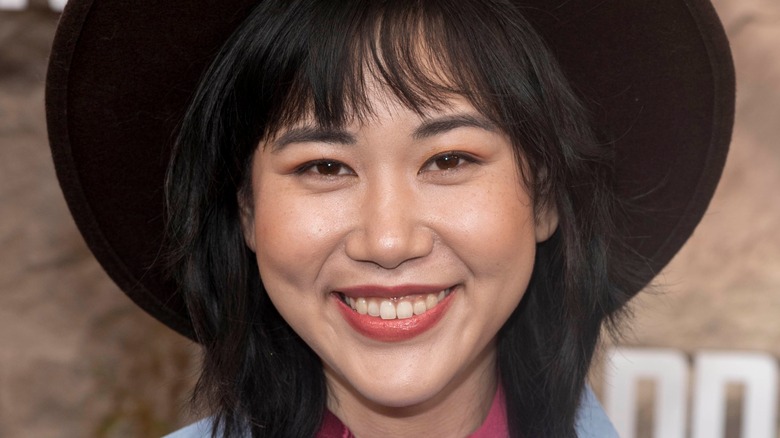 Eugene Powers/Shutterstock
Ramona Young is no stranger to TV viewers, thanks to her numerous roles over the past decade or so. Beginning with a bit part in the short-lived Rebel Wilson sitcom "Super Fun Night" (as "Geeky Girl #2"), she went on to land recurring roles in TV comedies "Man Seeking Woman" and "The Real O'Neals," along with appearing in such films as "Blockers" and "Mika." Other notable roles have included zombie-fighting apocalypse survivor Kaya in "Z Nation," bloodthirsty Rite-Aid cashier Ramona in "The Santa Clarita Diet," and super-powered Mona Wu on The CW's "DC's Legends of Tomorrow."
For the past few years, Young has also been earning accolades for her portrayal of Eleanor Wong, one of Devi's (Maitreyi Ramakrishnan) best friends in the Mindy Kaling-created Netflix comedy "Never Have I Ever," with the third season dropping in August 2022. 
In an exclusive interview with The List, Young discussed what fans can expect to see in the new season of "Never Have I Ever," revealed her thoughts on those hilarious John McEnroe voiceovers, and teased her upcoming voice role in a new Key-and-Peele-driven animated feature from the director of "The Nightmare Before Christmas." 
Ramona Young teases what's in store for her character in Season 3 of Never Have I Ever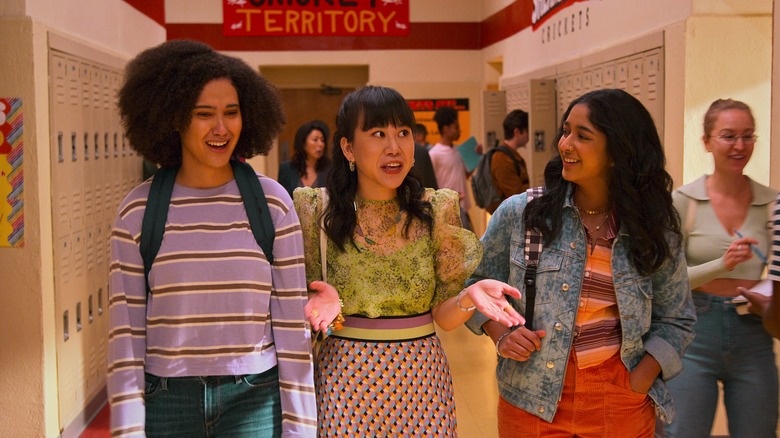 Netflix
"Never Have I Ever" is one of my favorite shows.
Aw, yay.
Do you get that kind of reaction a lot? People saying, "I love you in that show."
I do. And I never expect it, so it's great.
What can you tell me about what's in store for Eleanor in the new season?
Oh my gosh. So much. A lot of really exciting things happen in terms of her career and her love life. And of course, she always has her best friends around.
You're a bit older than the character you're playing. When you're immersed in these high school storylines, does that bring you back to your own teenage days?
I was so different than Eleanor in high school. So in a way, I'm reliving my best life and all the things that I missed in high school.
You've also been playing Eleanor for a while now. How do you think she's been evolving over the seasons?
Eleanor is still dramatic and flamboyant. I feel like she is handling her obstacles with more maturity and sophistication, which is really cool and exciting to watch. She has some really big decisions to make, but she does [so] with a lot of grace.
One of my favorite aspects of the show is the John McEnroe narration. You're shooting the various scenes, and then when you see the episode that's been edited, put together with that narration in it, what's that experience like for you?
Gosh, I really think John McEnroe brings a life to this series, and it's the way he narrates. He's very energetic and animated, and he does it so well that it puts everything together.
And it's so inspired. Who would've thought John McEnroe would be the guy?
Yeah, he's perfect for it. He's like a wild card.
Working with Never Have I Ever creator Mindy Kaling is 'really special'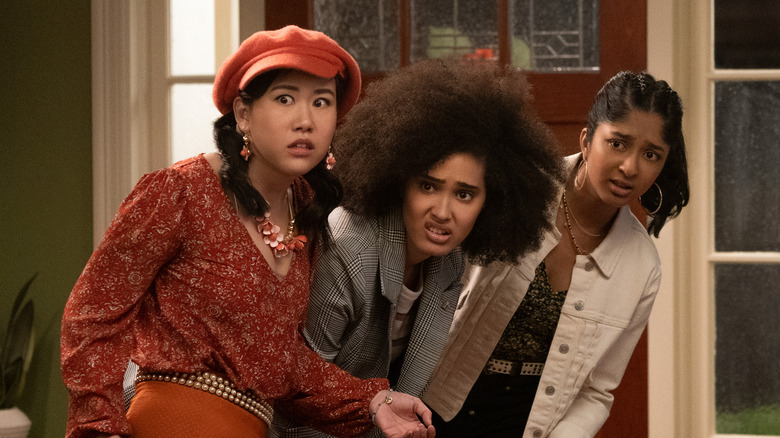 Isabella B. Vosmikova/Netflix
What's it like working on a Mindy Kaling series?
It's really special. It's different than any other set I've ever worked on. This is the first time I've been on a show for this long. Everyone's so nice to each other. It's a very loving set.
As you said, it's the longest that you've been playing the same character on an ongoing basis. What's that been like for you to step into that character and then stay there for an extended period of time?
It's different because ... I was also on a sci-fi show for about the same time ["DC's Legends of Tomorrow"], but I hopped on on Season 3. So being on a show since Season 1, since the conception of the show, and since the audition process from day one, I feel like I've grown up a lot with the people around me.
Nice. You've also got an impressive roster of screen credits for somebody of your age. How old were you when you first started acting professionally?
I've been acting my whole life, really. Since I was a kid, I've always wanted to act and thought about acting, and I just never grew out of it.
And you don't come from a showbiz background, do you? You don't have family in the industry?
Gosh, I wish I did. That might have made my choices a lot easier.
I imagine that must have been a bit of a struggle to say, "Hey, Mom, Dad, I want to be an actor." How did that go over when you made that decision?
Initially, my family was a little concerned and a little scared for me, understandably. They're very logical, practical people, and they've had to be because they're immigrants and they didn't come from money. So having their kid tell them they want to be an actor is shocking for them.
Where did that passion first come to you? Did you see a play or a movie or something that [made] you think, "I want to do that"? Was there a particular moment?
I've always been a creative person since I was a kid. But maybe around 14, for some reason, I got it in my head that acting would solve all my problems.
And has it?
I'm definitely doing what I love. So in that sense, yes.
She'll be heard in a Key and Peele animated feature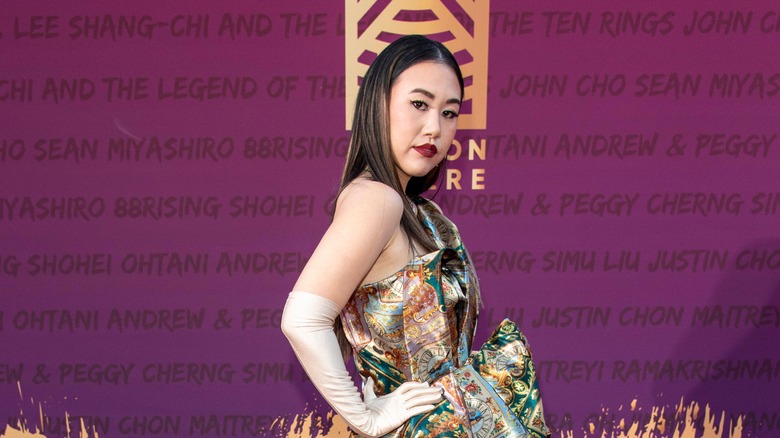 Eugene Powers/Shutterstock
I also wanted to ask you about another project you've got coming up, "Wendell & Wild." That looks really cool. What can you tell me about that?
It's a Key and Peele. They've created this animation, and it's a little scary, goth-y, and also funny at the same time.
Had you done voice work for animation before?
I have. I pop in here and there randomly.
Was this experience different from previous voice work you've done?
Every voice work is pretty different. I've done across the board, book readings and podcasts and video games, and it's different every time.
Here, you're working with Henry Selick — "[The] Nightmare Before Christmas," "Coraline," "James and the Giant Peach." What was that process like?
I don't know that I was very involved in that aspect of the process, but I'm definitely honored to be a part of the project.
Do you get to see your character? Do you get to see sketches and things like that ahead of time?
Yeah. When I was doing the recording in the booth, I did see some first sketches and early drafts of how the animation would look.
Does that impact your performance when you see the character and see what people are going to see on screen?
Absolutely. I'm drawing from anything that I can get.
I saw that you've also written, produced, and directed some short films. Are those avenues that you'd like to keep pursuing in the future?
Yes, I would like to. In the future, I'd like to broaden my skill set.
Which of those do you prefer, writing or directing?
I think I enjoy it all, which is awful because now I have to do it all.
Ramona Young looks back at some of her notable past roles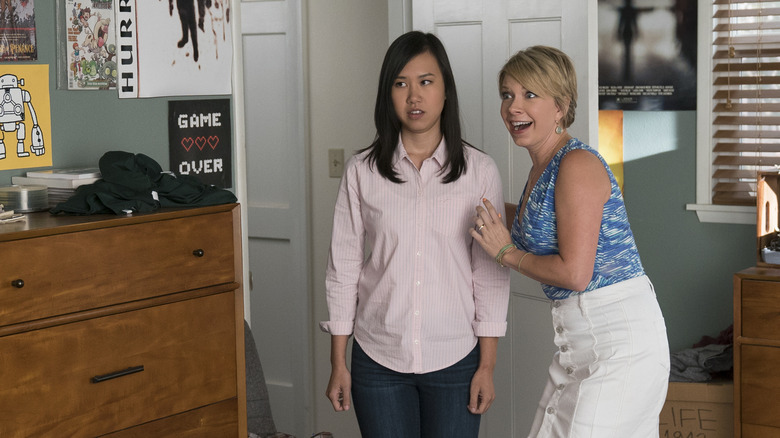 Netflix
Over the course of your career, you've battled zombies [on "Generation Z"], you've been a zombie [on "The Santa Clarita Diet"], been a superhero [on "DC's Legends of Tomorrow"]. So I wanted to take a little walk through some of your past projects. "Z Nation" — how did you get involved with that?
I auditioned like everyone else and went through the wringer, and I was really happy that they cast me in it.
My understanding is pretty quickly you were brought in as a series regular — is that right?
I think so. After the first season. The next two seasons, I was there a lot more.
Is there an element of fun when you're fighting zombies in a zombie apocalypse?
It's the best. You're shooting guns and running around and beating zombies with bats. It's so fun.
What about "The Santa Clarita Diet"? What was that experience like?
Getting to work with Drew Barrymore changed the way I saw acting and how acting worked. Also, she was so nice. It was great.
What kind of things did you learn from working with Drew?
Initially, at that stage, I was so scared of getting it wrong, and I had this huge pressure of being perfect every take. And she gave me this advice: "Especially if you're starting off camera, explore and try it different ways. It gives me a thing to act off of, and you get to explore more with your character." She really loosened me up as an actress.
"Legends of Tomorrow." What was that like for you?
Again, this was a very fantastical project — time-traveling superheroes. What I really loved about "Legends of Tomorrow" that was new for me was we got to dress up in different time periods. Being an Asian American actress, I never knew it was possible for me to be in a Jane Austen episode. I didn't know that was possible. Being in a time-traveling superhero show allows you to do that. You could be in Jane Austen; you could be in Charlie Chaplin. You can be in all these different things that I never thought I could act in.
The other show that I found really interesting you were in was your recurring role in "Man Seeking Woman," which I thought was such a cool, quirky show.
That was so funny. I had some of the most fun on that show.
Any experiences you can single out?
Everyone's so good at comedy. Eric Andre and Jay [Baruchel] and Jess [Salgueiro] — everyone's so funny that it's hard to keep a straight face and get through it.
We know Eric Andre from his persona on "The Eric Andre Show," which is pretty extreme. Is that close to the real Eric Andre? Or [are] there two different Erics?
We'll never know the real Eric Andre. He's an enigma.
In addition to "Wendell & Wild," do you have any other projects coming up you'd like to talk about?
I recently finished a feature called "The Prank," starring Rita Moreno and me and Connor [Kalopsis] and directed by Maureen [Bharoocha]. I'm really excited to see where that goes. It's a great movie.
Oh, wow. Working with Rita Moreno. She's a force of nature. What was that experience like?
Every day on set, she would tell us these unbelievably incredible stories of how she dated Marlon Brando and Elvis Presley. And she had such a great sense of humor and wit. It was amazing.

Season 3 of "Never Have I Ever" debuts on August 12 on Netflix.