The Audiobook You Never Knew Cate Blanchett Narrated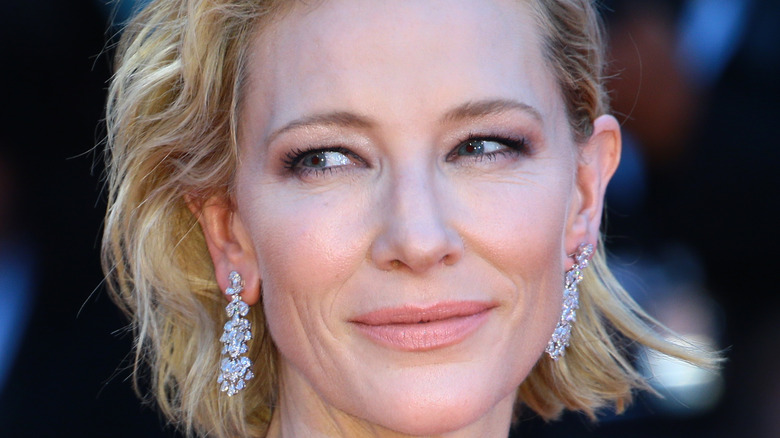 Matteo Chinellato/Shutterstock
Having assumed a variety of TV, film, and stage roles, Cate Blanchett is one of the most versatile actresses of her generation. The Australian star first earned acclaim for her portrayal of Queen Elizabeth I in the 1998 film "Elizabeth," which won her a Golden Globe as well as an Academy Award nomination (per Britannica).
After that, she nabbed an Oscar for her portrayal of Katharine Hepburn in Martin Scorsese's 2004 biopic "The Aviator," about Howard Hughes, and another Academy Award nomination and a Golden Globe for her performance as Jude in the 2007 Bob Dylan biopic "I'm Not There."
Her talent goes beyond biopics and historical dramas, though, as she's also known for roles in movies such as "Oceans 8," "Thor: Ragnarok," and "Notes on a Scandal" (per Variety).
With performances in over 70 films, Blanchett's acting ability is uncontested. So it's no surprise that she has joined stars such as Kate Winslet and Anne Hathaway in narrating audiobooks. If you're looking for your next great read, check out the book that you never knew Blanchett narrated.
Cate Blanchett narrated a collection of essays from Lauren Hough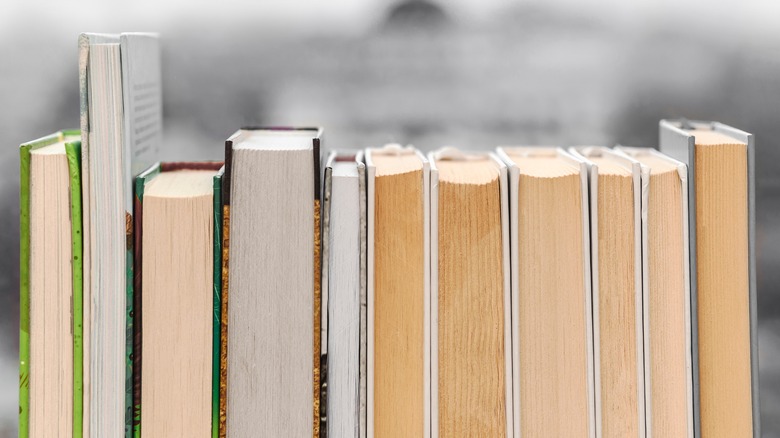 Mariana Serdynska/Shutterstock
In conjunction with the author, Cate Blanchett narrated Lauren Hough's book "Leaving Isn't the Hardest Thing," a collection of essays depicting her defection from a cult and the experiences that followed. Published in 2021, the book has been praised for its exploration of sexuality, identity, and freedom. Given this, "Leaving Isn't the Hardest Thing" would be a great addition to any Pride Month nonfiction reading list.
According to Penguin Random House, Blanchett commented on her experience narrating the book. "I well understood Lauren's hypnotic power as a storyteller, but in speaking her words, I truly understood the rhythmic heartbeat alive in every phrase," she said.
Blanchett wasn't the only one who cherished the opportunity to narrate "Leaving Isn't the Hardest Thing," as Hough has also remarked on the experience. "I doubt I'll have any words at all when I hear Cate Blanchett read these stories I wrote," she said. "I'm incredibly honored and deeply grateful, and I am going to lose my damn mind."
With both author and narrator speaking so highly of the audiobook, it's sure to impress anyone looking for a thought-provoking storytelling experience.
The actress has acted in many book-to-film adaptations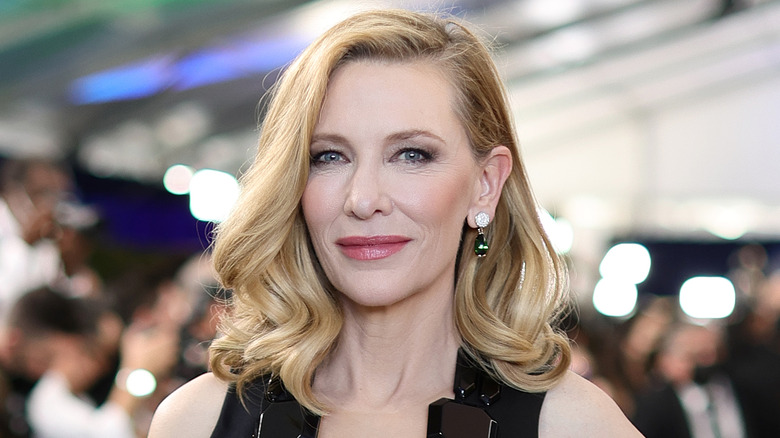 Dimitrios Kambouris/Getty Images
While "Leaving Isn't the Hardest Thing" might be the actress' only venture into audiobook narration, it isn't Cate Blanchett's first time participating in the adaptation of a book to a new medium. The star has performed in many book-to-film adaptations, establishing herself as an actress with an interest in literary works.
Notably, Blanchett played the role of Galadriel in "The Lord of the Rings" film series that was adapted from the novels of J.R.R. Tolkien. She reprised this role for "The Hobbit" film trilogy, also based on Tolkien's book of the same name (via Vulture).
Blanchett has also performed as Dr. Lilith Ritter in the film adaptation of William Lindsay Gresham's "Nightmare Alley" and as Florence Zimmerman in the adaptation of John Bellairs' children's book "The House with Clocks in its Walls" (per Fandango).
This only scratches the surface of the star's experience with book-to-film adaptions, making it obvious that Blanchett has a great interest in exploring literature in new media. With this in mind, it should come as no surprise that the actress has tried her hand at audiobook narration.