What Is Meghan Markle's True Secret To Happiness?
Max Mumby/indigo/Getty Images
While marrying a prince may seem like a dream come true, Meghan Markle has shown us that it's not always picture perfect fairytale. As it turns out, being a royal is not all about drinking tea, donning decadent tiaras, and living in a castle (it's shocking, we know). Between Meghan and Harry's abrupt exit from the U.K. and the "Suits" star's ongoing family drama, the Duchess of Sussex has faced her fair share of challenges since meeting her husband, to say the least (via E! News). Oh, and let's not forget about the shocking number of lawsuits that Meghan and Prince Harry have been involved in over the last few years.
Despite all of the trials and tribulations that Meghan has endured, the Los Angeles-native has refused to sit by and not take control of her own life. Markle opened up about her struggles in an interview in 2019 with ITV (via Us Weekly). "I have said for a long time to H, that's what I call [Harry], 'It's not enough to just survive something. That's not the point of life. You have to thrive. You have got to feel happy,'" she said. As for Meghan's secret to happiness? The 41-year-old public figure revealed her favorite form of self-care on her lifestyle blog "The Tig," back in 2015 (via Marie Claire). 
The Duchess of Sussex is a big believer in meditation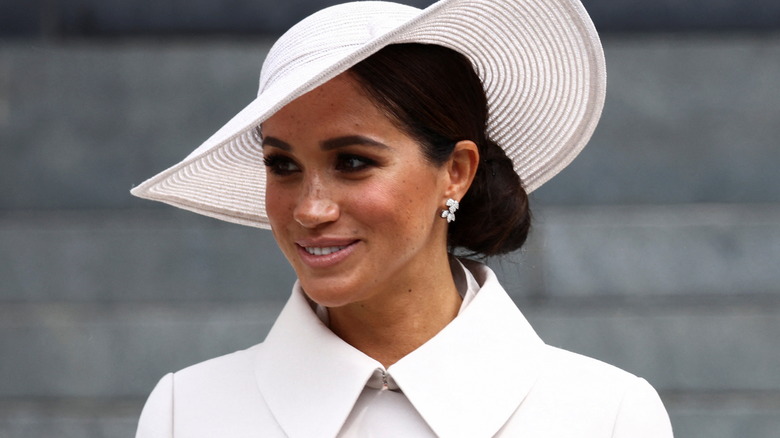 Daniel Leal/Getty
From going on a walk to taking a hot shower, there are so many small ways to practice self-care. Meghan Markle's ritual of choice? Meditation. The Independent recently unearthed one of Meghan's former blog posts that described the Duchess of Sussex's relationship with Vedic meditation. While Meghan was still in L.A, the mother of two was introduced to this mindfulness practice by a man named Light in 2015. "Yes, his name is Light," the former actress joked on her blog "The Tig." "This is L.A., after all," (via Marie Claire).
Turning meditation into a daily habit was challenging at first, but soon Meghan began to describe it as the "quietude that rocked my world." After one year of meditating, she credited this act of self-care as a major contributor to her happiness. The Duchess of Sussex recommended that her blog followers also give it a go. "The worst thing that can happen is that you gave yourself 10 minutes of quiet in an endlessly loud world," she wrote.
Meghan is also a huge advocate for self-affirmation. In an interview with City TV, she revealed that one piece of advice that she has for all young women is "we just need to be kinder to ourselves, truly." "If we treated ourselves the way we do our best friend...can you imagine how much better off we would be?" So true, Meghan!