Twitter Takes A Very Uncensored View Of Melania Trump Following The FBI Raid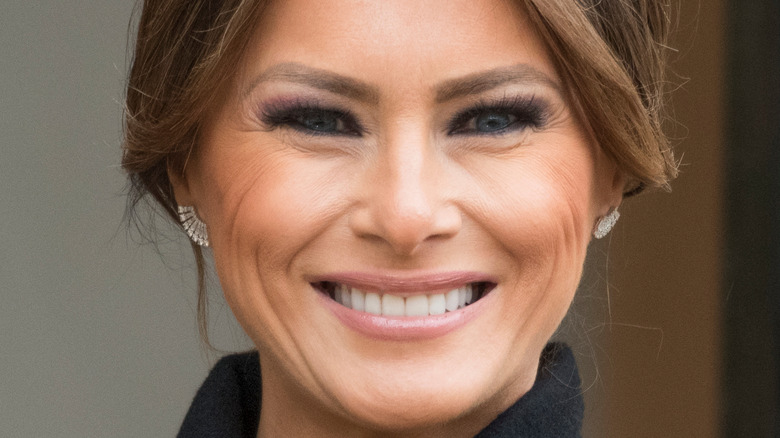 Frederic Legrand - COMEO/Shutterstock
The Federal Bureau of Investigation raided the Mar-A-Lago resort — owned by former president Donald Trump — on August 8, CNN reported. Authorities were said to be searching for government documents that were reportedly brought to Trump's Florida home, some of which are classified. The raid was a result of a new investigation looking into allegations of obstruction, amongst other claims, against the former president.
Trump released a statement amid the news of the raid that read, "My beautiful home, Mar-A-Lago in Palm Beach, Florida, is currently under siege, raided, and occupied by a large group of FBI agents."
Supporters of Trump took to the Palm Beach resort wearing his merchandise and waving American flags in the wake of the raid. NPR spoke to a supporter who said, "I wanted to support Trump who's in a dark time." They continued, "He's rescuing our country. We love him."
Both critics and supporters are anxiously awaiting the findings of the raid. However, Twitter has already begun sharing what they think is missing from Trump's Palm Beach residence.
Twitter has a number of theories revolving around Melania Trump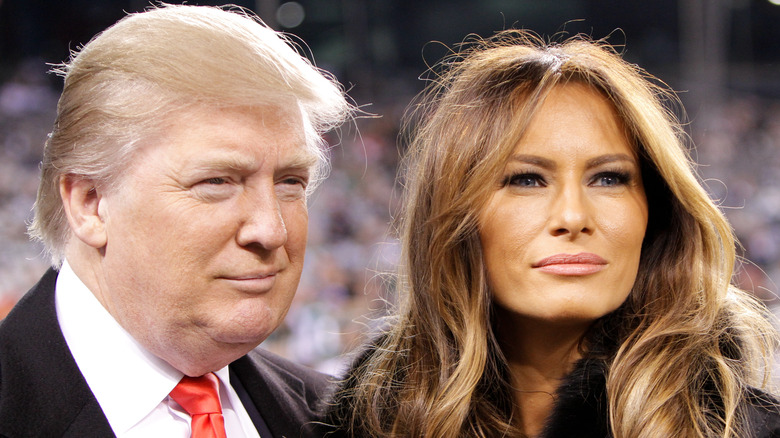 Debby Wong/Shutterstock
Former president Donald Trump has been struggling both in the media and in his personal life following his 2020 election defeat. Could divorce also be on the table for the struggling celebrity? For years, rumors have been swirling about the state of his marriage to Melania Trump, with a former aide even stating that their union was simply transactional (via the Daily Mail).
If the pair are heading for divorce, they have remained quiet about it. However, Twitter believes that they are separating and the raid on Mar-A-Lago is proof.
One user took to the platform, writing, "You know what the FBI didn't find when they searched Mar-a-Lago? Traces of Melania. #NationalDivorce #TrumpRaid." Another chimed in that maybe Melania tipped them off.
"In order for a judge to sign off on the FBI raid, it has to be *very* specific about what they think is there. Someone tipped them off. Was it Meadows? A staffer who loaded the boxes at the WH or at M-a-L? My guess, that makes me giggle if so: Melania," they wrote.
Novelist Paul Rudnick took it even further with the tweet, "Mar-a-Lago's being searched by the FBI. They'll find: — Whatever Melania couldn't fit in a duffel bag — A room Ivanka wiped clean — Lindsey Graham sobbing, "Don't hurt me, officers! Not without dinner!" — MAGA ball caps encrusted with hair coloring and makeup — Autographed Spanx."
Twitter was not holding back at all!
The former first lady was last spotted attending Ivana Trump's funeral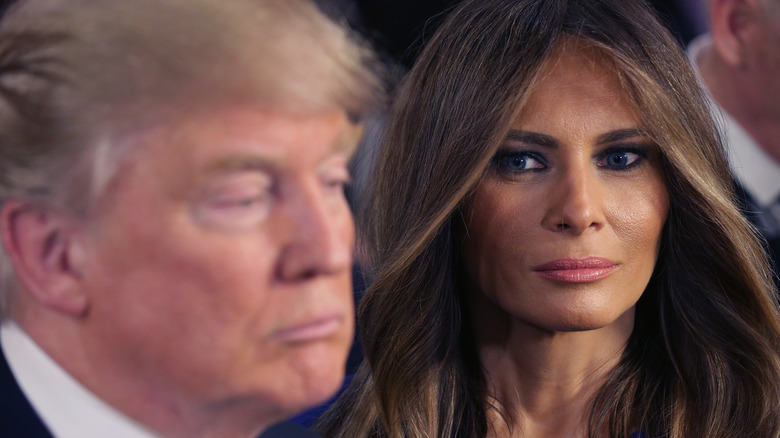 Chip Somodevilla/Getty Images
According to the New York Post, FBI agents rifled through Melania Trump's wardrobe during their raid of Mar-a-Lago, though it's unclear what they expected to find in there. The search warrant was for presidential records and classified information, with officers reportedly spending "hours" searching former President Donald Trump's personal office, in particular. The Daily Mail later snapped Donald arriving at Trump Tower, and waving to onlookers, though his wife was nowhere to be seen.
Melania did accompany him to former wife Ivana Trump's funeral last month, however, with the celebrity couple in reliably sullen form. As People notes, Melania and Ivana weren't on the best terms prior to her death. Donald's first wife infamously claimed, during a "Good Morning America" interview, that she was the real "first lady." Moreover, Ivana revealed she had a direct number for the former "Apprentice" host but didn't use it in case Melania picked up the phone and got jealous. 
She also argued the former model was miserable in Washington. "I think for her to be in Washington must be terrible," Ivana said. "It's better her than me. I would hate Washington." Melania's spokesperson at the time decried Ivana's claims as "attention-seeking, self-serving noise." According to the Daily Mail, Melania also branded her predecessor an "attention seeker," but evidently she and Donald chose to present a united front at Ivana's funeral. Where she's been since is anyone's guess.