Samuel Page's Story About Meeting His Wife Could Be A Hallmark Movie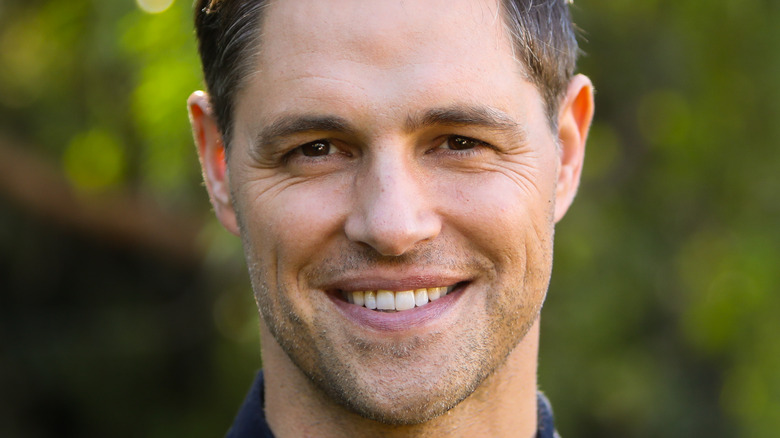 Paul Archuleta/Getty Images
Hallmark fans know Sam Page from his many roles on the famous network, from "The Story of Us" to "The Perfect Christmas Present" (via Hallmark Channel). He's certainly been a staple in some fan-favorite Hallmark holiday movies. If you're not as well-versed in the world of Hallmark, you probably recognize him from his role as Joan's love interest, Greg Harris, in "Mad Men," from his role in Freeform's series, "The Bold Type," or from one of his many other appearances on popular series (via IMDb). However you recognize Page, you probably don't know much about his personal life. In reality, though, the truth about Sam Page is way sweeter than you could imagine.
This Hallmark hunk avoids the harsh Hollywood rumor mill, but the story behind his picture-perfect marriage is one for the books. Once you know how Page met his wife, it makes a lot of sense that he was bound to become a romcom royal.
Sam Page's romcom-worthy love story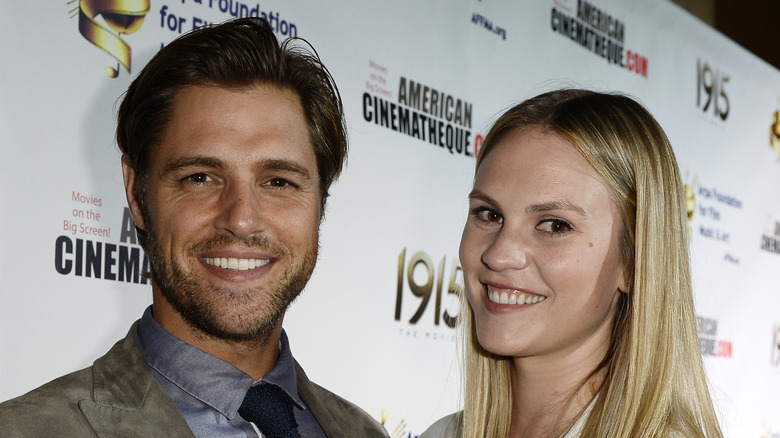 Kevork Djansezian/Getty Images
They say you meet the one when you stop looking. Still, for those of us who are, in fact, still looking, this sounds much easier said than done. Luckily, we've got Sam Page to look up to; he's living proof that true love happens when you least expect it. In an interview with Cosmopolitan, Page recounted the fortuitous way he found the one. He explained, "One year, my best guy friends and I made a solemn promise to stay single the whole summer. Two weeks later, I met my wife." If that isn't a Hallmark movie plot, we don't know what is. 
It seems like his now-wife, Cassidy Boesch, made Page's promise to his friends worth breaking. He said, "I went to my friends and said, 'Hey, guys. So, I meant that promise when I made it, but . . . I'm out.'" So, what was it that made him change his tune?  Page said, "I hadn't been looking for a relationship, but I recognized the greatest person in my life when I saw her." It sounds like Sam Page is one lucky man, and based on that last quote, it's fair to say that Cassidy Boesch is also one very lucky woman.
Sam Page's life now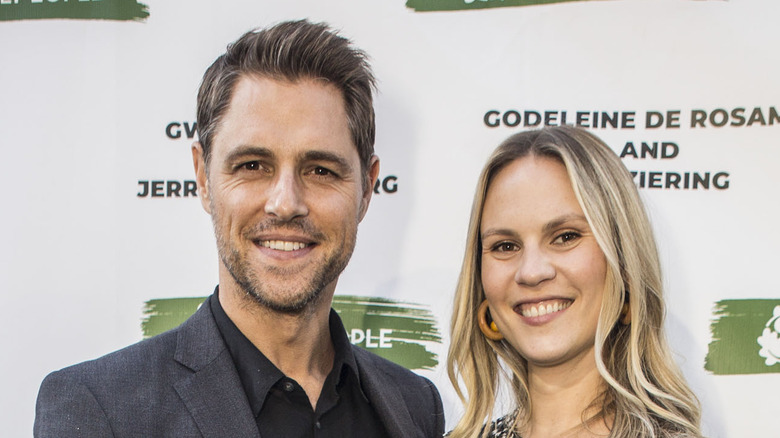 Harmony Gerber/Getty Images
Sam Page and Cassidy Boesch didn't just have a romcom-worthy meet-cute; they're having a Hallmark-style happily ever after, too. The stunning couple tied the knot in 2014 in California (via E! News). Page even had a fellow Hallmark actor by his side when he said "I do"; Jonathan Bennett — who you may also remember as Aaron Samuels from "Mean Girls" — was one of his groomsmen.
Two years after Page and Boesch walked down the aisle, they had a son, Logan, in 2016 (via Elite Daily). Two years later in 2018, they welcomed two more bundles of joy to the family: twin girls, Annabelle and Evie. With three little ones so close in age, it's safe to say that this couple has their hands full. When they're not busy parenting, Boesch is teaching at The Playgroup House: a school for young children that she founded herself. As for Sam Page, we're sure we'll be seeing him starring in some romcoms once the holiday season rolls around. In fact, we'd love to see him appear in a semi-autobiographical flick based on that super sweet quote, "I recognized the greatest person in my life when I saw her" (via Cosmopolitan). We're tearing up just thinking about it.