How Much Does It Cost To Hire A Wedding Photographer?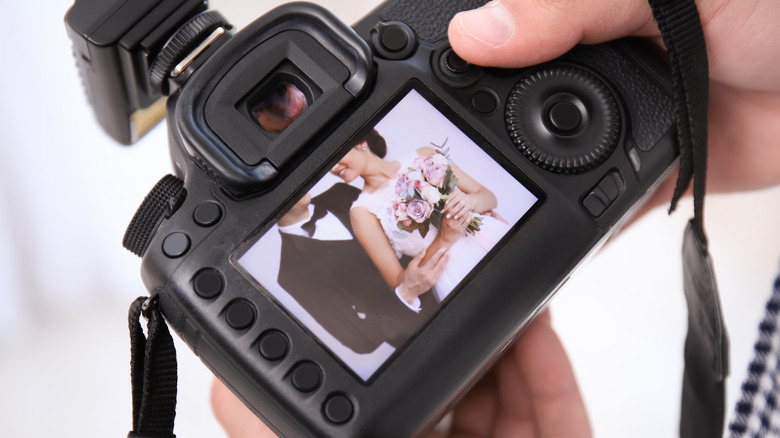 New Africa/Shutterstock
You spend countless days picking out the right napkin color, the right main course, and the perfect dress. While the actual wedding may only last a few hours, the memories captured behind the camera last a lifetime. So when it comes to your big day, who you choose to document it all should be at the top of your list.
Sure, you can ask a friend to document the biggest moments, like the first kiss, using portrait mode on their iPhone. But, when it comes to getting those gorgeous candids and family photos you will treasure for generations, a professional is a must. According to WeddingWire, not only will they capture the day, they will do so in a beautiful way, making not just you and your spouse, but the entire wedding look magical. They can also make themselves scarce, catching special little moments your friends and family may otherwise miss. But, for many, hiring a wedding photographer can be way out of budget, per She Knows. Here's what you can expect to pay if you choose to hire a wedding photographer.
A wedding photographer does not come cheap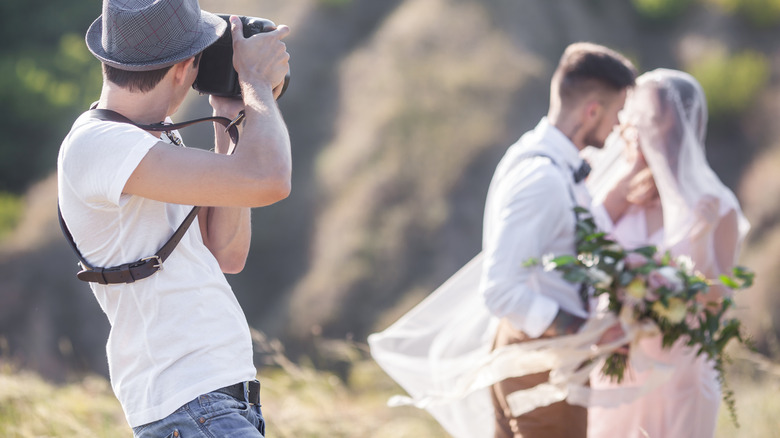 Evgenyrychko/Shutterstock
According to WeddingWire, many couples may be in a bit of a shock when they receive the pricing for wedding photography. But, they recommend ensuring that cost is factored into your budget, even if that means getting rid of something else. The pricing of wedding photography can vary greatly. In fact, per Brides, you can find yourself paying anywhere from $1,000 to $10,000 plus for your big day. The number you pay depends on where you live, how many hours you need, and the photographer you choose. For example, if you are hosting your nuptials in the midwest, you can expect to pay between $3,000 and $4,000, while a west coast wedding may cost about $4,700.
Overall, the average cost of a photographer in the United States is about $2,000, per WeddingWire, plus a few hundred dollars in tips. This price can easily increase when considering things like adding in an engagement shoot, having two photographers there on the big day, and things on the back end, like a printed wedding album.
Wedding photography includes more than just snapping photos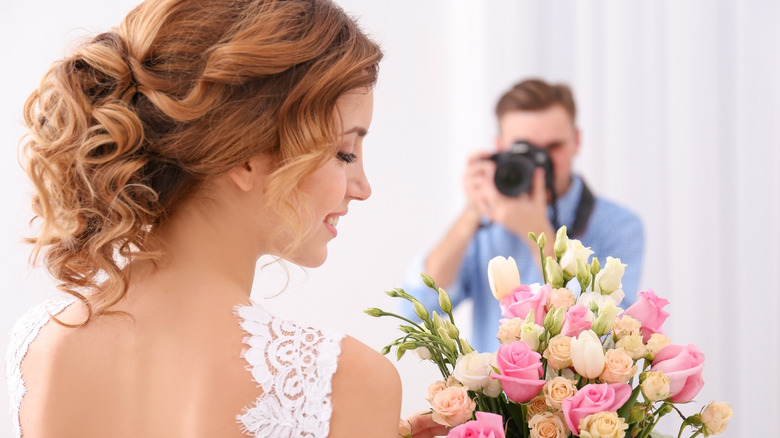 Africa Studio/Shutterstock
When searching for the right photographer for your wedding, WeddingWire recommends looking at their packaging carefully. Many photographers offer incentives in their packages that can help justify the cost, but adding extras can make the investment quite pricey. Most photographers offer a baseline of six hours for shooting the wedding. If you are having an after-party, or a longer event, you can expect to pay extra for additional hours. A lot of photographers work alone, but having a second shooter can really enhance your images and the moments captured — at a price, of course. Another thing to consider when choosing your photography package is your photographer's travel radius. Even if your photographer seems local, they may charge if your location is a certain amount of miles from their home base.
When choosing your photographer, Brides recommend looking at their past work to ensure they have a style you love. It's also smart to ask your current vendors if they have recommendations as it's important to not only love the photographer's work but to enjoy working with them as well.